The Marvelous Mrs. Maisel Has Mid-Century Style In Spades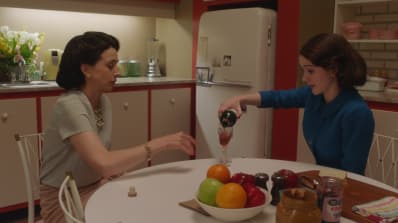 (Image credit: Amazon Studios)
If you've been missing the on-point mid-century aesthetics of shows like Mad Men and Good Girls Revolt, you might want to watch The Marvelous Mrs. Maisel strictly for that. The new Amazon show from Amy Sherman-Palladino takes place in the late '50s and shows us the best apartments the Upper West Side had to offer at the time.
(Image credit: Amazon Studios)
We get a glimpse at the well-to-do Maisels' living situation in the first episode, but we get a full-on West Wing-style walk and talk tour in the second, as Midge gives Susie (Alex Borstein) an impromptu tour. From the pilot, we know Midge's husband, Joel, leaves her for his secretary, leaving Midge to live in apartment 9C with their two kids. In the second episode, we see the spacious rooms of 9C as well as those of 12C, where Midge's parents live, directly three floors up (Tony Shalhoub and Marin Hinkle).
(Image credit: Amazon Studios)
Both are huge New York City apartments, but they're decorated pretty differently. Midge seems to prefer bright colors with mid-century chairs and lamps, while her parents are a little more old-school with heavy, neutral-tone drapes and more gold-framed art. Midge's living room has a gorgeous, gray couch that wraps around half the room, white-painted built-in shelves, and a Japanese-style folding room divider. Her parents seem happier with smaller furniture, opting for twin red love seats over a huge sofa.
(Image credit: Amazon Studios)
Regardless of decor, Susie is aghast at the amount of space Midge has. "Where the hell are we, Versailles?" she snipes. "Who has cutlery for 30?" (And that's before she even realizes there's a second apartment.) If you remember the end of the pilot, you know Susie practically lives in a shoebox and eats cans of beans for dinner while sitting on a Murphy bed. It's going to be interesting to see how this friendship between a clear 'have' and a 'have-not' progresses, but at least we know we'll see plenty of era-appropriate sets along the way.
(Image credit: Amazon Studios)
PS: It looks like Midge Maisel herself (aka Rachel Brosnahan) may be using some Mad Men looks as motivation – her current banner image on Twitter is one of Peak Peggy Olsen in shades. Girl, we see you.