We Visited the 'Marvelous Mrs. Maisel' Exhibit in NYC and Boy, the Sets Are as Spectacular as You'd Expect
We independently select these products—if you buy from one of our links, we may earn a commission. All prices were accurate at the time of publishing.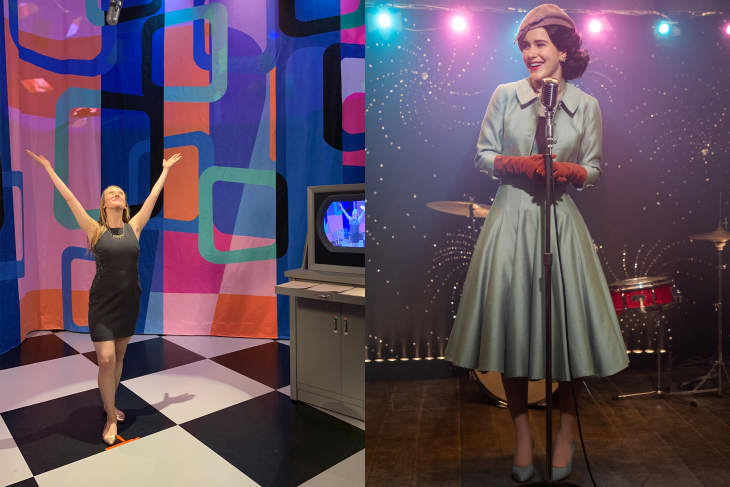 Here at Apartment Therapy, we're big fans of Amazon's "The Marvelous Mrs. Maisel" show and the mid-century style seen throughout its late 1950s-inspired set design. Once we got word that the show's spectacular sets from season one and two were being reconstructed into an immersive exhibit at the Paley Center in NYC, we ran over there like B. Altman was having a sale (because yes, they brought the luxury department store set to life, too).
Follow Topics for more like this
Follow for more stories like this
Upon entering, you walk right onto the TV studio for the Arthritis Telethon (season 2, episode 9) where Midge Maisel debuted her talent on live television. The colorfully patterned backdrop pops against the checkered floor—not that it matters, since it displays in monochrome on the black and white television.
In the next room, some of Midge's most memorable fashion pieces—including long solid-colored coats and pillbox hats. The following set is filled to the brim with memorable moments from the show: an upholstered chair with a newspaper in front of the Eiffel Tower, the B. Altman beauty counter, and finally, the iconic switchboard where Midge found independence and the distraction she needed from her failing marriage—plus, the extra money must have been nice.
The downstairs section of the exhibit takes you to another world, or at least another part of New York: the Catskills. Here, you'll find the salon where all the ladies gossip at Scott's Family Resort, vintage hair dryer chairs and all. Plus, there's a waiting room area furnished with pastel seating, a bar cart and tea set, and a propped-up wall with windows that overlooks the lake on the Catskills.
Around the corner is a set that brings us back to Manhattan, a four-seater booth at the Stage Deli with a projector looping a restaurant scene against the backdrop. Sit there long enough and a waitress will approach the table, pen and paper in hand, ready to take your pastrami order.
The exhibit is more than a great photo op for your Instagram feed; it's also fun to marvel at the attention the detail that goes into set design. Plus, what a great way to get us hyped for season 3, which has an official premiere date of December 6, 2020. The new season takes place in Miami, too, which means we have plenty of fresh design elements to look forward to.
If you're interested in catching the exhibit this week, details can be found on the Paley Center website. In the words of Midge, thank you and goodnight!