The Rock's Geode Floor Tiles Look Prehistoric
We
independently
select these products—if you buy from one of our links, we may earn a commission. All prices were accurate at the time of publishing.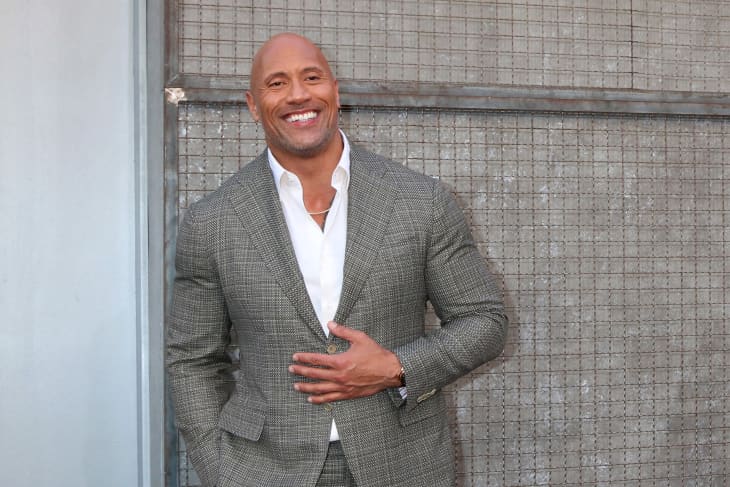 No offense to Dwayne "The Rock" Johnson, but his impressive forearm veins aren't the star of one of his most recent Instagram uploads. His daughter Tia obviously is. But, Tia's costar is an incredibly beautiful floor tile that looks like a prehistoric artifact that may or may not contain hidden fossilized treasures. 
"1st pic is lil' Tia's deep fascination with daddy's callouses and how they feel and what they mean?" Johnson wrote in the caption of his Feb. 24 Instagram post. "2nd pic is the 😳🙄 look when I tell her 'it means that Daddy's actually a dinosaur who's 250 million years old.'"
Speaking of rocks that may or may not be 250 million years old (pun intended), the floor is giving big geode vibes.
It's likely that Johnson's tiled floor is a travertine marble, which often comes in a variety of different beige shades and natural textures that make it look like a layer of the Earth's crust that has remained underground for thousands of years. Luckily, there are about a zillion similar marble flooring options similar to Johnson's tile, and working with a flooring company or marble expert is your best bet to get that same geode-fossil look.
But, if you're looking for a few more pics to add to your inspiration board, we found a few similar tile options that give off the same "250 million-year-old" vibe.
The first is this tile sold via Zazzle that definitely looks like it's preserved more than a few prehistoric critters.
Home Depot sells a geode-like onyx tile that features that layered sediment look with veins of white running throughout.
A more affordable option is this elongated porcelain tile that features natural crack motifs as well as multiple tones of brown and beige.