Spice Up Sunday Dinner with a Game of "The Sopranos" Monopoly
We independently select these products—if you buy from one of our links, we may earn a commission. All prices were accurate at the time of publishing.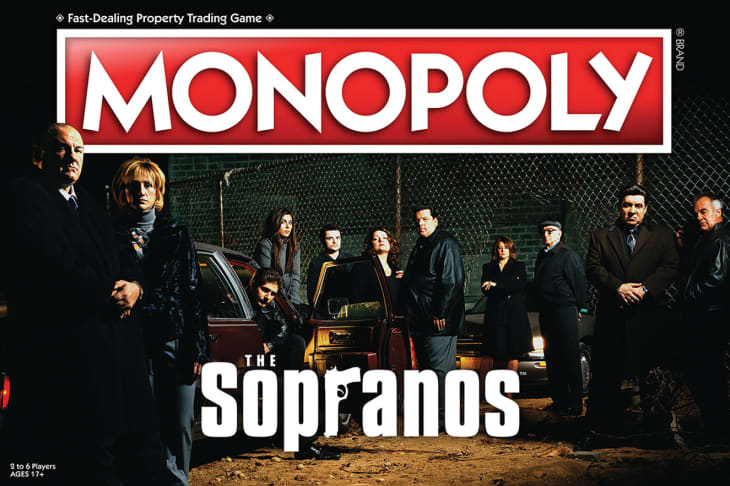 Today, we're taking things to New Jersey with one of the latest editions of the game that's sure to spice up your Sunday dinner. Introducing: "The Sopranos" Monopoly.
Just in time for the upcoming release of the acclaimed series' film prequel, "The Many Saints of Newark", The Op Games have released their "The Sopranos" Monopoly board, inviting fans of Tony Soprano and his gang to call all the shots with this thrilling version of the classic board game.
Once you've cleared the table of the ziti and gabagool, it's time lay out the Monopoly board and get money hungry with a round or two.
In this edgy twist on the original game, players will buy, sell, and trade memorable locations from Jersey including Tony Soprano's House, Whitecaps Shore House, Satriale's Pork Store, before wheeling and dealing at The Bada Bing. AYY! and OHH! cards are the expressive replacements for Chance and Community Chest, and tokens like The Stugots or Bobby Bacala's toy train engine will help you along to become the last boss standing.
Each board comes with everything you need for the ultimate mobster experience:
6 collectible tokens (Baby Duck, The Stugots, Bobby Bacala's Toy Train Engine, Satriale's Pig, Dr. Mefli's Chair, Barone Sanitation Truck), 32 houses (renamed Stashes), 12 hotels (renamed Contraband), 28 Title Deed cards, 16 "AYY!" cards, 16 "OHH!" cards, Custom Monopoly money, and 2 dice.
Finally, the game comes with a detailed rule book, because in the words of Tony Soprano himself—"If you can quote the rules, then you can obey them."