10 Things Making Your Kitchen Feel Way Messier Than It Is, According to Real Estate Agents
We
independently
select these products—if you buy from one of our links, we may earn a commission. All prices were accurate at the time of publishing.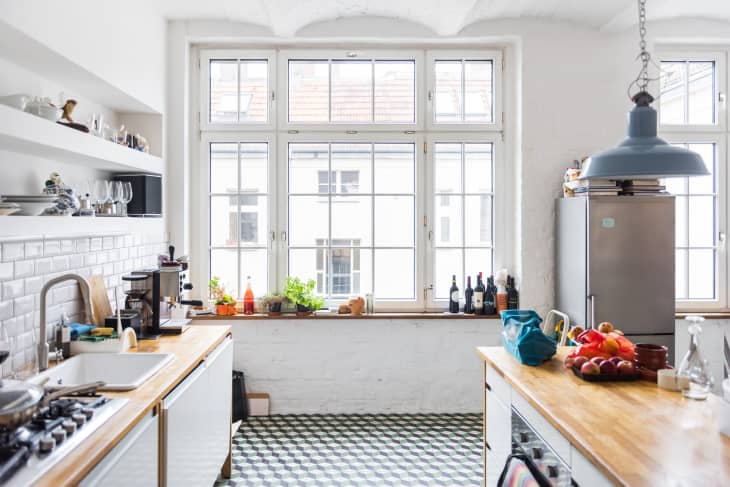 While my husband wouldn't mind small appliances and mail accumulating on our counters, I'm the type of person who's hyper-aware of visible clutter, especially in the kitchen. I thought I had it all covered by tucking stray iPhone cords in a drawer and keeping the toaster in a cabinet. Then, our real estate agent and home stager walked through our house to make suggestions before we listed it and, well, I saw my kitchen with new eyes.
Wondering what could be cluttering up your counters? Here's what real estate agents have to say about common clutter and design choices that get in the way of a neat-looking, sellable kitchen.
Photos and art on the fridge
Sticking your favorite photos (and your kids' artwork) on the fridge is a great way to commemorate memories and make your kitchen feel more personal. But using your refrigerator as a display is bound to make your kitchen messier than it actually is, according to Tal Shelef, a real estate agent in Ontario. Instead, opt to display pictures on a gallery wall in another room or keep them in a photo album. While you're at it, tuck the magnet collection away, too—or invest in a bulletin board with a magnetic section for your home office. 
Dim lighting doesn't just make your space feel darker; according to Wisconsin-based realtor Alex Young, it can also make everything in your kitchen feel dirtier and more cluttered. He recommends brightening up with cool LED lighting, and always making sure every light fixture has the same color light bulb.
Grease and grime can easily build up in any kitchen, especially, Young says, if your hood vents don't vent outside the home, but back into the kitchen. Make an effort to cut through the layers of grease on your cooktops and cabinets once a week or so to prevent worse buildup down the road. "Just be sure not to clean so hard that any finishes are wiped off with the dirt," he says.
Appliances on the counters
One of the most common clutter culprits, according to Connecticut-based agent Yashmin Lloyds, is a collection of small kitchen appliances, from coffee makers to stand mixers and blenders. While these items might make your kitchen more functional, they prevent potential buyers from noticing other elements of your kitchen, like your countertops, cabinets, and hardware. So keep anything you don't use daily in a separate storage space, with one exception: Lloyds says a bright-colored mixer or toaster can be a playful and fun touch for staging, but remember, less is more.
Be just as aware of your floor space as you are your counters and storage areas. Pet bowls, garbage cans, and recycling bins in addition to appliances can quickly start to crowd your walking areas, says Deb Tomaro, a real estate agent in Indiana. The same is true for island or breakfast nook seating if you don't push your stools or chairs in. 
Mismatched tile, floors, or appliances
It's not always realistic to design a totally cohesive kitchen, but try to be consistent in each category. For example, Tomaro says mismatched tiles, appliances, or flooring types in a kitchen can make it feel a whole lot messier than it actually is. "I toured a home where the countertop was a pretty granite but the backsplash was an entirely different tile with a rough finish," she says. "Individually, they were nice choices, but together, it was too many textures and made the space feel cluttered."
Cooking ingredients left on the counter
Salt, pepper, and cooking oil left next to the stove make for convenient food prep, but Florida-based realtor Marcia Socas says they only add clutter to the space. "The oils and spices we use are rarely picture perfect, and while it's convenient to have them handy, those bottles and jars look messy and oily to those may be viewing the kitchen," she says. Instead of keeping them on your counter, find a creative, accessible spot to store them, like in a cabinet or drawer adjacent to your stovetop.
Leaving your dish- and hand-washing tools on display is a great way to make your sink area appear cluttered, says Kimberly Mann, a realtor in Wisconsin. Plus, soap can leave pesky rings on your sink or countertop, and moisture accumulation beneath the bottles can even cause rot behind a sink area. Mann recommends storing soap and scrub brushes under the sink, which balances convenience. and neatness.
Your kitchen isn't the place to put cookbooks or recipes on display, either. "Make sure those loved and worn books and papers with the tomato stains and grease on them are packed away in a tote and put in a closet," she says. "That way, it's easy to get to them when you're moving and safe from someone accidentally picking up grandma's secret cookie recipe instead of the MLS sheet they intended."
When you work with a lot of little gadgets or appliances, cords can get a bit out of hand and clutter up your space—even if they're not in the way. "When putting things away isn't an option, investing in some sort of cord organization tools can help reduce visual clutter," says Justin Havre, an agent in Calgary. "Things like cable sleeves that run across the back of your counters can be an elegant solution."