15 Things to Never Keep in Your Junk Drawer, According to a Pro Organizer
We
independently
select these products—if you buy from one of our links, we may earn a commission. All prices were accurate at the time of publishing.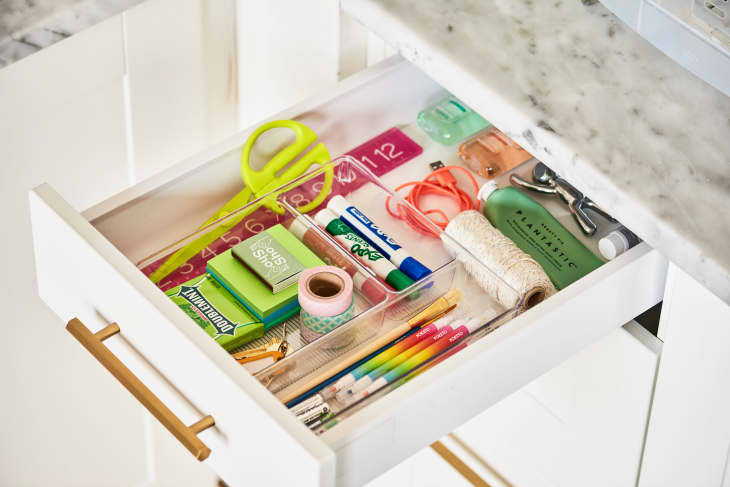 Would you believe it if I told you that having a functional junk drawer is possible and not simply a myth made popular by professional organizers? Even though I am one myself, so I may seem biased, I can assure you that a tidy junk drawer is easier to achieve than you may think. Aside from using drawer organizers and sorting items into zones, deciding what to keep in it is the key. That and, of course, realizing what shouldn't be stored in this spot.
I've organized my fair share of junk drawers over the years and I can confidently say that there are so many things kept in them that can easily be rehomed elsewhere. Sure, a stapler seems like an acceptable addition, but if you have never once stapled something while standing in your kitchen (where your junk drawer likely resides) then it doesn't need to take up space in it. Your home office or workspace is a better place for a stapler to live.
Ideally, the junk drawer should be reserved for the things you need to grab in a pinch or use often in the general vicinity of where it's located. If yours is currently overflowing, I encourage you to pull everything out and then toss or rehome any of the following items that you'll most likely find buried at the bottom.
Any type of paper, especially important documents, should never be kept in the junk drawer. Not only will they most likely be forgotten about, but they also take up entirely too much space and could also easily get crumpled. Everything from files to receipts should be kept elsewhere, digitized, or shredded.
2. Medicine or First-Aid Items
Similar to vital paperwork, medicine that needs to be taken regularly shouldn't be kept here — unless, of course, you plan to keep the junk drawer meticulously organized. The same goes for bandages and other first-aid supplies. Instead of searching through the drawer in an emergency, you're better off keeping everything in a to-go kit in a cabinet or closet.
While they're not considered food, per se, you're still popping gum and mints into your mouth, so it's probably best that they don't commingle with other, non-food related items. Plus, if gum gets loose from its packaging, it can create a sticky situation. Put extra packs of both gum and mints in a small container with your pantry items rather than in the junk drawer.
Along the same lines, avoid dumping condiment packets in this drawer every time you order delivery. They can add up quickly and cause a mess if anything spills, and, quite honestly, are hardly ever used. Avoid placing plastic utensils and straws in here for hygienic reasons, and I can't tell you how many times I've had to tear takeout menus that have gotten stuck at the back of the drawer when decluttering.
True, batteries seem like a normal junk drawer item and I'm not saying to never, ever keep some in there. However, you should avoid leaving them loose. They can corrode and, even scarier, actually be a fire hazard if they come in contact with one another or an electronic device. If you do choose to store batteries here (or anywhere!), be sure to leave them in their original packaging or invest in a battery organizer.
If the kids are sitting at the kitchen table or island, it might make sense to leave a few markers, crayons, or sketch pads in the junk drawer to keep them entertained while you're cooking. But art supplies can cause a mess and are also bulky. Alternatively, try making a small caddy of arts and crafts and store it in a nearby cabinet or closet.
Wayward tiny toys or pieces often find their way into the junk drawer, usually as a result of trying to clear the countertops off in a hurry. The kids won't know to look for them there and they're only taking up precious real estate needed for actual junk drawer items. I like to recommend a method to my clients where they get a small basket per child and fill it with their stuff that collects in the kitchen and dining area each day. They can then take the whole basket to their bedroom or playroom to put away. Hint: This technique works for adults too! 
Unless you're mending buttons at the kitchen table, you probably don't have any use for a whole sewing kit to take up space in the junk drawer. Try finding a home for it in the laundry room, linen closet, or, as I do, thrown in with other fabric care items in a bin on a closet shelf near clothes.
If you're collecting coins, that pile will eventually grow too large for the junk drawer. Dollar bills and checks can get lost in the mix of things, accidentally ripped, or, if you have a lot of people coming in and out of the house, unfortunately, taken. Play it safe and leave money out of it altogether.
Something really special should have a special place to be stored, and the junk drawer just isn't it. Avoid destroyed or forgotten greeting cards, photos, letters, or your child's artwork by keeping them in either a file folder or a memento box instead.
11. Trash and Broken Bits
This should go without saying, but trash belongs in, well, the trash can and not the junk drawer. I've decluttered many a drawer where I've found parts of unknown items or broken pieces that my client couldn't identify. Chances are that you've experienced the same and rarely figure out what it's for or, if you can, it will never get fixed so take the initiative now and toss it.
A measuring tape, a multi-bit screwdriver, or a small level might be OK to keep in the junk drawer — that is, if you reach for them often enough to warrant making space. But sandpaper, nuts and bolts, and an oversized hammer are unnecessary. Keep a small basic kit in a nearby closet if you want tools to be closer than the garage, basement, or workshop.
I'll give a small tube of hand lotion, sanitizer, or chapstick a pass but, again, only if you find yourself using them often. Everything else should go into the bathroom or linen closet and that includes hair ties or bobby pins that can easily vanish in the drawer. You might be tempted to add some sunscreen and bug spray here, but you're better off keeping it in the coat closet or mudroom — especially if you're not using them year-round. 
14. Expired Gift Cards and Coupons
The junk drawer is often a throw-it-in-and-forget-about-it space, which is why I've found so many unused gift certificates and coupons that are no longer valid. I always recommend leaving coupons in the car (or signing up for digital ones) and gift cards in your wallet or your desk until you're ready to use them. If you do choose to keep them in the junk drawer for convenience, keep them all together in an organizer and make a point to go through them at least once a month.
Cords, cables, chargers, headphones, and even tablets take up a ton of space and it's better to find a larger home for them than the junk drawer can provide. Feel free to leave an extra port, USB cord, and perhaps a pair of earbuds sorted in the drawer, but contain it to no more than that unless you want a tangled mess every time you open it.