As a Single Mom, Here Are the Things I Don't Bother Cleaning
We independently select these products—if you buy from one of our links, we may earn a commission. All prices were accurate at the time of publishing.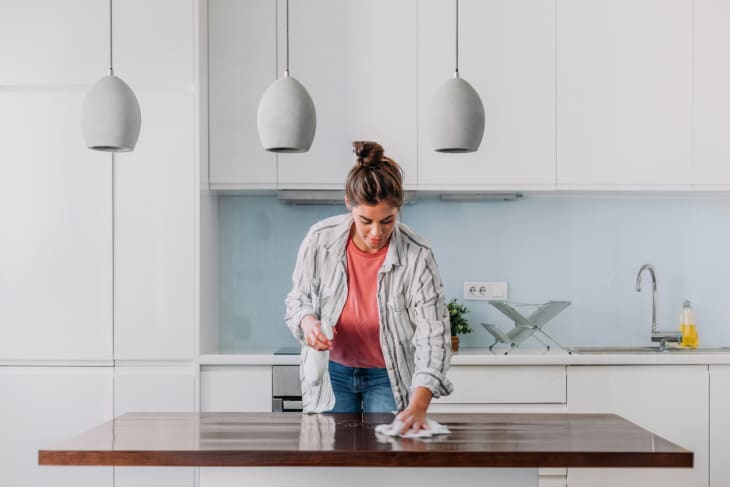 There was a lot of pressure to have a nice-looking home when I'd host playdates pre-pandemic. There was the socially obligated "Sorry it's such a mess" greeting at the door, the quick cleanup before guests arrived, and the general upkeep. My spouse at the time was neater than I was and also handled all the outdoor things, such as maintaining the lawn, gardening, and power-washing.
Follow Topics for more like this
Follow for more stories like this
I've since gotten a divorce and have been dealing with supreme burnout. Once the dust had settled (somewhat literally), I had a home to manage all on my own. I was used to being the go-to household manager, but now I was not only in charge of the inside of my house, but also the outside — plus, I had to take care of both kids solo, my job, and everything else. 
I decided it was best to let some things go that used to be part of our regular house maintenance. After all, no one was here to offer an opinion and I don't have the time or energy. Some things, however, need to be taken care of whether it's due to hygiene issues or potential home damage. It also comes down to personal preference on how I want my home to look (and smell). 
Here are the things I do and don't clean now that I'm a single mom to two young kids. 
Some chores have to occur weekly or multiple times a week for our household to function. 
We need a clean-enough kitchen for food and fire safety reasons. I typically run the dishwasher every other day and put away dishes in a semi-timely manner. I wipe counters and tables after use. 
I'm as lax as possible with the bathrooms, but I do have a little boy, so I give everything a once-over — especially if I'm having friends over. I switch out the hand towels when they seem damper than they should be. The shower is fine with a post-wash spray.
I wash clothing based on one metric only: When we are low on underwear, I do laundry. I have separate hampers for each individual. I do sheets and towels every other week and have more than one set, anyway.
Some perennial home maintenance tasks are easy to forget, but need doing. Where I live, it would be dangerous to neglect gutters, as we get a lot of rainfall and debris. I am not adept or confident enough in my skills in this area, so I hire someone to do moss removal and prevention treatment and gutters every year. They also clean my exterior windows. 
I find it moderately enjoyable to garden, so I plant some annual blooms when I'm fairly certain it's not going to snow again and attempt to keep some basil alive through the summer. I also do minimal yard maintenance but leave the leaves so they'll decompose into mulch. 
Every time the weather changes, everyone in my neighborhood gets sugar ants, so I have to keep up with pest control regularly. The same goes for the yearly stink bug infestations. HVAC cleaning, filter replacement, and maintenance are ones I may or may not have remembered this year, but, if possible, I do that on a schedule.
Then there are the things I don't bother to get to (or try to keep as minimal as possible), as it takes up a lot of time and energy. 
I never clean the fridge or dishwasher unless it's an emergency. I haven't cleaned the stove since moving in (but I probably should). The microwave only gets wiped if I forget to take the butter out before it explodes.
I do not fold laundry. It gets placed in its appropriate drawer or hung if necessary. I skip cleaning interior windows and I only vacuum, sweep, and mop as needed. 
Getting Help and Letting Go
I tutor out of my home in the afternoons when the kids are with their dad and want to keep it looking moderately professional. After feeling stressed about keeping it clean enough before clients came over, I ended up hiring a cleaning service to come every other week and do a quick basic clean (bathrooms, kitchens, etc). I could do it, sure, but it would take me hours during the school day or while kids are underfoot. Instead, I take my laptop to the library, work for a couple of hours, thus justifying the cost, and come back to a clean home. I understand this is a privilege that not everyone, especially not all single moms, can squeeze into a budget. I had to cut some things to make room for it, to be sure, and I'm thankful to be able to afford them.
Some things become emergent, like cleaning carpets to deal with a pet stain or making the house extra nice for a party, but, generally I've learned to let certain things go and/or enlist help when I need it so that I can put my time and energy into other things.