3 Things to Do in 2022 If You Were Part of the Great Resignation
We independently select these products—if you buy from one of our links, we may earn a commission. All prices were accurate at the time of publishing.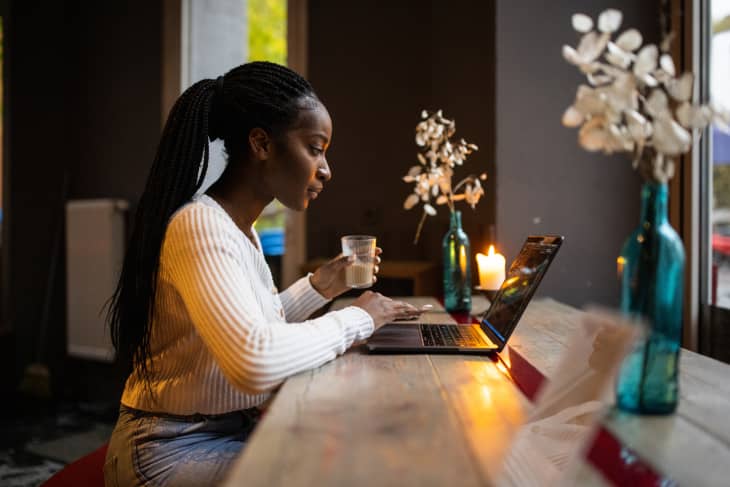 It's no secret that 2021 was the year many employees said "enough is enough," and resigned from their jobs, aka the Great Resignation. Though driving motivators varied (compensation, burnout, childcare), the aftermath left people scratching their heads and asking, what's next? 
Follow Topics for more like this
Follow for more stories like this
Looking ahead, 2022 will be a year of perspective, reinvention, and opportunity for professionals. According to one Korn Ferry report, employee trends are heading toward "a new era of humanity." For once, the ball is in the prospective hire's court. Per the report, "To crack a tight labor market, companies are increasing compensation, offering more long-term incentives and benefits, and paying sign-on bonuses, even for entry-level hires." 
It's due time to figure out what you want to ask for what you need during the interview process. If you plan on finding new work in the new year, here are the three things you need to do for healthier career wellness in 2022.
Get clear on what you want and need.
Here's the truth: Most people think they're clear on what they want and need from a job, but when asked about specifics, their mind goes blank. It's the difference between telling me you want to "like where you work" and understanding that you "need a workplace that encourages cross-functional collaboration" are two different things. 
When I meet with a new career coaching client, I learn about their motivations and goals. What keeps you motivated at work? What are your professional goals for 2022? Whether it be securing a six-figure salary to provide for their family or nabbing a job that has more flexibility, understanding their "why" is essential to their success as a professional. 
Try "career journaling" for a week if you need to focus on what matters most to you. Here are journaling prompts to help you get started:
I can give an employer my best work when ___________.
I would have stayed at my last employer if ___________.
If I had it my way, I would leave each workday feeling ____________. 
If I knew I couldn't ___________, I would try ________. 
The #1 thing my employer/manager could give me right now is ________. 
When you're clear on what you need, you can focus on what to ask for during the negotiation phase. Want more time at home with family? Focus on flexibility and work autonomy during your job hunt. Looking for more professional growth? Get curious about companies with internal development programs and continued learning stipends.
Perform a retroactive of your entire career. 
Before looking at your future, it helps to look at your past. When working with job hunters, I encourage my clients to examine their professional history through a retroactive lens — so, I ask my clients to tell me the red flags they ignored (or missed!) with an employer in the past. After all, as Maya Angelou said, when we know better, we do better.
Taking the time to explore what has gone "right" and "wrong" in your career allows you to identify patterns, needs, and interests. When I was enduring my quarter-life crisis many years ago, I sat down and accessed what had and hadn't been working since graduation. I realized that I was happiest in roles centered around customer service and relationship building. Soon after concluding, I found a role as an office manager and began to build a career in human resources. 
Here are some prompts to help you access your professional career:
What was the red flag you should have seen in your last job? 
What was the last red flag you saw and chose to ignore? Why? 
What is your greatest professional regret to date? 
If you could go back in time, what work scenario would you change? 
Define your professional brand and build around it.
When entering into a new venture or employer, it's important to think about how you want to show up as a colleague. I've had brilliant clients realize they never established boundaries at their former employer and were seen as the "team doormat" — but want to be seen as an approachable leader at their next job. 
My ideology centers around individuality and leaning into natural strengths. I don't believe turning a quiet wallflower into a chatty social butterfly is the answer; people should experience success in their skin. That being said, I encourage professionals to think about the three key "ingredients" to their professional brand:
Their mission: What they do and why they do it
Their value: How they do it and how it impacts others 
Their secret sauce: The unique or memorable experience they provide 
For example, one professional may want to be seen as an agreeable team player focused on results and healthy collaboration. If they were my client, I would work with them to design a resume that highlights such strengths and coach them through mock interviews to ensure they left the right impression. Further, we would work together to develop an on-the-job success plan once the role was secured with an offer letter. Ultimately, if you want to be seen as "the fill-in-the-blank" at your next role, get clear on what leads to that soon.