7 Things in the Bathroom You Should Get Rid of Before an Open House
We
independently
select these products—if you buy from one of our links, we may earn a commission. All prices were accurate at the time of publishing.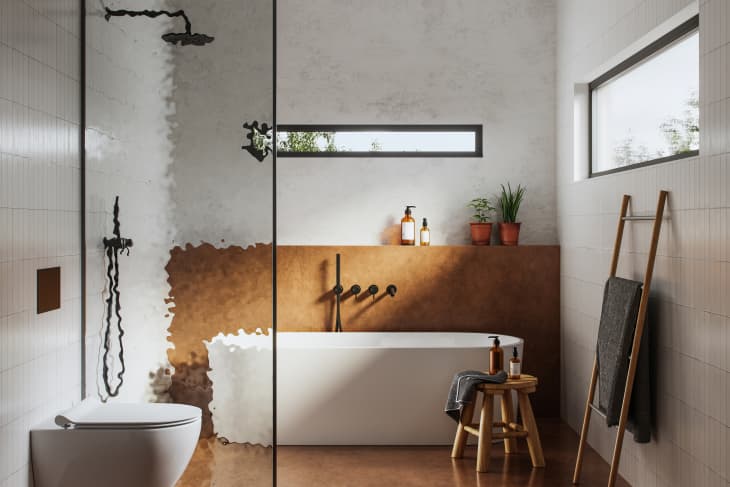 Ask any real estate agent and they'll tell you that an unappealing bathroom can make the difference in whether or not your home is ready for the marketplace. Malcolm Louis Adams, a licensed associate real estate broker with Compass in Brooklyn, says he's seen many disastrous bathrooms, including one that was in such disrepair that the sink and tub were stained with rust and calcium deposits and ringed by black mold. Still, a less than perfect bathroom doesn't necessarily mean you should run out and hire a contractor.
Here are seven things real estate agents suggest their clients be mindful of when preparing their bathroom for an open house.
First, stash extra stuff out of sight.
Adams recommends homeowners tidy up their bathroom before putting their home up for sale. Keep wall art to one piece, and put hampers and bathrobes in a closet. Without the extras, your space is guaranteed to feel bigger. When deciding what can stay in the room, try to keep it simple. "You only need a few towels, a shower curtain, and maybe a rug on the floor," Adams adds.
Wet rugs, towels, and wash rags, dirty clothes in the hamper, litter boxes, and dirty vent fans can contribute to unpleasant odors in the bathroom. The room should smell like it was just thoroughly cleaned, says Adams, so get rid of those things.
Address all signs of mold.
No one wants to pull back a shower curtain to find black stuff growing in places that it shouldn't be. Humidity, moisture, and poor ventilation can cause mold to creep up your tile grout and around your tub caulking faster than you can spray it away. Not only is it unsightly, but inhaling mold spores is unhealthy — not to mention ignoring it will cost you more money in the long run. Adams remembers a seller that had to offset the sales price of his home by the cost of having an environmental company fix a persistent mold problem.
Remove your personal items.
You want your buyers to focus on the bathroom's features and not on the pair of pantyhose hanging to dry or the kids' favorite bath time toys. Whenever possible, store your stuff in a cabinet, suggests Steve Sallion, a licensed real estate associate broker for Daniel Gale, Sotheby's International Realty and a board-certified New York residential specialist. For starters, clear counters of makeup, brushes, toothbrushes, and other personal hygiene products. Store the shampoo, body wash, and loofahs somewhere out of sight. Sallion says your bathroom should look as sparse as a five-star hotel or a spa.
Install cool white bulbs in the light fixtures. This will help to make your bathroom look larger and brighter, recommends Sallion.
Over time, a bathtub can start to show its age. One of the more moderately priced fixes that works wonders for a tub is reglazing, says Sallion. A contractor can erase stains, scratches, and chips in a matter of hours. "For a minimal cost the tub comes back to an almost new-like finish," he says.
While big, bright, flowery wallpaper or down-by-the-sea-blue paint may be your cup of tea, these bold interior decor statements may not work for everyone. Sallion suggests painting the walls in white or a neutral color palette.