8 Things Home Experts Say Are Always Worth the Extra Money for Your Backyard
We
independently
select these products—if you buy from one of our links, we may earn a commission. All prices were accurate at the time of publishing.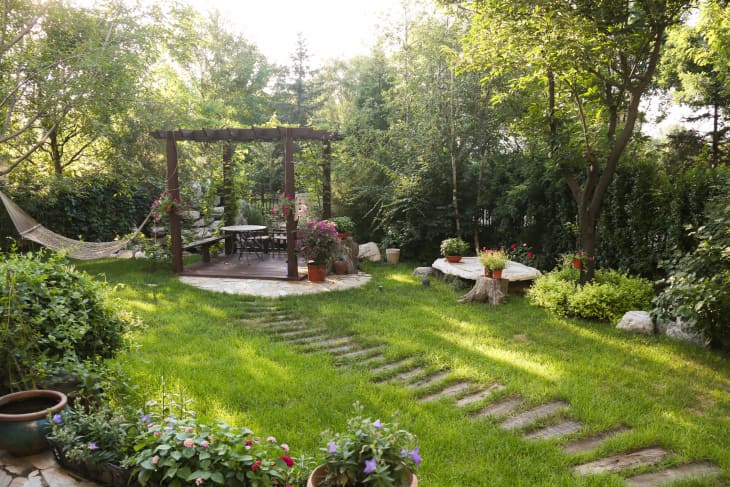 For homeowners and renters lucky enough to have backyards, outdoor spaces have become more important than ever during the past year. And since summer is on its way, it should come as no surprise that many residents are sprucing up their patios, decks, and backyards to make them comfortable oases for relaxing and spending quality time with loved ones.
But with so many choices in terms of furniture, accessories, and other outdoor elements, it can be overwhelming to decide what exactly to splurge on — especially if you're working with a blank slate or a tight budget.
We turned to three home experts for their advice on what purchases are always worth the extra money for making your backyard the best it can be.
Eating al fresco is one of life's simple pleasures, so you'll never regret investing in a sturdy dining set for your backyard, says Joal Derse Dauer, owner of Luxe Homes Consulting, an organizing and styling company in Muskego, Wisconsin.
"A table and chairs that are large enough to accommodate guests is a must," she says. "Make sure you add cushions and an umbrella to keep your guests comfortable."
The finishing touch? An outdoor rug grounds the dining set, and matching placemats and napkins add personality to the cheerful tableau.
A professional grill setup
Take your grilling game to the next level: Have a professional install a grill with stonework surrounding it, suggests Dauer.
"This not only is a fabulous conversation piece, but it will add to the value of your home if you wish to sell in the future," she says.
A quality grill like this will also stand the test of time, versus cheaper models that need to be replaced frequently.
Quality outdoor furniture
It's tempting to snag the cheapest outdoor furniture you can find, but it's not worth it in the long run, says Abbe Fenimore, founder and interior designer at Studio Ten 25, a design firm in Dallas.
"Sun, rain, and heavy winds can take a toll on outdoor furniture, so investing in well-built pieces that are made to withstand the elements season after season will keep you from having to replace them each year."
Resilient outdoor fabrics
Similarly, most outdoor furniture comes with basic outdoor fabric, "but I find that it doesn't hold up well and begins to look worn and dingy after only a few months," Fenimore says. "I recommend finding a local upholsterer to recover your existing pieces in a higher quality outdoor fabric that is guaranteed to hold up to the harsh weather."
Or choose items with high-performance outdoor fabrics by brands like Sunbrella.
Backyard firepits do double duty: First, they act as a cozy gathering place, and second, the warmth they provide allows for outdoor enjoyment even during cooler weather, says Dauer. Plus, in areas with mild climates, a firepit can be used year round.
"Add movable seating for convenience, and don't forget the marshmallows!" she says.
Just like landscaping, a good umbrella provides both form and function. In addition to protecting you from the sun's harsh rays, it can add a pop of color to enhance your space, says Karen Kostiw, a real estate agent with Warburg Realty in New York City.
When it comes to choosing a hue, darker colors tend to fade and lighter colors tend to show more dirt, she noted. 
"Ultimately, the color selection should fit your design aesthetic," she says. "While beige tones are most popular, it's a cool fact that black umbrellas are best against the sun, since black absorbs most of the radiation."
Good lighting is essential for outdoor spaces, and not only for functional purposes like lighting a path for safety and security, explains Kostiw.
"It also serves to illuminate the architectural design of a home and creates an inviting entertainment space," she says.
Depending on your space and objective, lighting options are virtually endless, from string lights, lanterns, and tiki torches, to hardscape, pool, and foliage lighting systems, she notes.
Don't underestimate the potential of landscaping to increase the resale value — and your enjoyment — of your home, says Kostiw. 
"Generally, landscaping will enhance the monetary value by 5 to 10 percent. According to landscape economist John Harris, beautiful landscaping can contribute 28 percent to your home's overall value," she explains.
Besides being aesthetically pleasing, landscaping is just plain functional: It can create privacy, provide shade, and expand your backyard footprint for entertaining, she says.