3 Things You Don't Need on Your Bathroom Counter, According to Home Stagers
We independently select these products—if you buy from one of our links, we may earn a commission. All prices were accurate at the time of publishing.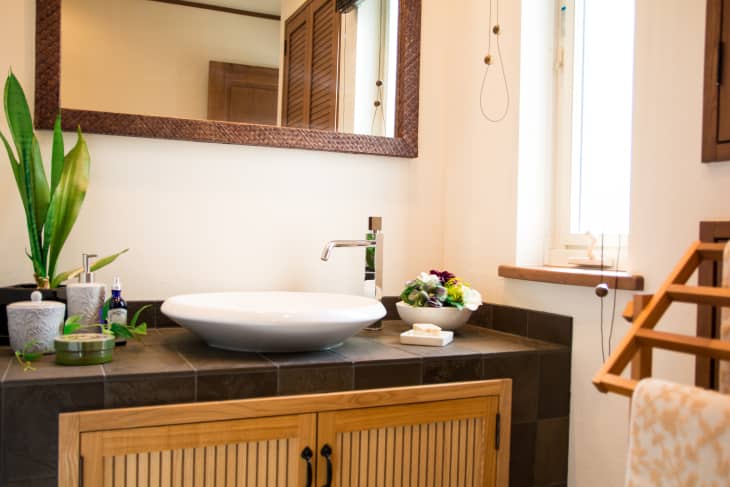 The bathroom counter is among the places in the home that gets the most use. It's where people often perform their grooming rituals, whether that's washing hands (for 20 seconds or more!), getting ready for the day, winding down for bed, primping for a Zoom happy hour, brushing teeth, plucking eyebrows, or applying pore strips. 
Follow Topics for more like this
Follow for more stories like this
Because these routines are often a bit on the messier side, bathroom counters can become easily cluttered. To make your space look as tidy as possible, two home stagers give their advice on what shouldn't take up real estate on your bathroom counter. 
"Toothbrushes, toothpaste, razors, fingernail clippers, and other grooming items shouldn't stay on the counter," says Melanie Zaelich, a home stager, stylist, and owner of Happy Place Interiors in Minneapolis
"A decorative box can hold these items," she says. "Having two decorative boxes stacked on top of each other looks intentional and styled. I recommend a box with a hinge lid because it's easier and faster to access the items—thus, you'll be more likely to put the items back inside and close the lid."
"Don't get me started on globs of hair gel," Kristin Calvert, owner of Staged Detroit, said. "Toothpaste remains in the bathroom sink can throw me over the edge after a long day at work."
Calvert suggests keeping your lower bathroom storage stocked with cleaning wipes, Windex, toilet bowl and shower cleaner, and paper towels. That way, they're readily accessible and it's easy to clean up the gunk and grime that can accumulate over the course of the day or week. 
"Bathroom counters should always be clutter-free and clean," she says.
It's easy to lazily put the roll of toilet paper within reach on the bathroom counter instead of properly changing it, but in order to keep your bathroom looking spic and span, stagers say this one change will make a big difference. Let's face it: toilet paper on the bathroom counter looks messy, and the risk of half the roll absorbing some rogue water is too high. 
What about the things you should keep on your counter?
"Bathroom counters should be wiped down every day after the morning rush, and to do that we encourage only necessary items to remain on the counter—two to three max," Calvert explains. "We suggest hand soap, a candle, and a hand towel nearby."
Keeping your counter tidy is also practical. The more things that pile up, the more likely they are to slip into the sink while teeth are being brushed or faces are being washed. (Has anyone else ever spit toothpaste directly onto their hairbrush because it fell in at just the right moment?) To keep things off your counter, storage solutions such as wall-mounted soap dispensers, shelving, and medicine cabinets can help alleviate some of the clutter. 
For those that want something that will add some pizzazz to their space, Zaelich offers the idea of a decorative item. "A tall vase with willow twigs or palm branches work very well," she says. "Not only will it grab your attention when you walk in, but it will also break up the flat horizontal space and add interest, instantly creating a styled, layered look."