This Massive Skeleton Makes the 12-Foot Skeleton Look "Like a Toy"
We
independently
select these products—if you buy from one of our links, we may earn a commission. All prices were accurate at the time of publishing.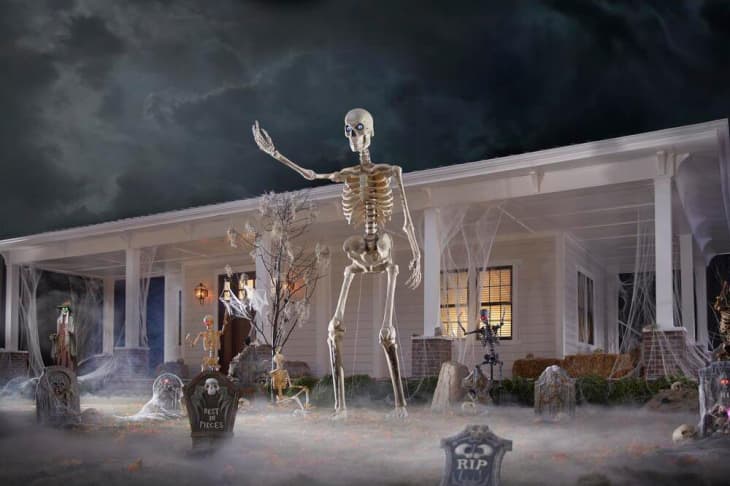 It's likely you've noticed the viral 12-foot skeleton from Home Depot is back in full effect this Halloween season. But for one crafty Ohio man, 12 feet of spooky fun wasn't enough. 
On Monday, Twitter user Rob Sheridan tweeted photos of an Ohio house that appears to have a gigantic set of skeleton arms reaching out of the ground and grasping it from behind.  
"Ohio resident Alan Perkins has taken the 12 foot skeleton game to an entirely new level, building a MASSIVE skeleton bursting out of his home to grab the 12 footer like a toy," Sheridan tweeted. "Apparently he's still going to add a giant skull bursting through the roof. Just phenomenal work."
There's a Facebook page for the Cleveland Haunt Club, which "exists to provide amateur/professional haunters and haunt enthusiasts of Northeast Ohio and surrounding areas a year-round outlet for their pastime of haunting and Halloween." There, Perkins shared some details about his elaborate creation. 
"So people keep asking for updates. I got the arms and hands mounted today. A neighbor of mine let me borrow his 12 foot skeleton to capture. Still need to make the skull breaking through the roof. Getting closer though," he wrote. "I also posted a picture of my window covers and the connection pieces for the knuckles that allow the fingers to move. Located on River Road in Olmsted Falls."
From his photo descriptions, it appears Perkins created the bones out of 8-inch thick foam blocks he purchased off of Craigslist five years ago. He painted them with a clear coat, then covered them with sand and glue so they would harden up. Next, he added layers and carved each one into bone shapes, and sanded them down to make the surfaces smooth. Soon, each piece was combined to create the bone structure that resembles hands and arms. 
With a sign out front that reads "Haunt of the Falls," the home's windows are covered with messy wooden boards to make it look spooky and abandoned, and various skeletons are placed around the property. Finally, the jumbo-sized arms and hands were placed to appear as if they were streaming up from the ground below the house and grabbing it whole. 
Perkins told local radio station WKFR that he hasn't even finished the elaborate project. 
"It took me about 25 days to construct and isn't done," he told WKFR. "I am trying to have a skull break out of the roof."
As for his inspiration, Perkins said he actually came up with the idea after seeing some Christmas decor that made it appear like a Christmas tree was poking through the roof of a house. 
"I thought it was funny but figured I could make a similar effect for Halloween. I just figured I could make it bigger," he said. "I always have fun creating something that makes people scratch their heads."