This Under $45 Amazon Find Will Fix Your Living Room's Messiest Spot
We independently select these products—if you buy from one of our links, we may earn a commission. All prices were accurate at the time of publishing.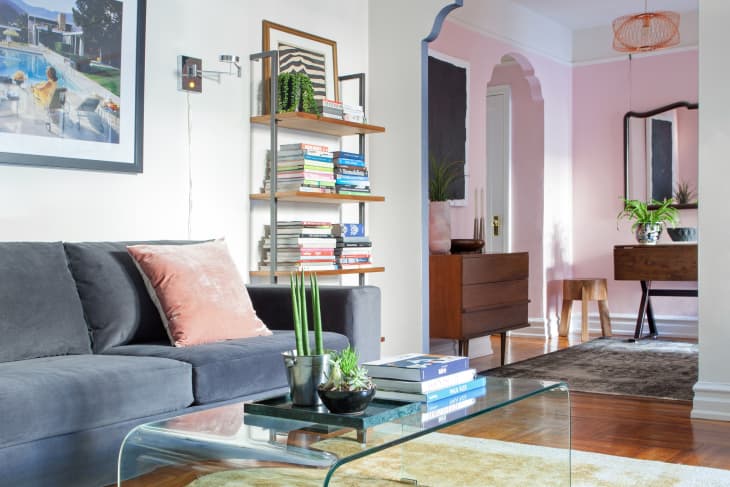 Not to brag or anything, but I'm very good at sitting on my living room sofa. If I plan my Saturday right, I'm there undisturbed for most of the day, only standing up five or six times over the course of 12 hours. I drink coffee, solve a crossword puzzle or two, watch a show, take a nap—exhausted from the busy morning, you see—then switch over to wine at 5 pm to cap off my day. Call me lazy or a loser, I don't care. I love sitting on my sofa. 
Follow Topics for more like this
Follow for more stories like this
What all this uninterrupted couch sitting ultimately means is that I accumulate many items on my coffee table. Any given day, it's full of candles, a succulent or two, a box of matches, a few remotes, my reading glasses, a stray rubber band (where do they come from?), some books, a journal, headphones. I could keep going on, but you get the idea. And here's the thing: Despite the slobby picture of myself that I've just painted for you, I'm actually really serious about cleanliness. I need order. So the coffee table clutter bugs me—a lot. 
And that's why I absolutely love this Kate and Laurel Lipton Decorative Tray from Amazon. I set it on my coffee table, arrange my various objects inside it, and suddenly my clutter looks clean and intentional. It's like my coffee mug belongs there. Those matches are there for a reason. 
The tray is gorgeous—MDF lacquered in navy blue paint with shiny gold handles that give off a low key glam vibe. It's a good size, too, at 16.5 inches wide and about a foot length-wise. You can easily fit a candle, a plant, and a few other tchotchkes on it. Plus, it's got pads on the bottom to prevent scratches on your coffee table.  It looks way more expensive than it was—that's for sure.
What I really love about it though is how versatile it is. It's perfect for me and my Saturday sloth lifestyle, allowing me to feel like I have my life together even when I haven't moved in hours.
This tray is great in other rooms, too. Use it on a bar cart to corral liquor bottles, on an entry table for keys and glasses, or even as a makeup storage area in your bedroom. And let's not forget about those sturdy metal handles, which make it the perfect serving tray for guests or for breakfast in bed. 
With nine color choices, I'm fairly confident you can work one of these guys into your home in one way or another, but the coffee table is a natural spot. For under $45, you won't regret it. I know I haven't.