How to Keep Your Cat from Climbing Your Christmas Tree, According to TikTok
We
independently
select these products—if you buy from one of our links, we may earn a commission. All prices were accurate at the time of publishing.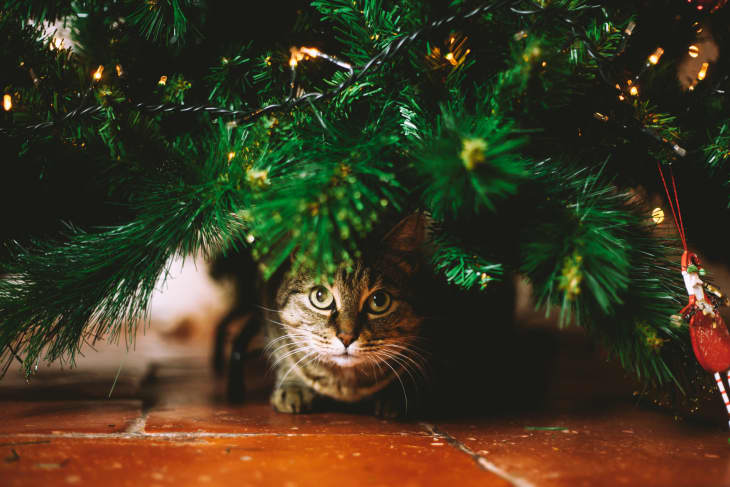 It's that time of year again — the time of year when your cat just needs to find out what is at the top of the Christmas tree and ends up ruining Christmas altogether. According to TikTok user @sfevil2321, there's a simple hack you can implement to keep your cat out of the Christmas tree using just a few household supplies.
Titled "The Christmas hack your cat doesn't want you to know about," @sfevil2321's video has gone viral since they posted it in late November, with just under 300,000 views, people are majorly appreciating the thought that has gone into this cat-proofing tutorial.
To get started, you'll need a "large cone of shame," as @sfevil2321 writes in their video, a cable tie, and two sheets of aluminium foil.
The cone will be cable-tied around the base of the tree, leaving enough room to access the water dish if you're cat-proofing a real tree. Then, cut your foil into two large half-circle pieces (when put together, they should be about the same width as the widest area of your tree). Cut a hole in the center of the flat edge of the foil pieces to make room for the trunk, and lay these two pieces on the first row of branches.
"If you want to see how your cat feels about aluminium foil, lay foil on the ground and watch them play their own version of 'the floor is lava,'" @sfevil2321 jokes in the video.
On top of the cone and foil, which may be enough to ward off some cats, @sfevil2321 says they also spritz the bottom branches of the tree with Pure Orange, which they call "all natural Kryptonite." They also attach jingle bells to the lower branches as an alarm system.
"If your cat likes to eat foil or citrus, please don't use," @sfevil2321 wrote in the comments. "Don't want any kitties getting sick. This is what works for my cats."
Though your cat may be plotting your demise thanks to this hack, Christmas has been saved.