This Is TikTok's "It" DIY Halloween Decor of 2022 — And How to Pull It Off
We independently select these products—if you buy from one of our links, we may earn a commission. All prices were accurate at the time of publishing.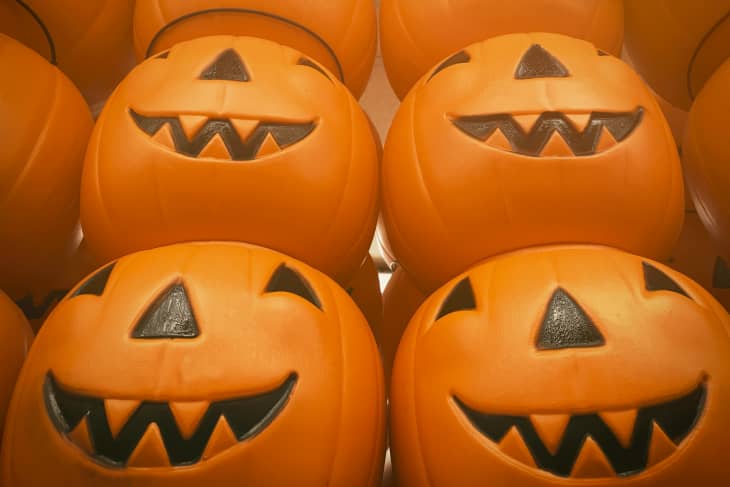 The painted arch is certainly a trendy DIY year round, but the pumpkin arch seems to be making its rounds on TikTok as October's spookiest, trendiest DIY for halloween. (Step aside, painted bats and floated candles! Just kidding, you're great — and spectacularly festive — too.)
If you're not familiar, a pumpkin arch is made from PVC pipe arranged in a U-shape (often around a front door) with lightweight pumpkins attached. The pumpkin types, shapes, sizes, colors, and faces vary.
DIYer Kaycie Chiampi (@greybirchdesigns) used lightweight plastic pumpkins from Walmart and painted them white with chalk paint to get her look. The pumpkins have LED lights in the back for a built-in glow, and she attached them to the PVC pipe using zip ties.
Kimberly Deegan used an even cheaper option, plastic trick-or-treat jack-o'-lanterns from Walmart, to create her pumpkins. She painted 23 of them off-white using Rust-Oleum's Stone spray paint and filled in the jack-o'-lantern faces by hand with black paint and a paintbrush.
And lastly, Jessica Marini used similar trick-or-treating pails ($1.98 each from Walmart!) but varied up the colors in her pumpkin arch. She used a mix of black, orange, and white paint, and she cut out the faces and placed one tea light in each pumpkin.
First, you'll need some materials:
PVC pipe: The amount depends on the height of your arch, so be sure to measure your specific door's height and width to pinpoint the right size. You'll need enough to go from one side of the door to the other; don't forget two PVC elbows where the corners meet.
About 30 lightweight plastic pumpkins: This will vary depending on the size of your arch. Marini recommends turning some of the pumpkins to the side or back and carving (or painting!) your own design so they don't all look the same.
A craft knife: Even if you plan to use jack-o-lanterns with pre-"carved" faces, paint the faces on, or go with classic pumpkins sans-faces, you'll need a craft knife (like X-Acto) to create small holes for your zip-ties. This can also be done with a drill.
As many zip ties as you have pumpkins: You'll need at least one to attach each pumpkin, and it's worth having some extras on hand, too.
You'll also need a stepladder (at least) to reach the highest part of your arch; depending on how ambitious your plans are, you might even a full-sized ladder.
From there, it's all about creating the frame with PVC pipes and then fastening the pumpkins to that frame with your zip ties.
Marini says attaching the zip ties to the pumpkins was the easiest part of the whole process. What was harder was getting the placement of the holes just right so the pumpkins would sit at the correct angle on the PVC pipe. "When you're attaching the pumpkins to the pipe, I suggest keeping them a little loose until all of the pumpkins are on so that you can stack them/position them the way you want and then pull the zip tie tightly in the back," she says. "Don't cut off the excess zip tie in the back until you're finished just in case you need to pull it tighter." 
How to Mix It Up and Make It Custom
Marini recommends weaving garland or string lights throughout the pumpkin arch to make it more lush and full and to add more personality. She also wishes she would have varied up the size of her pumpkins as Chiampi did above. You can also vary up color (and the faces, as mentioned above!) with paint or a craft knife.
And lastly, Marini says, "this could be done anywhere in the house, so it would be cute to see it used inside someone's house as well." (Pumpkin arch above the mantel, anyone?)
Where and how will YOU iterate on the pumpkin arch?