This TikToker Found a Super-Personal, Mostly Free Way to Decorate Any Kitchen
We
independently
select these products—if you buy from one of our links, we may earn a commission. All prices were accurate at the time of publishing.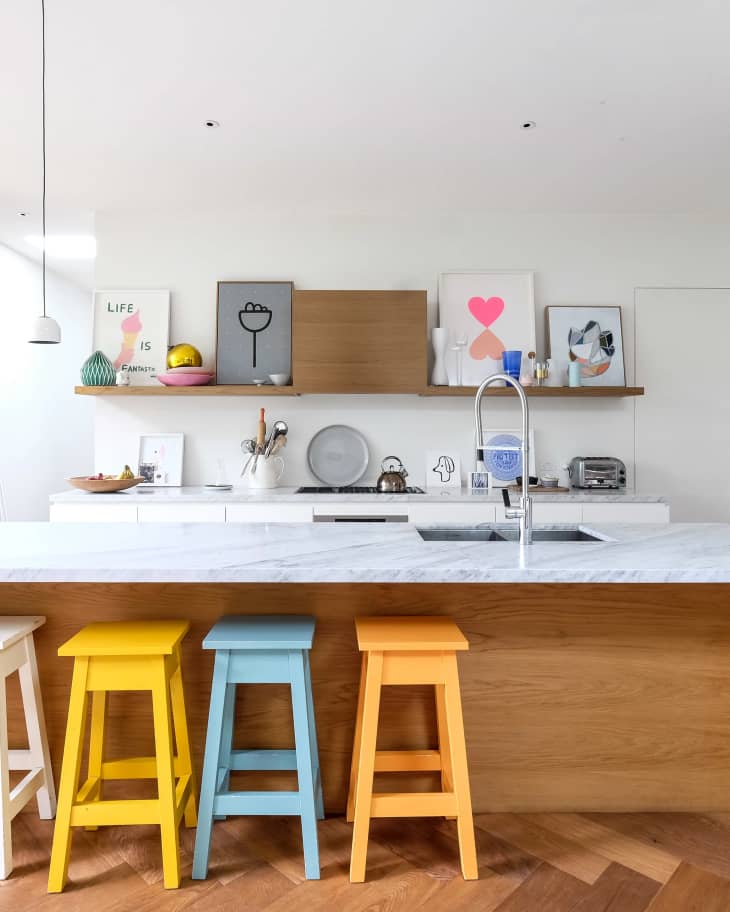 Aside from fridge magnets and countertop styling, there's really only so much you can do to "decorate" your kitchen — especially if you're in a rental. Now, though, one TikToker is sharing an ingenious, stylish, and almost $0 idea for personalizing kitchens of any size — and it pays homage to your favorite go-to restaurant(s). 
User Lila Fitzgerald recently posted a TikTok video showing various framed art pieces lining practically every available wall spot in a dark-blue-hued kitchen. As she pans over each piece, you'll start to notice they're actually not prints or paintings but paper menus instead. The video reads, "POV: your kitchen decor is stolen menus from your fav restaurant." As Fitzgerald indicated in the comments, her mom curated this unique decor collection featuring menus of assorted sizes (with some displayed double-sided), all mounted and framed. Each frame design matches the corresponding menu aesthetic, too, like a Ralph Lauren-esque tartan mat surrounding a luxe leather-bound food list from the Polo Bar. 
Of course, this easy-to-replicate idea works in any kitchen (or dining room, or even living room gallery wall), and it's fully customizable — hang a little or a lot, sourced anywhere from fine-dining restaurants to local holes-in-the-wall. I also love the opportunity this creates to memorialize a special occasion into permanent art. Want to incorporate an engagement dinner or the scene of a first date into your interior? Frame the menu or wine list, and voilà! Consider bringing home menus as travel keepsakes moving forward, too, for wall-worthy reminders of unforgettable dinners in new cities.
One small etiquette note, though: I'd suggest at least asking a server or seating hostess if you can keep their menu, especially at higher-end spots. You'll honestly probably have better luck nowadays anyway, considering QR codes have essentially pushed physical menus into extinction. You have other options, too. One commenter noted that the New York Public Library has a database of digitized menus from the 1850s to 2000s, so you can start your search for free art there. 
Once you've picked a menu or menus, you really only need to account for framing costs. As a more budget-friendly approach to the professional route, take a cue from the mismatched assortment shown in the example above and accumulate a range of different styles from local thrift shops or craft stores. Yes, it might take some time to source the right dimensions, but you can also play around with matting — available pre-cut from Michaels, Amazon, and Walmart — to help fit a given menu to the scale of a frame. For a unified, modern menu-hanging look, tap into affordable frames from IKEA. Either way, the end result is *chef's kiss.*
March is Smart Spending Month on Apartment Therapy! We're here to help you put your hard-earned dollars and cents to use — the right way. Head over here to learn how to do no-spend challenges, buy a home for below its listing price, and so much more.