I Tried That Viral TikTok Laundry Hack to Un-Shrink Your Clothes—And Learned It's an Old Expert Trick
We
independently
select these products—if you buy from one of our links, we may earn a commission. All prices were accurate at the time of publishing.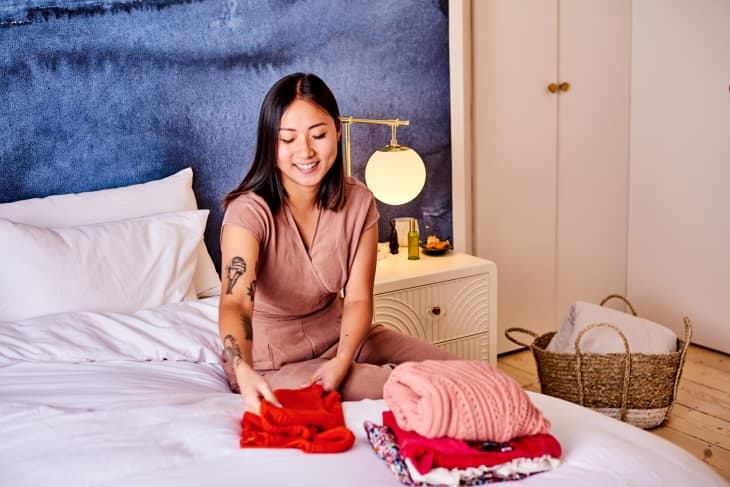 Every now and then, in my nightly TikTok scroll, I find a life hack I absolutely have to try. Last week, a laundry tip that had amassed nearly a million likes caught my eye.

Apparently, if you soak a too-small t-shirt in a solution of water and conditioner, it'll stretch back to a wearable (or comfortable) size. It sounded too good to be true, until I tried it myself with a cozy, old t-shirt that fits a little too snugly these days. 
Here are the TikToker's instructions that I followed, step by step, plus details on my conditioner-stretching process:
Fill a bucket with warm water: Easy enough. I used my bathroom sink because all our buckets were in use or dirty. 
Add conditioner: Mix a tablespoon of any hair conditioner with the warm water. I typically don't use a conditioner, so I dug in my closet for one and squirted in a tablespoon.
Stir: Combine the conditioner with the water as best you can, using your hand (or a wooden spoon). I still had small chunks of conditioner in my mixture when I put the shirt in. Kinda gross looking, but I went with it.
Put your shirt in the bucket: Fully immerse whatever garment you're experimenting with in the water-conditioner solution. The sink was just the right size!
Set a timer: Allow the solution to do its work for 30 minutes. I was on a call when my timer went off, so I left mine in for around 35 minutes. 
Rinse the shirt: Under warm water, rinse excess conditioner from the fabric, then squeeze the water out. 
Stretch: Arguably the most important part! Stretch the shirt to your liking. You'll have to do a little guess work, since the shirt is still going to be wet. 
Dry: Air dry the shirt so it doesn't shrink again in the dryer. Then, try it on and see if it fits! 
Anecdotally, I can attest that the hack worked. But I'm not sure if it's actually good for clothes, or if there's a better alternative. So I looped in laundry expert Patric Richardson, owner of the Minneapolis-based boutique Mona Williams.
Turns out, the TikTok hack stems from a laundry dry-cleaning technique called "blocking," where people stretch the fibers of their clothes to better fit them.
The best way to "block" your clothes at home:
"When you throw your shirt in the dryer and it shrinks, what's happening is the fibers are tightening on top of themselves like a dreadlock," says Richardson. "The conditioner allows them to loosen so you can manually manipulate it back out. It's like detangling with a conditioner."
To make sure you end up with a wearable garment in the at-home blocking process, Richardson has a few suggestions. First, be careful what kind of conditioner you use. For example, avoid color-safe conditioners, which could discolor your clothes. You may also want to wash the shirt after you soak it in the conditioner, Richardson says, to make sure there's no oily residue on the shirt. Just make sure not to stick the garment in the dryer, or it'll go back to normal size due to the heat. 
The best part is, if you follow all these steps correctly, you should be able to simply pull the shirt back to your desired size next time you wash it (without using the conditioner). 
This trick definitely works. I could tell a major difference in my t-shirt right away: It was noticeably larger in the areas I stretched it. Next time, I'd probably be more careful about how much I pulled, but it's hard to tell when to stop! I'm excited to see if the "blocking" lasts after my next wash. (Remind me not to let me put the shirt in the dryer!)
Knowing that the conditioner isn't likely to harm my clothes, and how little time blocking takes, I'll definitely be trying this again with shirts I accidentally shrink in the dryer. I'm also excited to try it out on the rest of my family. 
Had I known about this laundry trick years ago, I could have saved hundreds of dollars spent on prematurely buying my sons new t-shirts. I'm excited to try it on their clothes as they grow to see how much extra life I can get out of them. All the money I could potentially save is definitely worth the price of an occasional bottle of conditioner!