This $75 TikTok Headboard Hack Might Be One of the Coolest, Most Creative Ideas I've Ever Seen
We
independently
select these products—if you buy from one of our links, we may earn a commission. All prices were accurate at the time of publishing.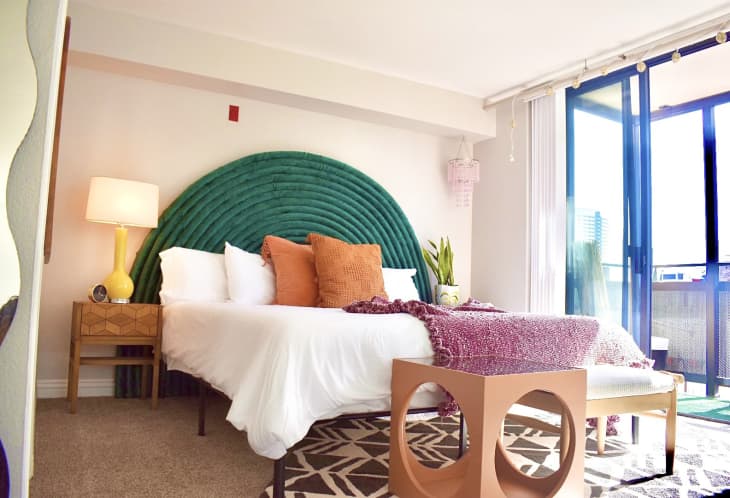 February is Bedroom Month on Apartment Therapy! We're sharing stories all month about bedrooms — from how to decorate them, to the fascinating history of them, and so much more. Head over here to see them all!
File this one under "if you give a mouse DIYer a cookie pool noodle," because one TikTok user has recently gone viral for her stylish arched headboard hack, and she made it out of the most unconventional (but totally genius) inexpensive material: pool noodles!
Posted by Bridgette Whitney, a maximalist interior decorator and muralist, the below video pans over a bed framed by a green semi-circle accent that looks straight out of Urban Outfitters. Can we just take a moment to appreciate that dreamy rich color!? Fast-forward to the next shot, and you'll see Whitney holding an armload of multicolored pool noodles. See where this is going? Lo and behold, she built the headboard shown herself… with 40+ pool noodles, curved and taped together then wrapped in fabric. "My most ICONIC creation😩," she captioned the TikTok, which has already racked up almost two million views.
This video actually gained so much traction that Whitney later posted a follow-up tutorial per the request of numerous intrigued commenters. Here, she breaks down the full list of supplies: a piece of plywood as the base, duct tape, about six yards of fabric, and a staple gun. As far as the oodles of pool noodles go, she suggested buying anywhere from 30 to 50, depending on your bed size and how far you want the headboard to extend (she has a King, for reference). You also can't go wrong with excess fabric — which gets affixed to the noodles via staple gun — because "mistakes will be made," Whitney jokes in the comments. All in all though, according to the initial video's caption, the 4.5-foot-tall finished product cost just $75 total, with the majority of material sourced from the Dollar Store and Jo-Ann Fabrics.
Oh, and for those concerned about the durability or comfort associated with, you know, literally sleeping against fabric-covered foam, Whitney had a smart solve. Her current bed frame already has a short black metal headboard attached, so she mounted the green DIY version against the wall directly behind it and used tall pillows to hide a barely-noticeable gap. "If someone's sleeping on it, it would suck for them to tear the actual fabric," Whitney adds of her decision to keep the original metal frame intact and protect her craftsmanship.
That's great news if you have a similar bed style and are interested in recreating this ultra-unique DIY, as you very well should be and easily can (well, maybe except if you have cats). Whitney's tutorial TikTok shows the step-by-step process in full, and she's been incredibly responsive to users posting any logistics questions. You can also check out more design inspo on her Instagram page, where she recently shared an equally cool-looking yellow-hued headboard crafted using the same method.