9 TikTokers With Homes I'd Love to Live In
We
independently
select these products—if you buy from one of our links, we may earn a commission. All prices were accurate at the time of publishing.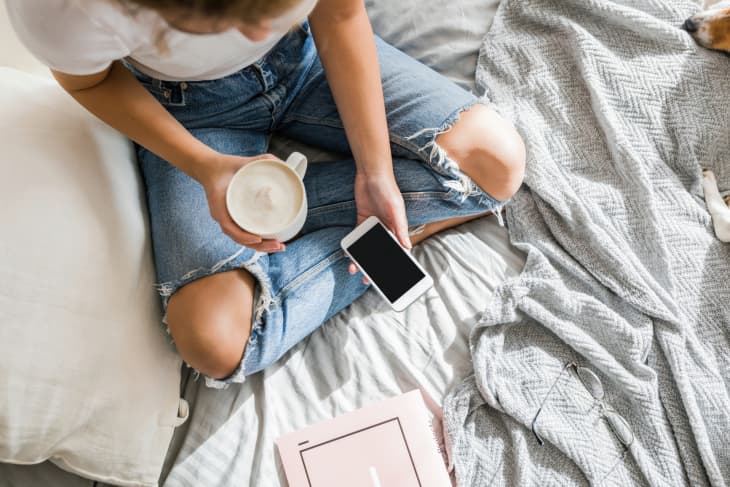 I love TikTok just as much as the next person (honestly, probably even more). There's so much content to consume, it's almost impossible to stop myself from scrolling or buying the latest life-changing gadget that goes viral. The TikToks that really have me in a chokehold these days are the ones where people show off their beautifully-styled homes.
From a colorful condo to a Parisian-style apartment, these nine TikTokers give me (and all of their followers) seriously home envy.
Moira's Sunny Minimalist Paradise
Moira's lofty apartment in Chicago has huge floor-to-ceiling windows and the comfiest-looking sectional. Her place has a simple color palette that consists of bright whites and soft grays, with matte black accents that make it feel super modern. Every corner of Moira's apartment looks luxe and perfectly put together. It's really minimalism at its finest.
Leanne's Dreamy Parisian Apartment
Leanne is a French-American living in NYC, and her apartment looks like it was imported from a street in Paris. On display, she has vintage gold framed art, vaulted ceilings, and my personal favorite: Her TV is framed and sitting on an art easel. Everything in her apartment looks artsy and timeless, I'd swap houses with her for a holiday or really any day.
Eryn's Place Full of Luxury Decor and DIYs
If you're into #BlackGirlLuxury on TikTok then, chances are, the algorithm has put Eryn's apartment on your feed at least once. Her style could be best described as moody, modern-meets-glam with tons of affordable ways to get that luxe look for less. Eryn's use of marble and gold makes her space feel expensive, while her black curtains and decor make it look sophisticated, too. She has over half a million followers and six million likes, so I'm clearly not the only person obsessed with her style, and I think you might be, too.
When I think about Rach's 650-square-foot rental, the first thing that comes to mind is texture and warm tones. She took a minimalist approach to styling her place that's clean and calm. For light pendants, Rach uses pretty wicker baskets, and all of her shelves are perfectly styled with cream-colored pottery and decor. With all the natural light pouring into this space, I'd probably never want to leave.
Niña's Huge Family Farmhouse
Niña lives in a big, newly-built farmhouse in Iowa with her family of six. Her style is a cool blend of coastal and farmhouse with a soft pastel palette. It wouldn't be a true modern farmhouse without Joanna Gaines-inspired white painted shiplap, and her living room has tons of that. What I really love are the current touches, like the powder blue kitchen cabinets with gold hardware, which make her kitchen look extra dreamy.
Paige's Plant-Filled Modern Jungle
Plants will undoubtedly bring life and joy into any space, no matter the style. Paige's cute little apartment in Atlanta is full of plants on the walls, on the windowsills, and basically, anywhere she can fit them. In nearly every video she records, you get a glimpse of her leafy plant babies. Definitely check this one out if you love the Junaglow look.
Luis' LA Loft With the Coolest Home Office
When I first saw the home office Luis created in his LA loft, my jaw dropped to the floor. He has a wooden mid-century modern desk that sits atop a colorful rainbow rug that I absolutely adore. The two green chairs pulled up to the front of his desk for guests also pair perfectly with the rest of his setup. After following him, I quickly saw that the rest of his home was just as beautiful, including a wonderful gallery wall, more amazing mid-mod furniture, and exposed cement that adds a bit of an industrial feel to his otherwise California cool spaces.
Teresa's House With All the Best Amazon's Gadgets
TikTok is the best place to find Amazon gadgets you didn't know you needed. With 3.2 million followers on TikTok, Teresa Caruso is the queen of this niche and worth a follow, if you're constantly looking to buy things that'll make your life easier. After renting for a while, she recently bought a house, and it packs so many ideas and products, it's hard to know where to look first. Sleek bathroom organization, kitchen accessories, affordable decor —you name it, Teresa's got it!