One of the Most Personal, Custom (and Stylish) Tiny Houses Ever
We independently select these products—if you buy from one of our links, we may earn a commission. All prices were accurate at the time of publishing.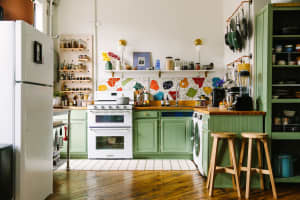 Can't-Miss House Tours Straight to Your Inbox
Keep up with our latest house tours each weekday with our House Tour of the Day newsletter
Name: Jewel Pearson
Location: Wilmore — Charlotte, North Carolina
Size: 360 square feet, including two lofts, plus 80 square feet of screened-in porch
Years lived in: Owned the tiny house almost 3.5 years, renting the parking location for more than a year
Jewel Pearson—the self-proclaimed Ms. Gypsy Soul—has built one of the most personal, custom tiny houses we've ever seen. Jewel's considered an expert in the world of tiny homes; in fact, she generously shares her knowledge of the process through tours, house plans, consultations, advice, and more, with anyone who is interested in learning about the tiny house movement.
Though this was Jewel's first attempt at designing and building a tiny house, the result is a space that fits her life perfectly. Much of that comes from taking the time to really know how she needs and wants to live. "Most of the inspiration for my tiny house came from paying attention to how I used my previous living spaces, their designs, and the parts of those spaces that I loved," she wrote. "Also, knowing the things that were my must-haves, nice-to-haves, and the things on my 'wish list' served as inspiration."
Natural light was paramount—and a wall of windows provides plenty. Jewel knew she'd want to continue entertaining, and so a full-size couch offers lots of seating. She also dedicated a healthy amount of space to bathroom counters, a walk-in closet, and a washer and dryer. And a screened-in porch offers up extra living space that adds to the calming, zen-like experience of being in her home.
Her story is one of determination, doing things yourself when you have to, asking for help when you need it, and not being afraid to take a chance on something (even when some friends call you crazy). And we're proud to announce she's the first in an original 6-part series called "The New Homesmiths," where we meet people looking for change—and see how they found it at home, redefining what it all means in the process.
Apartment Therapy Survey:
My Style: Urban chic, soulful, funky, contemporary, earthy, somewhat eclectic, "different"…
Inspiration: Most of the inspiration for my tiny house came from paying attention to how I used my previous living spaces, their designs, and the parts of those spaces that I loved. Also, knowing the things that were my must-haves, nice-to-haves, and the things on my "wishlist" served as inspiration. Ensuring I'd be able to have lots of light no matter where I parked it inspired my "wall of windows." My large round window is a special touch that has become part of the signature for my tiny house. Knowing that I still wanted to comfortably entertain as I always had, inspired the openness and required a comfortable, full-size couch, the "Sactional" from Lovesac. And knowing what keeps me balanced and happy inspired the size and layout of my bathroom, my walk-in closet, and even inspired a bonus screened-in porch, which I hadn't seen in a tiny house previously.
Favorite Element: Being able to design my own tiny house from the ground up and incorporating items and artwork that I've had for years in larger spaces brings me joy. Some of my favorite pieces that center me and represent "home" for me, definitely made the transition from a "traditional" space to my tiny house seamless.
My African pieces and statues, my African drum and masks that have been on the walls and throughout my homes for 15+ years. Being able to turn my IKEA mirror that I'd had for a few years, into working triple duty as not just a mirror, but also as the sliding door for my bathroom and part of the aesthetic of my tiny house design.
Just recently, with the expansion and "remix" of my screened-in porch, I was able to welcome my futon, that I love, back home after three years without it and have it rejoin my papasan chair—which was so exciting to me! It's the little things… my screened-in porch is the newest "zen" space in my tiny house, though really the entire house is that for me.
Biggest Challenge: The biggest challenge at the start, after I'd done two-plus years of research and was ready to build, was ensuring the flow of my tiny house worked for me, was comfortable, and that I incorporated what represented home for me in a much smaller and different type of space. That was definitely accomplished from the beginning design phase and in the finished build, with assistance from my sister, Dawn White, and family friend, Jamie Lawson, both of whom are interior designers. I'm always asked what I would change about the design of my house, knowing what I know now, and thankfully with three plus years in the answer is still nothing. I'm always changing up my decor and tweaking my aesthetics, but the design foundation of my tiny house is perfect for me.
Another big challenge was finding somewhere to park my tiny house that didn't disconnect me from the center of the city. After the build and a short stint in an RV Park, I found a beautiful parking spot in a quiet, tree-filled backyard in the 'burbs belonging to a wonderful property host who treated me like family, but my soul needed the movement and connection of city life and I didn't want to have to totally give that connection up if it was possible. It took trusting that it would happen eventually from the start of my build, lots of effort in sourcing locations, patience, and more trusting that it would happen once I was living in my tiny house. Gratefully, I have been able to achieve it.
I'm currently dreaming about finding a space up a little higher to park it so I could enjoy the views of the sunrises and sunsets that I enjoyed in my mid-rise apartments in both Atlanta and Charlotte.
What Friends Say: I've been blessed to have some core friends who, while they might not understand exactly what my next idea or plan is, give me credit based on successful past ideas and ultimately they support me because that's what good friends do. When I was researching and talking about my plans to build a tiny house, it was prior to tiny houses being well known or really a thing; there weren't many, and they certainly weren't as luxurious as some are now—but those friends were right there supporting me from my "crazy concept" to execution.
Because I'd exhausted all my personal financial options, exceeded my budget, and I was just mentally exhausted—some of [my friends] were onsite helping where they could and actually opened their wallets to me. Those are the friends that today can tell you all about my build process, my tiny house, and will sometimes send me a quick text asking what my website is because they are somewhere telling somebody about my house.
Outside of my core circle, I had friends who were checking in on me, sending the names of resources, texting some encouragement since I was kind of vocal about my weariness, or they put in some time to help onsite with a part of my build. Then of course there were some who didn't fit in any of those categories, who thought I was crazy and they likely might still think I'm crazy and that's very okay with me.
Biggest Embarrassment: I host consultations and tours of my tiny house and very early on I wasn't "embarrassed," but I was a little "uncomfortable" about a few things that I knew to be the "imperfections" of my tiny house. It's really easy to look at other people's "stuff" online and in person—and in this case as other tiny house builds started popping up—and start critiquing your stuff with a more critical eye, while totally overlooking the fact that the sharer likely has their own "embarrassments" and "uncomfortableness" about whatever it is.
Some things happened during the build and some were things that I did post-build, such as the installation of the plumber's pipe ladder rungs on the wall that provide access to my second loft—both rungs are a little crooked. I installed them because my finances were busted and I couldn't afford to hire a professional.
The wood panel that is the sliding door for my walk-in closet is warped because I had purchased it and then had to hold it in the back of my SUV for a while, because the build was behind. When you look at it now from the side you see the warp and when the humidity in my house increases it gets a little worse. I've learned to use that as an indicator that I need to run the "Dry" cycle on my mini-split system, so maybe there's a "silver lining" of sorts.
Proudest DIY: Though inexperienced at the time, I sourced all of the materials for my build. That was a huge and potentially risky "DIY" for me, but I trusted my research and today I can talk to you in detail about all of the components and materials in my house. I've also shared some of that knowledge with tiny house builders and in my tours/consultations and it's been cool to see other people follow my lead.
My proudest, proudest DIY would be my two front decks that I actually physically built all by myself. I was tired of waiting for contractors to get back to me and really tired of tracking dirt and mud into my space. I needed more of a buffer between the outside and my house, and I thought I could build a deck. I tried it and it turned out so well that I built immediately built a second, larger deck.
Biggest Indulgence: The entire tiny house. I knew that I didn't want to feel as if I was giving up anything to go tiny. I'm older, I've lived in and enjoyed some very nice spaces and knew long-term that I wouldn't be happy if I did. I spent a little more than double what I'd "guesstimated" going in, however three plus years in and my tiny house still makes me happy.
Best Advice: Follow your dreams and trust the process. Living a lighter/more free lifestyle is something I knew I wanted to do when my daughter went to kindergarten about 25 years ago—the initial vision being RV living. Being a single parent was often tough and I envisioned "coasting" a little easier and lighter through life and with less responsibility once she was an adult. Twenty-five years is a long time to dream a dream and so many things happened in between. So my advice is to follow your dream, whatever it is, to stay the course and trust the process to get there, even when you feel off track and definitely when things get tough.
Dream Sources: Believe it or not, walking through and spending time in places like World Market and Pier 1 also fuel my dreams; the way those stores smell and the mix of colors, materials, artwork, and designs.
This interview has been edited for clarity and length.
PAINT & COLORS
Behr Premium Plus Ultra — Fireweed
Behr Premium Plus Ultra — New House White
LOFT BEDROOM
Mattress — Casper
"Headboard" Artwork — Photoshoot with Saddi Khali