6 Tiny Mindset Shifts to Improve Your Relationship With Money, According to Experts
We independently select these products—if you buy from one of our links, we may earn a commission. All prices were accurate at the time of publishing.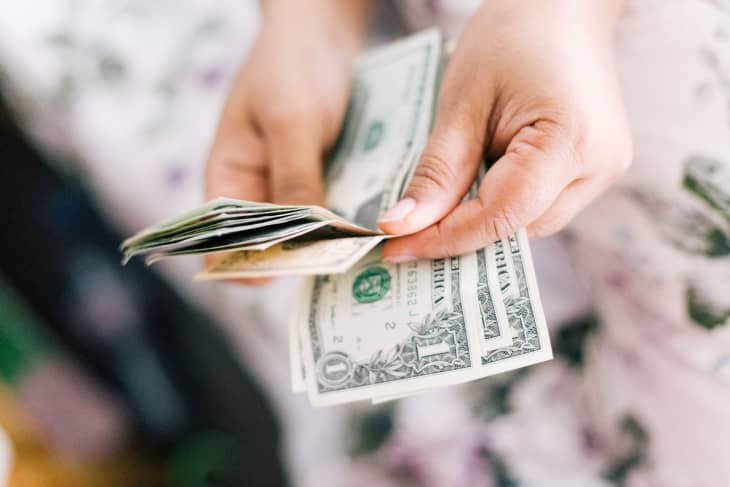 Creating a healthy relationship with money isn't something that can be done overnight. Even if you were raised by people who taught you how to budget (and maybe even explained how compound interest works), you may not fully understand the intricacies of budgeting until you have a huge financial goal you want to meet, like buying a house or paying down credit card debt. And coming from someone who knew nothing about money until I had student loans to pay off, it's not easy. 
To help, personal finance experts weighed in to guide you in reworking your interpretation of—and misconceptions about—budgeting. Even small mindset shifts can help achieve bigger financial goals over time. Here are six of them.
You don't have to "give up" anything if you don't want to—budgets are plans you fit to your lifestyle, not strict rules you're slapped with.
"Budgeting doesn't mean you can't have fun, you just need to budget for it," says Carmen Perez, founder of the popular personal finance blog, Make Real Cents. "If you like iced coffee from Starbucks or enjoy shopping, there is nothing wrong with including it in the plans you have for your money. Just make sure you budget it in."
Don't think of it as saving money, but instead earning money for yourself.
"One small but mighty shift when it comes to paying down debt is getting in the habit of taking the cash that's leftover from your budget or paycheck and making an extra payment towards your debt," Perez says. "It doesn't have to be astronomical, either. Five dollars helps build a solid habit."
View your leftover change as cherries on top of your budget, rather than coins you toss in a jar.
"Our spare change jar really helped keep my wife and I motivated during my journey towards becoming debt free," Perez says. "We would earmark the change in the jar for a special date night or use it to treat ourselves once we filled it up. Then we would use it and start all over again."
Visualize food waste as money down the drain—literally. 
"On average, Americans throw away about $32 a month in food waste," says Jully-Alma Taveras, a finance expert in Yonkers, N.Y., and the founder of Investing Latina, an online community for women looking to improve their personal finances. "That can be enough to cover electricity, or better yet, it can be invested for retirement."
Listen for a faint "cha-ching" every time you use a home appliance or utility.
"Electricity can get expensive, especially if you have a big home," Taveras says. "Keep your usage down by using fewer curtains or just taking the time to open them daily and use the natural resource: Our sun!"
Taveras also suggests not washing all of your clothes after every wear. Things like jeans, sweaters, jackets, and lightly worn clothing can be worn a couple times before throwing them in the laundry machine. This not only helps conserve water, but it also helps keep utility costs down. Even though it may not be much month to month, these costs can add up over time, and you can put that extra money towards your larger goals. 
You reward yourself when hitting goals at work or in school, right? Do the same with your budget.
Life is a lot more fun when we celebrate our successes—and staying within budget is definitely a cause for celebration. 
"I celebrate every month I stay within my food budget," Taveras says. "It allows me to accomplish big goals like saving and buying a home."
A celebration doesn't need to be something big, either. You certainly don't need to go buy an expensive handbag after you managed to stay within your monthly food budget. Instead, celebrating could be something like emptying the change jar and using it to help pay for a nice dinner out with your partner, or taking a long bath at the end of the day with a glass of wine. Congratulating yourself can make a big difference in re-affirming your goals.