A Teeny Studio Apartment Is Well-Designed and Incredibly Cozy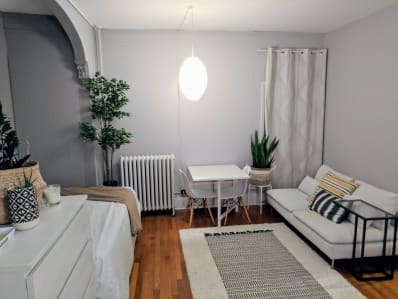 (Image credit: Nkiru Azikiwe)
Name: Nkiru Azikiwe
Location: Monroe, NY
Size: 290 square feet
Years lived in: 2 months, renting
I live in my tiny studio alone. I enjoy the independence and need my own space and alone time to come home to after a long day. I've never lived in a place quite this small! However the location is perfect, the price is right, the space is clean, and landlords are great so it was really a no-brainer. I always thought I needed a huge space to feel open and airy, but as I've grown older I've come to really appreciate small, well-used spaces. I played around with a few furniture arrangements here and found that the current layout is most spacious and functional. I'm drawn to the simplicity and cleanness of Scandinavian design and also find Bohemian style very appealing with the patterned textiles and cozy rugs.
(Image credit: Nkiru Azikiwe)
In a small space everything should be multi-purpose. The couch has space underneath for my art supplies. The bed, which fits perfectly into the little window nook, also has storage underneath for large items like luggage and extra toiletries. My IKEA folding table serves as my work space when I work from home, a dining table for two, or can even expand to fit four or six people for dinner or a study group. Stools that my plants sit on serve as additional seating. The bench in the entry way also serves as a coffee table. And the dresser has a small tray which is a landing place for mail. I really love art so I surrounded the dresser with almost a gallery wall effect so it doesn't feel like the dresser is just sitting in the middle of the room.
(Image credit: Nkiru Azikiwe)
My friends say my apartment is super cozy and feel so comfortable here. My IKEA couch which I got off Craigslist is super sleek with clean lines and is a great place for a friend to crash for the night. I really love my cozy little space for now. When I move onto a larger space, I love that I can use the same furniture since I purchased normal-scaled furniture as opposed to condo-sized pieces.
(Image credit: Nkiru Azikiwe)
What is your favorite room and why? My favorite spot in my apartment is the view I get when I'm sitting in the bed nook with my back against the window and can see my sofa with the cozy pillows, the white folding table with modern chairs, hanging lantern, and all my plants by the window sill.
(Image credit: Nkiru Azikiwe)
If you could magically change something about your home, what would it be? Wall color. I prefer white walls especially since I don't get much sunlight here. However, since the landlords recently painted the place a light gray, I decided to just work with the light gray rather than re-painting.
(Image credit: Nkiru Azikiwe)
Any advice for creating a home you love? Think outside the box and design according to how you actually live rather than just buying standard furniture. For example, I don't use a coffee table that often and don't own a TV, so I opted for a side table instead. I sketch sometimes and am on the computer for eight to nine hours when I work from home, so I opted to purchase a large multi-functional table rather than a small, space-saving desk. Another example is bed selection. There are several options for beds in a studio apartment—loft, murphy, day bed. I know myself. When I'm tired at night or slow to wake up in the morning, I do NOT want to deal with putting a bed up and down, or make the extra effort to get in and out of bed. So I chose a regular bed but full sized and dressed it up like a day bed with pillows. This works for me and the way I function. With a small home you really have to consider what furniture you bring in. Also, creating zones is important in a studio apartment so you don't go crazy feeling like you live in one room.
Thanks, Nkiru!
• Interested in sharing your home with Apartment Therapy? Contact the editors through our House Tour & House Call Submission Form.