A Couple Shares the Most Organized, Functional 240-Square-Foot Studio Ever
We independently select these products—if you buy from one of our links, we may earn a commission. All prices were accurate at the time of publishing.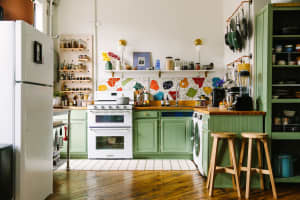 Can't-Miss House Tours Straight to Your Inbox
Keep up with our latest house tours each weekday with our House Tour of the Day newsletter
Name: Raechel Lambert and her husband, Ryan
Location: SoMa — San Francisco, California
Size: 240 square feet
Years lived in: 2 years, renting
[Editor's note: Raechel and Ryan have moved from this tiny San Francisco studio into a New York City home, but don't worry… their new place is also small and they will be letting us tour the space soon!] Raechel has always considered herself a minimalist, but moving into her tiny studio apartment with her husband Ryan two years ago took it to a whole new level. Luckily for the couple, living in such close quarters wasn't totally unfamiliar. They previously lived in a small, 360-square-foot apartment where they were able to squeeze in their bikes. Though their current apartment wouldn't allow such a thing, the couple say it feels bigger than 240 square feet, partly because of the access to a roof deck and Raechel's knack for keeping household items at a bare minimum.
Inspired by the challenges of living in a micro-size apartment, Raechel started documenting her adventures in her blog Small Space Big Taste. She says coordinating sleep schedules, noise reduction, and privacy remain the biggest hurdles of small space living—but really, it's the little things she misses most. "The biggest adjustment has been not really having a functioning freezer," she says. "It's a very narrow slot that can fit an ice cube tray or a small pizza, but not both. We overcome this by eating the entire pint of ice cream in one sitting."
Apartment Therapy Survey:
Our Style: Organic modern with an emphasis on function and being easy to keep clean.
Inspiration: Modern San Francisco style—bright, minimalistic, industrial. I love The Good Abode, Flora Grub, and SFMOMA.
Favorite Element: Huge north-east facing windows. We're morning people and love waking up early to bright light. Raechel's best morning includes sipping coffee on the patio while watering the plants.
Biggest Challenge: Space! Two adults with musical hobbies means space is short. I came up with the "Rule of Threes" to help cut down on stuff: Every item must have at least three different uses, be used three times a week, or be used for more than three years.
What Friends Say: They're surprised at how I can still cook big, delicious meals with just a single-burner glass top and small combination convection/microwave oven. I've made a full Thanksgiving meal here twice!
Biggest Embarrassment: The frosted glass walls and door to the bathroom look great and let light in, but don't provide much in the way of noise privacy when nature calls.
Proudest DIY: The vertical garden. The magnetic containers are meant for storing office supplies but Ryan drilled holes in the bottom for drainage. The galvanized steel wall covering is part of the building and I was thrilled when I realized it was magnetic!
Biggest Indulgence: Our musical instruments. There really isn't room for an 88-key keyboard but we make it work by storing it on the floor under the bed. When it got delivered I was 100% certain the bed would clear it when we put it down to sleep.
Best Advice: In a small space you have to recognize that it can't do all the jobs you want it to and so you must prioritize. Relaxing, working, creating, cooking big meals, having sleepovers, and entertaining can't all happen in a small space so you have to pick the one or two that are most important to you and optimize for that. We optimized for relaxation. If we have lots of work to do, we head to Workshop Café.
Know that your life will have seasons. Some seasons you might have a small space and spend a lot of time exploring the city. Other seasons you might have a bigger space where you can spend time at home with guests and do lots of cooking.
Dream Sources: I hate shopping so once I find a brand I like I tend to stick with it. CB2 is where I buy most things and am really happy with it, but would love help from my designer friends to branch out more for our next pad.
PAINT & COLORS
Colorhouse — Water 02, Metal 04, Air 01, Air 03
Thanks, Raechel and Ryan!