4 Tips for Completing a Home Reno Project in the Short, Dark Days of Winter
We
independently
select these products—if you buy from one of our links, we may earn a commission. All prices were accurate at the time of publishing.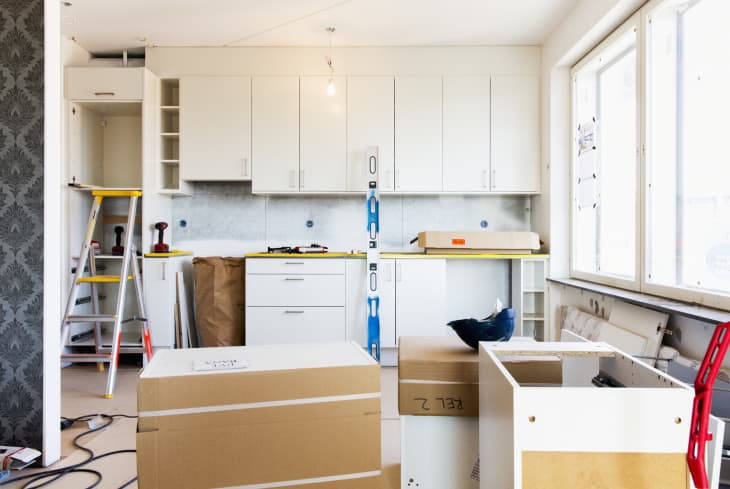 It's hard to get stuff done when it starts getting dark at 3 p.m. Some days move so quickly from sunrise to sunset that it feels as though anything involving a real time commitment has to be shelved until spring. But you don't need to let dark and sometimes gloomy winter days force you into hibernation on your home improvement projects — you just need to adapt.
"Taking on home projects is a great way to pass the time on dreary winter days," says Mallory Micetich, home expert at Angi. "Winter is the off-season for many contractors, so you may be able to complete your projects for lower prices or have better luck finding a pro than you would in the busy season."
While certain projects might be out of reach in the cold days of winter, depending on where you live (think: installing a pool or a patio), you can be strategic about your to-do list at this time. And, not to mention, big box stores may reward you. "Winter might also be a great time to score deals on kitchen and home appliances," Micetich continues. "Between Thanksgiving and President's Day, many retailers offer deals on big-ticket items, and due to lower demand, it could be easier to book installation."
If all this talk about strategy and saving money suddenly makes you feel optimistic about completing home projects when the days are short, read on for tips about how to get things done.
Start earlier, especially for exterior projects.
Before you decide which projects to tackle this season, Sarah Fishburne, director of trend and design at The Home Depot, says you should have a general plan in place. That will help you with your scheduling, too, which should take daylight hours into account.
"With shorter days, you'll want to get an earlier start on projects you plan to do on the exterior," she says. "This way you can maximize daylight before it gets too dark."
Break your project into sections.
In the long, warm days of summer, it can feel a lot easier to complete a project start to finish in one go. But the same isn't true in winter, and you should adjust your plan accordingly.
"Planning out a project can help you know how much time to dedicate to it per day," Fishburne says. "This can be helpful for accountability, and not overworking yourself during the day."
"Setting goals is a good way to track how well you are managing time for your project, as well as any deadlines you want to meet," Fishburne says. Plus, it's a great way to stay motivated when a project is stretching on for a long time. Give yourself small milestones that are achievable within the span of a reno session, and you'll be able to check something off as "complete" every day.
Pick a winter-friendly project.
Of all the projects you could prioritize in the winter, Micetich says that putting in new hardwood floors should be at the top of your list. "Winter is the ideal time to install new hardwood flooring," she says. "The cool, dry air reduces the risk of water damage and shortens the adhesive's drying time." As always, make sure you have all of the materials you need before any professionals come to your door, and they can knock out this project much faster than they would be able to in August. As for a project where pros aren't as necessary? Micetich has another idea. 
"Winter is also an excellent time to paint the walls in your home, because the paint will dry faster than in the humid months," she says.
In this case, provide plenty of ventilation in the spaces that are getting a fresh coat, from cracking the windows and wearing layers to using fans to push the fumes outside. Fishburne notes that wallpaper can be an on-trend project if you'd like to try something other than paint. "While wallpaper can seem intimidating for those less familiar with DIY, it is relatively easy to install, especially if you are using a peel-and-stick option," she says. 
If persistent cold is a problem in your home, Micetich recommends repairing the insulation as a more intensive winter-specific project. "It's also the perfect time to complete indoor insulation projects," she notes. "Seal up any cracks by your doors and windows to keep the warm air in and the cold air out. You can also check your insulation levels and add more as needed. These projects will keep you warmer for the rest of winter, and keep your energy bills down for years to come."
Since you'll be spending so much time indoors, and hopefully cooking up cozy meals, Fishburne thinks it's also a good time to update your backsplash. She notes that The Home Depot has a nifty ceramic tile calculator to ensure that you'll have enough of that specific material. "As we see colorful kitchens making a comeback, you can either opt for a neutral backsplash or lean into creative colors and patterns to showcase personality," she says. "If you're looking for a more modern backsplash that's peel-and-stick, this mosaic tile can bring out a clean and sleek feel to your kitchen."
Lastly, considering how much time you'll probably be spending on the couch, it's also a good idea to focus on how your flat-screen makes your neck feel. "Another great winter project to complete, especially ahead of the Super Bowl, is to have your TV professionally mounted," Micetich says. "A properly mounted TV can really enhance your viewing experience." And the best part is that you never have to leave your house for that one. 
Two More Things to Remember About Winter Projects 
Given that you might get restless for outdoor activity in the winter, Micetich says that those in a warmer climate could get away with fresh air work as long as they're dressed appropriately and have the right tools — including for when it gets dark earlier. "If you really want to complete outdoor projects this winter, make sure you have a really good artificial light source to keep yourself safe and alert," she says. A battery-operated work light like this one from Ryobi is a great fit for both indoor and outdoor projects, and comes in clutch when you're doing any work that involves disconnecting power (say, swapping a light fixture or replacing an outlet).
Alex Forte, a merchant at The Home Depot, agrees, and notes that safety gear should also be used — snow gloves are not the same thing as protective gloves. "For any type of project, it's important to wear the right safety equipment and gear, from safety glasses to hearing protection and disposable protective clothing," he says.
It's also important to note that winter brings a lot of unpredictability with the weather, which is why it's best to save any roof work or landscaping for warmer days. While being flexible can make these projects possible in some more temperate climates, don't push yourself if you don't need to. 
"There are plenty of indoor projects you can do to keep yourself busy throughout the winter months, and you can refocus on your outdoor spaces when the days get longer in the spring and summer," Micetich says.