7 Tips for Entertaining When You Have a New Pet
We independently select these products—if you buy from one of our links, we may earn a commission. All prices were accurate at the time of publishing.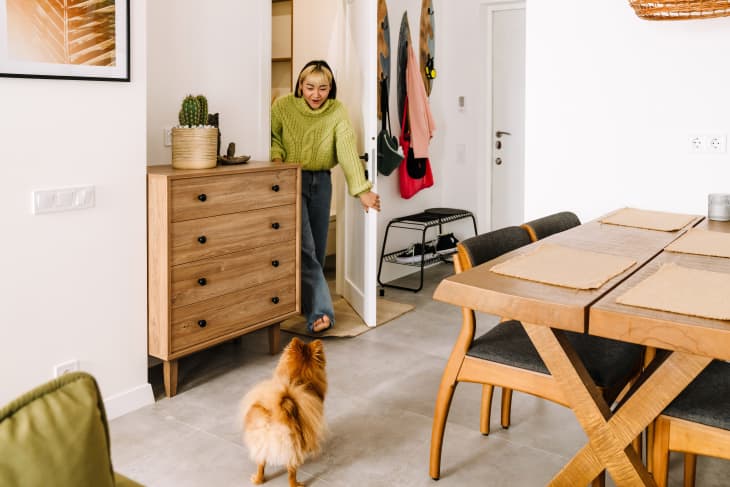 Let's face it: Along with plenty of joy, new pets bring their fair share of couch scratches, chewed shoes, and pee stains. So when they finally get acclimated to you and your environment, it's a major accomplishment. The natural next step? Celebrate by introducing your furry friend to your loved ones.
Of course, that comes with its own set of challenges. But entertaining at home with a new pet is possible, and it can actually be an enriching experience for your pet to build their confidence and socialization skills. We tapped two pet experts for their top tips on how to have guests over with a new pet — smoothly, safely, and happily.
Start while they're young.
The best time to introduce pets to new people is pretty much as soon as possible, says veterinarian Dr. Michael Lazaris, founder of Vets on the Common. "New puppies and kittens are often more receptive and tolerant of strangers, especially when treats and cuddles are involved," he explains. 
That said, you should still allow your new pet some buffer time when they first arrive in your home so they can get comfortable. "Make sure you've given your pet a week or two to settle in first," recommends Lazaris. "A new home and new friends can easily become overwhelming!"
In fact, for most dogs, social interactions — and especially large gatherings — are very stimulating. To ease yours into meeting people, begin by entertaining one or two guests at first, says professional dog trainer Andrea Arden.
Just like humans, pets need their alone time — even the most social and well-mannered ones, says Arden. "Prior to inviting guests over, set up a resting spot for your dog," she advises. "This can be a room, a gated area, or a crate."
A safe space is especially helpful when having larger gatherings, so pets have a calm zone to retreat to "if they're feeling anxious or have simply had enough time spent around people," says Lazaris. 
Arden notes that, for dogs in particular, practicing separation skills — or teaching pups to remain calm during absences from their owner — is a top priority so that they feel comfortable staying at their resting spot.
Shower them with attention beforehand.
Juggling all the responsibilities of being a host means you won't be able to engage your pet 100 percent of the time while entertaining. So, spending quality, active time with them prior to the function can come in handy. "Make sure to give your pet lots of attention before your guests arrive," says Lazaris. "Take dogs for a long walk and have extra playtime with them." This exercise also helps pets expend their energy, so they feel less anxious while you're attending to others.
Prepare their favorite toys and treats.
Regardless of how much time you spend with your pet in advance, your furry friend might still crave some activity during the event. Luckily, plenty of items can keep them happily occupied with solo time. "Have at least two toys that are hollow in the middle so they can be stuffed with food — either your dog's normal meals or special treats," suggests Arden. "Two of my favorites are the Busy Buddy Twist n' Treat and the Comfort Bone. Think of these toys as a dog's version of a cell phone or TV — a surefire way to maintain their attention."
An alternative for cats are snuffle mats, which act like a food puzzle, Lazaris says. He also finds that treats can prevent boredom. "I always advise natural calming chews, like Relax+Restore, which can ease any anxiety your pets might be facing," he says. 
Brief guests on how to interact with your pet.
You may have to set some boundaries for your guests in order to keep your pet happy and healthy. "Focus on educating your guests before they arrive," advises Lazaris. "Explain any training methods you've been using, and ask them to do the same, such as sitting for treats [or] not allowing them to bite at hands." Remind guests to not follow pets into other rooms if they're trying to escape, he adds. 
Also, keep in mind that pups tend to reflect human behavior. "Dog trainers are big fans of low-key introductions. That is, advising guests to be calm [to help dogs with] greeting in a calm and polite manner," says Arden. This can be challenging for people when meeting a new pet, as it's an exciting moment. "But pet parents should consider that the interactions a pup has set the stage of how they will behave through adulthood," Arden adds. (She also recommends having dogs on a leash for initial interactions if needed, so that you have an effective way to prevent them from jumping up.)
When your event involves eating, you'll want to set specific ground rules for that, too. "Tell [guests] not to give table scraps as this can engrain begging behavior, and to always keep food and drink far out of reach from foraging dogs and cats," says Lazaris. "Also, identify any foods you might be serving which can be dangerous to pets, such as chocolate, onions, and fatty foods."
While it might feel awkward listing everything guests shoudn't do, remember that people can still get involved in other ways. "If your guests are willing, hand them a few tiny treats to reward your dog when they greet with four paws on the floor, which means they are standing or sitting," Arden offers as an example. 
Be cautious of introducing them to other pets.
Sure, there's a lot to consider when introducing a pet to new humans. But, there's even more to consider when introducing them to new pets — and it's not something that can be taken lightly. 
"Never force the situation here! If your pet is showing signs they don't want to be around another pet, then let them have their space," says Lazaris. "Remember you are taking your pet into another pet's territory, so be respectful and don't let your doggo run amok as this could lead to a scruff."
For a safer option, you'll want to introduce pets on neutral ground. "Consider having their initial interactions take place outdoors and, if you do bring them inside, be sure to put away all toys and bowls to decrease the possibility of resource guarding," says Arden.
Trust that it can turn out great.
While introducing a pet to new people can be a little nerve-wracking on your first go, a lot of benefits can ultimately result. "I have most definitely entertained guests in my home with pets and find that it can be a wonderful opportunity for everyone to have fun," says Arden.
Lazaris notes from personal experience, too, that it's just a little extra work that goes a long way. "I'm rather lucky with my cat, Otto, as he is super confident around guests and will introduce himself to everyone," he shares. "Even so, I leave my bedroom door slightly ajar so he can hide in there if needed, and I make sure to check up on him from time to time with treats. He will also eat anything and everything, so I tell my guests to not give into his cries for (fake) hunger!"