My Mom Owned an Antique Shop — Here Are Her 3 Tips for Finding Gems
We independently select these products—if you buy from one of our links, we may earn a commission. All prices were accurate at the time of publishing.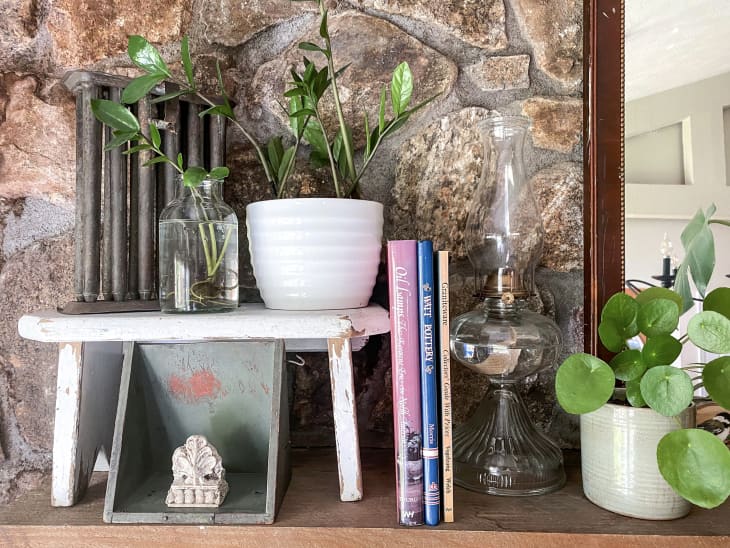 As an only child, I went everywhere with my parents. I might not have appreciated that back then, but I'm certainly grateful now. Being toted along allowed me to travel, which sometimes meant accompanying my mom on buying trips for her antique store, a shop she ran for 30 years near where I grew up in Pennsylvania. 
Follow Topics for more like this
Follow for more stories like this
Thanks to the education I gleaned while scouring antique shops and flea markets with my mom, I now have spaces of my own in four antique malls, consign clothing at our local vintage store, and have a setup at artisan markets. My mom gave me a strong foundation on what to look for and how to hunt for treasures. After three decades of buying and selling, she has since retired her business — but she still has as keen an eye as ever and knows her stuff. Her best word of advice for finding thrifted treasures? Learn about the pieces that interest you. Here's how to do just that.
In my mom's day, books like Kovels' pricing guides were the standard for determining an antique's value. I remember my mom finding treasures and helping her look up values in the latest copy. For nostalgia's sake, I still have some of her specialty guides on graniteware and oil lamps. 
Although these books are still in production, nowadays, owning a smartphone is like having a pricing guide at your fingertips. I'll often be thrifting and quickly head to eBay or Etsy to find out if something is valuable by searching for the brand or typing a description of the item. Over time, it gets easier to remember what things are worth, and consulting the web becomes less frequent. 
Familiarize yourself with earmarks.
My mom was always interested in furniture, so she learned how to identify the markings of a genuine antique. As her love was for more primitive pieces, she learned to spot handmade dovetailing (as opposed to machine-made) and square nails in a heartbeat. If you're simply looking for a dresser of specific dimensions, the era might not matter to you as much. But when presented with two options at a thrift store, you may end up with an absolute treasure if you know your stuff. 
You can find antique characteristics online, and you can learn an extra something by chatting with experts or following their social media accounts. The last time I dropped off my vintage clothing consignment, I talked briefly to the girl behind the counter. My expertise is identifying dresses from the '50s through the '70s, and her love is T-shirts, so I asked her how to spot authentic vintage. I was so excited when I found a fabulous shirt this week, and I never would have known what to look for had I not asked.
As my mom says, knowing everything about antiques is impossible, mainly because there is such a broad range of eras and so many things are handmade. Suppose you love mid-century modern pieces: Research that period via Pinterest or old magazines to see what was en vogue at the time. If you want to collect vintage cocktail glasses, familiarize yourself with patterns and how to spot different makers.
When chatting with my mom, she also noted that just because something isn't valuable doesn't mean it's not a worthwhile purchase. Sure, scoring a Blenko vase worth $100 for a mere $5 at a thrift store is fun. However, if you're at an antique shop and find an original painting from an unknown artist for $40, don't let that stop you from buying it just because the value is undetermined. Sometimes worth isn't just monetary if it's the perfect fit for your space or simply something that brings you joy.