5 Hassle-Free Tips for Traveling While on Your Period
We independently select these products—if you buy from one of our links, we may earn a commission. All prices were accurate at the time of publishing.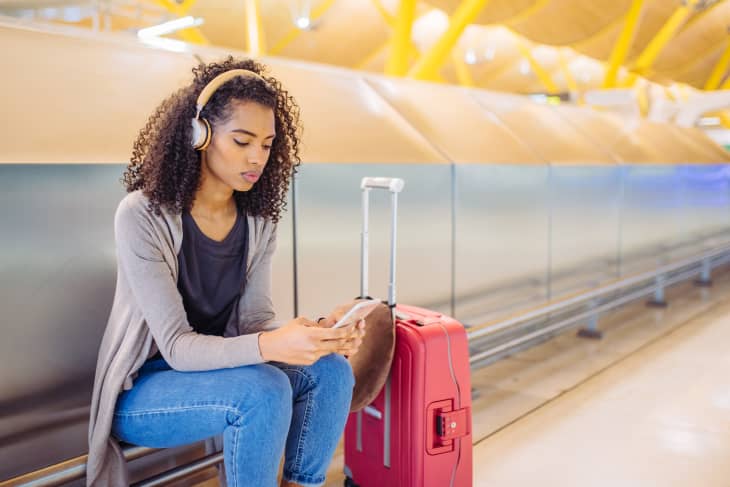 The first time I got my period while traveling — or at least the first time I can remember it pissing me off — I was about to board an 18-hour train ride from Denver to Chicago. Almost as soon as I settled into my seat, I felt that familiar pain and dread. I spent the rest of the ride in excruciating pain, wishing I could temporarily rip my uterus out of me. 
Follow Topics for more like this
Follow for more stories like this
The second time I got my period while traveling, I was in Paris, walking the streets in search of this clothing store I'd heard about, determined to ignore the fact that I was about to faint. I was going to have a good trip, dammit, and bleeding was not going to get in the way of that. I resisted my body for a long time before I had to give up and go back to my hotel, watching French TV that I couldn't understand while crying and eating quiche and apple juice, begrudging the lost hours. I became determined to never let traveling on my period get the best of me again. 
Ideally, I'd love to have all my periods while curled up on the couch with a cheeseburger, my trusty old heating pad, and unlimited episodes of my favorite TV shows. Unfortunately, even when people plan meticulously, their cycle sometimes pops up during one of the most inconvenient times — when they're on the road, even if it's the European vacation of a lifetime or a 38-hour train to Arizona (yes, this happened to me too). 
Traveling while on your period may be unavoidable, but if you get to know some techniques and products, you can help make sure it sucks as little as possible. Here are some tips I have after years of trying to hack period travel, and some insight from the experts.
Know When Your Period is Coming 
Download a period tracking app like Clue, which will tell you when to expect it. It's not always exact, but it will help you mentally prepare for your period while traveling, avoid planning a trip during your period altogether, or do preventative things to lessen the pain when it does arrive.
Everyone is different, but when I exercise or walk frequently in the weeks preceding my menstrual cycle, the cramps are significantly less painful. Dr. Lyndsey Harper, OB/GYN and CEO of a sexual wellness app called Rosy, says that for some, exercise can also help once your period has started. "Working in some light exercise — a walk through the city or on the beach — can minimize menstrual pain as well," she says. Track your cycle and symptoms, including activities or foods that make you feel better or worse, so you'll have as much information as possible. 
And once you have that information, make sure you're packing with that in mind. Chloé Caldwell, author of "The Red Zone" — a memoir about her experiences with her period and pre-menstrual dysphoric disorder (PMDD) — says she prepares even when her period isn't due during her vacation. "After decades of being unprepared and flippant, I am now a (mostly) prepared period person. I try to remember to pack tampons, pads, and a pair of period underwear even if it isn't coming because you never know what will happen with these mysterious bodies of ours. And even if you don't get it, you'll have stuff for a friend who does," she says. 
Personally, I find tampons uncomfortable for travel. They're irritating and prone to leakage. If they work for you, that's great and you should stick with them. 
But if you find that tampons make you feel off-kilter when you travel, try some reusable alternatives, like the cup, the disk, or my personal favorite, underwear (Thinx high-waisted period underwear are my go-to). Cora's Disk and Cup — get the sets so you can have the cute travel clutch — are both great options that hold about five to seven times more blood than a tampon, and the disk has a design that allows for period sex as well. They feel more comfortable, are more hygienic and don't need changing as much. Just make sure you bring a cleanser for your cup or wash for your underwear. 
When you travel and walk all around a city, you're especially susceptible to chafing — particularly if you have thick thighs like me. But on your period, the extra moisture makes chafing even more likely, and you want to prevent that painful irritation or potential scarring and darkening of the skin. Check out The Cooling shorts from Thigh Society, designed to wick moisture away from the skin and prevent chafing. If shorts aren't your thing, the Body Glide Anti-chafing and Moisturizing Balm works really well. If you do chafe, resist the urge to scrub or exfoliate, which will just make it worse. Instead, wash with a gentle cleanser (I like Black-owned Buff Experts Rose and Yogurt Intimate Cleanser), moisturize with a thick reparative moisturizer like Cerave Healing Ointment, then wear light airy pajamas. 
Cramps are probably the thing that makes traveling with your period the most annoying. For that, there are several options. You can do preventative work like light exercise and getting a good night's sleep. You can try the Sunbeam Heating Pad or the cordless Sunbeam Cordless Heating Pad, which is ideal for traveling because you don't need an outlet and you can walk around with it strapped to you. The Cora Simply Soothing Heat Patches are an excellent choice for mild or moderate cramp relief on the go. Caldwell, who finds herself experiencing mood swings and cramps when traveling on her period, says she also brings Tiger Balm in case she forgets painkillers. 
Harper says bringing medications like Tylenol or Advil is a great step, but you should talk to your doctor about other pain medications too. "There are non-narcotic prescription medications that can be used to decrease period pain and keep you having fun," she says. 
Even if you don't bring tea, stay hydrated. "Bring a water bottle and drink a ton. It's boring, but it helps," Caldwell advises. 
You can and should try all the things you want to make your period less inconvenient and painful, but at the end of the day… you are shedding an entire uterine lining. So it's completely reasonable to take it easy. "While we may put on a brave face for those around us and because we may have so much invested in a trip, any type of pain will lessen the experience for us," Harper says. "If you need a break, make sure to take a seat in the park, for lunch, or simply for a refresher and enjoy your surroundings rather than trying to go 100 mph." 
Caldwell agrees, and says to be transparent with your travel companions if you aren't feeling well. "Speak up about it and take care of yourself. If something on the trip is optional and you aren't feeling well, don't do it. I'm sick of just muscle-through culture." 
There's lots to see but staying in your hotel room doesn't have to be a waste. Ask your concierge or research nearby delivery spots that locals swear by and order in a good meal, and watch some local TV. Getting your favorite snacks is a must — I love all things beef, dairy, and chocolate.
And remember that your pain is serious and you deserve treatment for it. "For too long, women have been told period pain is just part of being a woman. We deserve to live pain-free and should expect nothing less," Harper says. "Period pain does not have to be accepted as part of your life, whether you are at home or traveling. If you have regular period pain, talk to your women's health professional and get the help you deserve."