TikTokers Are Marveling Over This $450/Month Tokyo Micro-Apartment
We independently select these products—if you buy from one of our links, we may earn a commission. All prices were accurate at the time of publishing.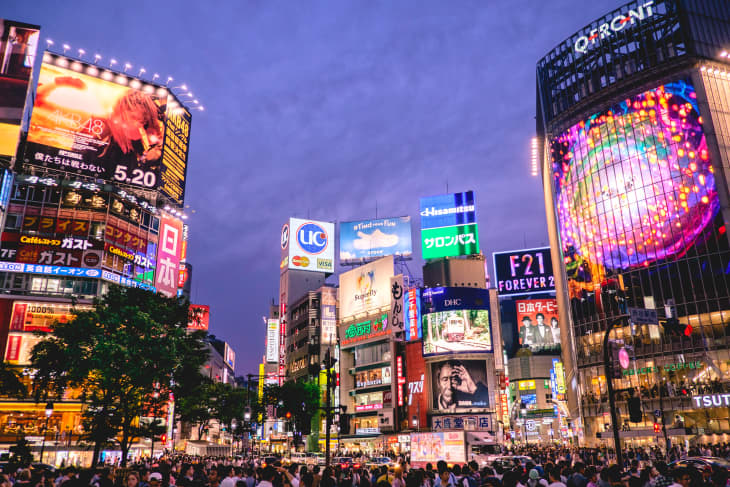 Making the most of a teeny tiny living space is no easy feat, but one TikToker's super-charming, seriously tiny Tokyo apartment proves it's absolutely doable.
College student Ryan Crouse frequently takes his more than 400,000 TikTok followers along for the journey during his life in Tokyo, but it's his recent home tour that has people on both TikTok and Twitter talking.
Follow Topics for more like this
Follow for more stories like this
"This is what $450 [a month] gets you in Tokyo, Japan," he begins in the clip, which has more than two million views on TikTok alone, and 1.5 million views on Twitter, after another user shared the clip and wrote, "this is kind of goals wtf."
Crouse begins the tour in his doorway, which includes a small genkan, a traditional storage spot for shoes included in the entryway of most Japanese buildings. A few small steps away is the kitchen and bathroom, which has a sizable bathtub.
The 21-year-old explains that he replaced the kitchen's wallpaper with "some cute cat wallpaper," also showing off two fridges: a full-size fridge he found on the side of the street and a mini fridge. 
The main living space includes room for clothing storage and a closet, as well as a caddy-corner IKEA desk which not only includes enough room for a desktop computer, but also serves as a solid separation between his workspace and his living room.
Along with a bay window, Crouse has a "tiny couch" that has room for one person, along with a full-size TV. The apartment even has enough room for Crouse's pet cat, including a hidden kitty litter box that also serves as functional storage space on top.
Crouse has a balcony which has enough room for a table and chairs and a laundry machine, as well as a loft bed and small couch in the apartment's upper level.
In the comments section, plenty of people couldn't help but remark that an apartment with so many amenities would cost up to $3,000 per month in American cities like New York and Boston, with so many praising Crouse for his cozy living quarters.
"Well let's see: no visible roaches or mice, appears adequately climate controlled, has operable appliances (INCLUDING A WASHER 🙌), no clear fire hazards or structural deficiencies. Def would have been a top choice when I was looking in NYC on 4x the budget," wrote one Twitter user.
Another added: "as very small studios go this is really cute and well designed for the space available, also very cheap." On TikTok, one commenter wrote: "I paid 750€ for a smaller studio in Paris and I didn't even have a washer for my clothes 😭 And it was cheap for Paris rental prices." Another joked that it's "cheaper and bigger than my apartment in Munich😭."
Of course, living in such a small space isn't suited for everyone, but at least there's comfort in knowing it can be done without sacrificing style or functionality.