Never Buy (or Store!) a Tool Again with This Renter-Friendly Resource
We independently select these products—if you buy from one of our links, we may earn a commission. All prices were accurate at the time of publishing.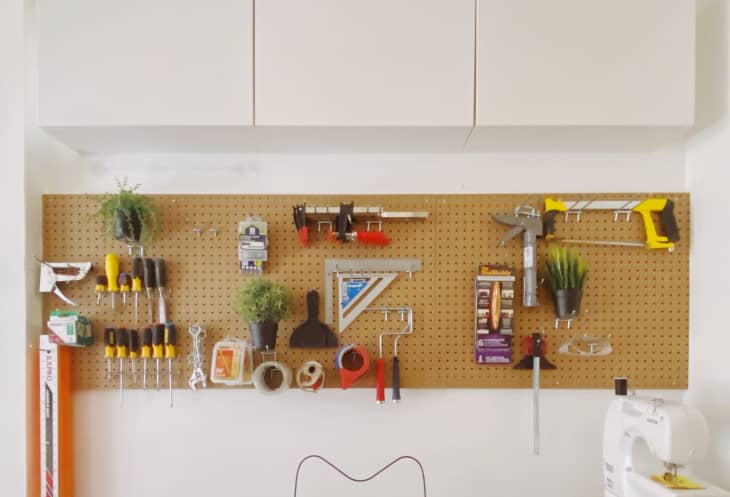 Follow Topics for more like this
Follow for more stories like this
This tool library, like others located all across the United States, is a tool-lending resource that keeps a range of DIY and gardening tools on hand for a low membership fee (or sometimes for free). Need a folding table, a bar clamp, a circular saw, or a trowel? A tool library has you covered. If you're a first-time DIYer, or if you're doing a very specific DIY for the first time, or if you're low on space in your home and would rather not store large — or even small — equipment, and/or if you don't want to buy a tool you'll likely only use once, consider using a tool library. 
Like book libraries, tool libraries are specific to cities and regions, and sometimes even neighborhoods. Here, Hay, along with representatives from The Tool Library in Buffalo, New York, and the Asheville Tool Library in Asheville, North Carolina, explain the ins and outs of tool libraries — plus how you can start one in your own neck of the woods. 
First: What exactly is a tool library?
Tool libraries are nonprofit lending organizations where you can check out carpentry, plumbing, and electronic tools and more. Tool libraries as a whole operate with a vision similar to that of the Tool Library in Buffalo, New York: "Cost should never be a barrier to improving your home, garden, or broader community." The Buffalo tool library started because founder Daren Cotton found himself having to take on a lot of repairs in his apartment. "He felt that his circumstance was not uncommon and wanted to find a way to support the needs of his friends, neighbors, and outside community members," operations manager Lissa Rhodes explains. In its first iteration, the Buffalo tool library had about 50 tools and has grown to include over 4,000.
Whether your motives stem from saving money, saving space, or reducing your consumption to benefit the environment, the answer to your DIY prayers might lie in a tool library. There, the process could be as simple as walking to a community shed or garage or warehouse, requesting the item you're looking for, a volunteer finding it for you, and you agreeing to return it a couple of weeks later. It's just like a regular library, but for home improvement tools — and tools that might surprise you, too.
What kind of tools can you check out?
The Tool Library in Buffalo has those 4,000-plus tools, the Southeast Seattle Tool Library has about 2,500 tools in its inventory, and the Asheville Tool Library has over 2,100. Rhodes says people check out tools at the Buffalo Tool Library for carpentry, plumbing, electric, gardening, interior DIY projects, and even entertaining. Here are the kinds of tools you can expect from each category.

For carpentry, you might find the following:
Jig saws
Miter saws
Hand tools
Drills
Clamps

For plumbing, you might find the following:
Wrenches
Drain snakes
Pumps
Pipe cutters
Tile cutters
PEX tools

For electrical, you might find the following:
Voltage testers
Soldering irons
Extension cords

For gardening, you might find the following:
Weed whackers
Rakes
Shovels
Tillers

For interior DIY projects, you might find the following:
Wallpaper steamers
Drywalling equipment
Carpet cleaners

For entertaining, you might find the following:
Projector screens
Canopies
Tables
Chairs
What are the most requested tools at tool libraries?
The most frequently borrowed tool at the Asheville Tool library is a lawn mower, says treasurer Steph Kane — in fact, she's borrowed a mower herself many times. "I just go and grab one when I need it," Kane says. "I don't have to find a place to store it. And then there's also just the benefit that we maintain the tools, so people don't have to do that, especially for gas engine tools." Gardening tools in general tend to be the most popular, Kane adds, and drills are also frequently borrowed.
What are the most surprising things you might find at a tool library?
Here's looking at you, sewing machines, ice cream makers, fire pits, and bean bag toss! Kane, of the Asheville Tool Library, says one thing people might not know about tool libraries is just how robust the offerings are. In addition to the aforementioned items, the Asheville Tool Library also has a guitar and a PA system, "And more things that people might want to use but might not want to own," she says. "Some of it is about space, and some of it is just about a sharing economy — offering an alternative to a more consumerist mindset. Why not share if it's something you really only use a few times a year?" Much like a regular library, you can also check out books from tool libraries: "Patios and Walkways 1-2-3," or "The Complete Manual of Woodworking" might both be helpful for anyone building a deck, for example. 
How do I join a tool library?
Most tool libraries are member-funded nonprofits, meaning you have to become a member to check out tools. There are tiers or sliding scales to the memberships, depending on your needs and numbers. For example, the lowest tier of the Buffalo Tool Library costs $30 a year, and you can check out five tools at a time. "The tiers with higher tool limits are used mostly by organizations like block clubs, schools, rotary clubs, and other nonprofits," Rhodes explains. You can also gift tool library memberships to DIYers in your life, and depending on the tool library, there are scholarships available.
When it comes to checking out tools, borrow times vary from library to library (although most are one to two weeks). In some cases, they will offer extensions if you need a little more time — although, like book libraries, tool libraries may charge late fees for overdue items. 
Why use a tool library instead of a tool rental service from a hardware store?
You'll likely find that tool libraries are more cost-efficient, and they're also an opportunity to connect with and learn from people in your community. "The sense of community that the tool library brings is very meaningful," Hay says of her local library. "I love being a part of something larger than just myself. Actively using resources that have a benefit to the entire community is an important value to me. While waiting in line, I'll often chat with other lenders, as well as the volunteer staff. I have learned so many techniques and tips that I wouldn't have otherwise learned."
How can I start a tool library in my own neighborhood?
You might be thinking, "This all sounds great, but my town or neighborhood doesn't have a tool library."
Remember, these tool libraries all started small — with a small group of volunteers and a small group of tools. Start by reaching out to other community members as well as surrounding neighborhoods and localities for donations of tools, time, and effort, Rhodes says. "Since there is no overarching association or umbrella group that tool libraries can form under, it is sort of up to those of us involved in these organizations to help each other out," she says. And you don't have to stick to local help. Rhodes and Kane both point to a Google network that has helpful information from origin stories to long-term commitments. Once your group is up and running, you can use organizational inventory tools like MyTurn to keep yourself organized.
"Additionally, finding a sponsoring association is sometimes a good place to start, so check out your local public library, or resource center for your town or city and see if they are interested in helping support your local effort," Rhodes says.