This 450-Square-Foot Apartment Is Incredibly Bright Despite Being at Basement Level
This 450-Square-Foot Apartment Is Incredibly Bright Despite Being at Basement Level
We independently select these products—if you buy from one of our links, we may earn a commission. All prices were accurate at the time of publishing.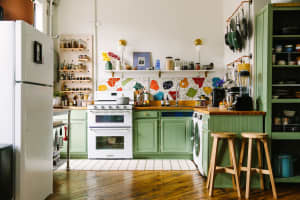 Can't-Miss House Tours Straight to Your Inbox
Keep up with our latest house tours each weekday with our House Tour of the Day newsletter
Name: Carol
Location: A small wooded hideaway somewhere in the new world
Size: 450 square feet
Years lived in: Almost 2 years, renting
It's really difficult to believe that Carol's apartment is in a basement. Though small, it's not the dark, scary space one conjures when envisioning a basement. Instead, step inside this rental home, and you're instantly transported from the hustle of the city to what feels like a handcrafted cottage, neatly nestled in a hidden forest somewhere in the mountains.
Carol is not one who requires much, so she was happy to find a space that was just what she needed, and so neatly tucked away. As a renter, Carol says, "You can't always choose or change the structure or bones of a place." Luckily, the builder of this basement apartment did a remarkable job designing and building a structure that so brilliantly utilizes natural light and other architectural elements to stretch the limits of a smaller space.
And she herself has done great work hunting, designing, and creating the different elements that have transformed her space into a wicked cool "zen den." From her DIY shoji lamp, made from surplus shoji screens, to the heavily saturated green sofa from Article, it is difficult to avoid nirvana in this space.
Carol, a nurse, takes great pride in the space she has created for herself. She believes a home is not just about being "beautiful and livable," but also a "reflection of who you are." It is no surprise then that her place is full of warmth and is welcoming for others.
Apartment Therapy Survey:
My Style: Scrabble Zen, daylight basement jungalow! I kind of like the scrabble idea though; when renting, you can't always choose or change the structure or bones of a place. Often you can't even paint (painful). You get your "scrabble tiles," and you get creative—you use what you find, or can make/modify/flip/transmogrify—and before long, you've got yourself a big, fat, juicy 24-point word. So to speak. It takes more skill, inspiration, DIY hacking, and brainpower to transform a space with immutable elements, and not only make it beautiful and livable, but make it a reflection of who you are.
Favorite Element: Tough one. How the builder brought light in through the wall of windows in the front, glass blocks, glass sleeping loft. It does NOT feel like a basement for the most part. I also love the Brazilian cherry wood floors and the cooking area that faces my guests; it's very social. There is quite a lot of thought and intention in this studio; I am grateful every single day.
Biggest Challenge: The uber narrow sleeping loft. Oh yes, and there's a bathtub in the middle of the floor. But that's what pretty screen dividers are for, right?
What Friends Say: Mostly I hear the words "This is a basement??" and "You would never know this is right in the city." I hear peaceful, zen (I think that's the shoji screens), and I get a lot of smiles. Then I put a beer in their hand and they stay.
Biggest Embarrassment: My DIY bulk cheesecloth curtains on tension rods in the loft. They're not sewn yet, and they look like they have been cut by a 4-year-old who hasn't had a nap.
Proudest DIY: The shoji lamp I made from the living room doors. It closed in the living room too much, and I love the view of the trees from the sofa. The middle room is dark, so I put a light there and triangled the remaining screens together. It gives a nice soft glow, which highlights the wood floor. Maybe also a chipped floor mirror I got at Goodwill, which looks immensely better with a little shoe polish and a whiff of copper wash. Cue the mic drop?
Biggest Indulgence: The Kasala floor lamp—it made me happy, looked like a dandelion puff. Then my brother called it the Hairball lamp. I'm pretty sure I saw it droop after that. The sofa doubles as sleeping for a guest, a good purchase from Article.
Best Advice: "You are already good enough"
Sofa (Living Room) — Article
Kitchen stools — Consignment
Red Asian chest — Antique
Wheeled coffee table/bench — Goodwill
Wabi Sabi stool and bucket — Goodwill
Desk (antique) — Consignment
Stained glass (kitchen) — Antique
Sofa pillows — Pier 1
Artwork — Painted by friends, self
Easel — Handmade by self and friend
Japanese divider screen — Trade for set design, local theater prop shop
Dishes — Anthropologie, Crate and Barrel, Goodwill
Mid-century accent chair — Consignment
Wee art nouveau plant table — Glasgow Barras, Scotland
Bamboo and organizing containers — Storables
*These responses have been edited for clarity and length.