The Mind-Blowing Trader Joe's Trick We Just Learned on TikTok
We
independently
select these products—if you buy from one of our links, we may earn a commission. All prices were accurate at the time of publishing.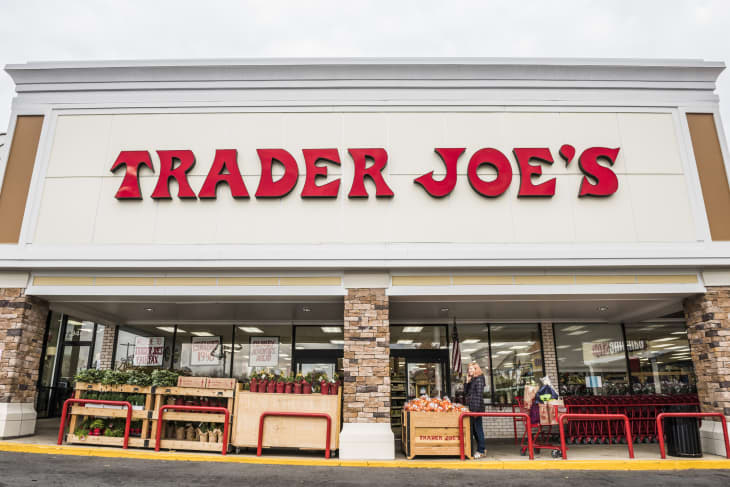 It was only a a matter of time before I learned that I could fulfill my insatiable craving for all things Trader Joe's via TikTok, and here we are, folks. This morning, while scrolling through the app, after also scrolling through Instagram and Twitter (I have a problem, I know), I stumbled upon this TJ's life hack that completely blew my mind. I'll let you watch first so that you can experience the same jaw-dropping moment that I did.
Apparently, certain shelving units at Trader Joe's have locking shelves that are actually drawers. Shelves that you press to release and pull out, and then press back in to lock into place. Note that this is not the case for every single shelving unit in the store — it is predominantly found in the bakery aisle, and occasionally the snack section. I can honestly say that I was Today Years Old when I learned this.
While I've never noticed this before, Trader Joe's employees confirmed this to be true in the comments section of the video, which is gaining traction. Speaking of the comments section, there is a very lively debate within it regarding who exactly this handy feature is for. Many are quick to point out that this is meant "for employees to stock and rotate product," using the First In, First Out (FIFO) method.
"It's just for employees to stock [shelves], there's not really a point in doing it unless there's something in the far back you cannot reach," said another commenter. (Perhaps this will come in handy when you go just before close and there is only one package of English muffins left.)
While this trade secret may be new to you (like it was to me!), please be sure not to abuse the feature and only use it when absolutely necessary. Finally, make sure to lock the shelf back into place after you pull it out! Don't be That Guy…