A Traditional Wooden House in The Netherlands Was Built by Windmill Restorers
We independently select these products—if you buy from one of our links, we may earn a commission. All prices were accurate at the time of publishing.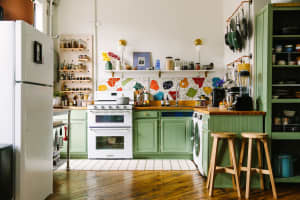 Can't-Miss House Tours Straight to Your Inbox
Keep up with our latest house tours each weekday with our House Tour of the Day newsletter
Name: Wendy van Wilgenburg and two sons Willem (10), and Adam (12)
Location: Zaandam, The Netherlands
Size: 1700 square feet (the house), 4700 square feet (garden)
Years lived in: 6.5 years, owned
My name is Wendy van Wilgenburg, and I am a visual anthropologist and documentary filmmaker focusing on craftmanship. I have made films on master craftmanship for over twenty years and decided to found the Craft in Focus Festival to engage a large audience with the beauty of handmade objects.
The Craft in Focus Festival is held annually in Amsterdam and biannually in New York City. It aims at inspiring a large audience about the beauty and importance of the skills of true craftsmen. During workshops and masterclasses by outstanding international masters, you can literally get your hands dirty and learn how to make something yourself.
To be able to live in a traditional home that is built by master carpenters makes me very happy.
My home is a wooden house; we restored and partly reconstructed it in 2011 and 2012, from original photographs (late 19th century). I heard about this opportunity in 2010, from millwright Bart Nieuwenhuijs, when I was making a documentary about Bart's project: the two-years-long reconstruction of an 18th-century spice mill at the Zaanse Schans. He told me that the decayed house was for sale.
Bart, who specializes in building windmills, wooden warehouses and homes, offered to be the contractor for my house and this gave me enough confidence to undertake such a big project.
It took over a year to complete the house, and I have spent many hours with the carpenters. I impregnated all the upstairs wood with linseed oil and sandpapered for days. It was fun and a physical challenge. What I didn't realize beforehand is how many decisions you have to make every day when building a house, from the color of the paint to the placing of the stairs, windows and even light switches.
I live here with my two sons. Besides being karate fanatics, we all love crafts. The youngest, Willem (10), is now building his own tiny house in our garden. My eldest, Adam (12), has taught himself how to fold origami since he was 4 years old and is now quite skilled.
In Amsterdam the next Craft in Focus Festival will be held in September 2019, and it annually attracts around 15,000 people.
Apartment Therapy Survey:
My Style: I love true craftsmanship and try to collect pieces of beauty, made by craftsmen from my international network.
Inspiration: I get inspired by beauty, not mass produced objects, but unique pieces with elegance and a story.
Favorite Element: The house itself. Because it is entirely made of wood, it has a very warm and cozy feeling, and smells good, too.
Biggest Challenge: I would not lightly recommend others to build their own house. It takes a lot of time, work and perseverance, and the cost is always higher than budgeted beforehand. That said, I am still very happy that I did undertake the adventure.
Proudest DIY: I'm proud of the hook that I welded myself, and I'm proud of the red floor in the living room and kitchen.
Biggest Indulgence: Playing the cello, practicing karate, and running my 5 miles, through the lovely polder with the windmills and animals, and then coming home sweaty and satisfied.
Best Advice: For your home, choose objects made by craftsmen, with love. They are durable, unique and have a story. Plus you support craftsmen who have unique skills that we should cherish and safeguard for the future.
LIVING ROOM
Orange sofa and retro dresser — Made.com
Industrial lamp – Loods5.nl
Origami lamp – My latest addition! Made by Geert Verbist, Belgian designer. www.daden.be
Origami by son Adam
Antique small dresser — Found for € 7,50 at the flea market
PAINT & COLORS
It is quite a bold choice to paint 250 feet of floor red. I wanted oxen red, as I love the color. The skilled staff at Duller & Co, a specialist paint store in Amsterdam, established in 1880, made a lot of samples for me and I am still super happy with the result.
The outside, walls and ceiling are painted by painter Bert Bommerson.
The name of the ceiling color paint is Castle Green.
The original stained glass was restored by Ruud Pauw.
KITCHEN
Hook on wall, made by me during a workshop welding by blacksmith Annelied van Dijk.
BATHROOM
Walls – beton ciré – I highly recommend it, very easy to clean and it looks great, combines well with wood.