I Discovered This No-Cost Hack For Taking Out the Trash by Accident, and I'm Never Going Back
We
independently
select these products—if you buy from one of our links, we may earn a commission. All prices were accurate at the time of publishing.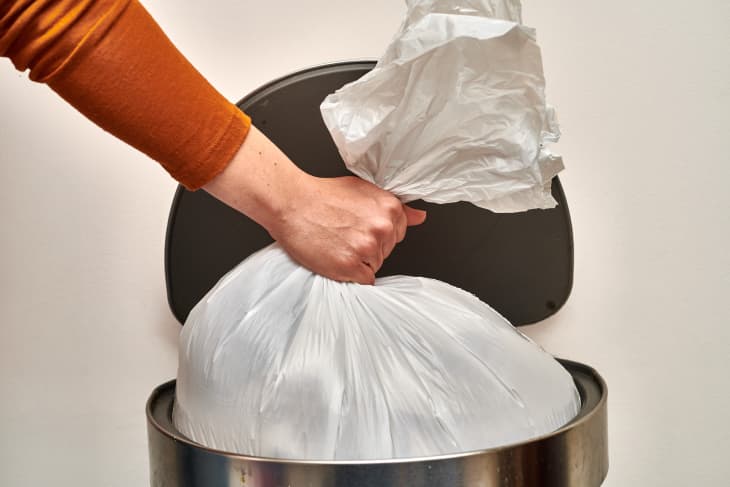 Of all the chores in my home, the one I look forward to least is taking out the trash. Lugging a heavy bag filled with waste down my apartment building's stairs makes the task less than appealing, as does the ever-present threat of getting garbage juice on my hands. But by far my least favorite part of taking out the trash is always what happens after I finish the job: I inevitably forget to line the trash can with a new trash bag, go to toss something—and it's always something sticky and/or wet—in the bin, and then spend the next 5-10 minutes cleaning the trash bin itself.
That was, until I happened upon a hack that hotel housekeepers have relied on for years: Instead of storing trash bags in a nearby cabinet, keep them in the bottom of the trash bin itself.
I say that I happened upon this trick because it was truly a matter of happenstance. A few years ago, I was re-consolidating my kitchen cabinet, and found a stray roll of trash bags. There was nowhere to put it that wouldn't result in my losing it all over again, so I threw the roll at the bottom of the bin. (If I'm looking for trash bags, why not look to the trash, right?) Not only did doing so help keep me organized in a pinch, but the next time I needed to replace the trash bag, I simply reached down, shook out a trash bag, and affixed it to the rim.
It's worth noting that some trash bins are designed with this hack in mind—Simplehuman even prides its cans on its liner dispenser feature, which they call a pocket. But not everyone can afford to shell out nearly $200 (!) on a trash can, and clean bins should be a universal experience.
This hack isn't without its limitations: If you accidentally rip or puncture the trash bag, you run the risk of getting said garbage juice all over your trash bags. If this is your worry, I'd recommend storing the trash bags in a plastic grocery bag or some other bag you don't mind getting wet, or lining newspaper on top of your replacement bags.
Of course, that makes reaching down to replace the bag a little trickier. If all else fails, simply remember to drill a hole in the bottom of your trash bin (to solve the problem of bag suction, which causes rips) and perhaps invest in the<a rel="noreferrer noopener" href="heavy-duty%20bags%20that%20not%20even%20the%20busiest%20of%20kitchens%20can%20defeat.%20And%20if%20all%20else%20fails,%20well,%20there's%20always%20<a%20href=" https: data-type="URL" data-id="https://www.apartmenttherapy.com/townew-smart-trash-can-36702636" target="_blank">the trash that takes itself out.