Tropicalcore Is Here to Blend Maximalism and Vacation Vibes, According to an Interior Designer
We independently select these products—if you buy from one of our links, we may earn a commission. All prices were accurate at the time of publishing.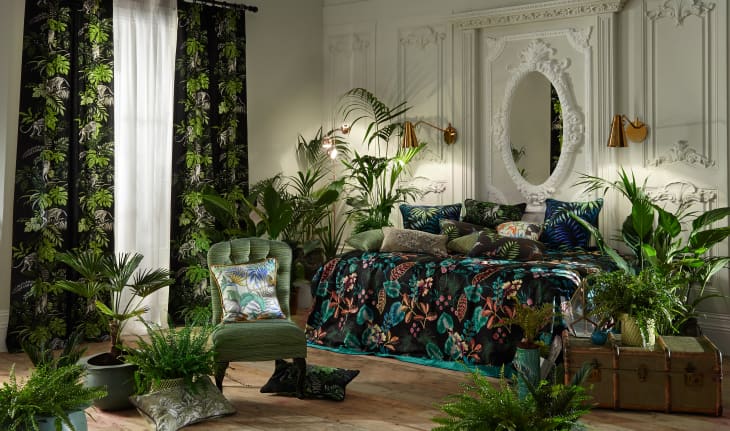 As temps start to heat up, you might be wondering how you can bring vacation vibes into your home to bring a sense of adventure into your everyday space. For some serious inspiration, look no further than TikTok, where #tropicalcore and #tropicaldesign are officially trending with more than 24 million views and counting.
Maximalists will love the look, which "is all about bringing the tropical destination home — think: Hawaii and Bali — and making the home a playful and inspiring place to be," as Amy Wilson, an interior designer for 247 Curtains, tells Apartment Therapy.
Follow Topics for more like this
Follow for more stories like this
A stark contrast from the neutrals and grays that dominated design for a long time, tropicalcore follows other big, bold trends that have become popular, especially during a post-pandemic era. "People are embracing patterns more than ever before and it seems the more tropical and bold, the better," says Wilson. "Everything from jungle animal print-inspired designs to big banana-leaf motifs, tropical is back on the agenda for 2023 and there is something for everyone, not just maximalists."
Not sure how to embrace the tropical trend without it feeling too over-the-top for your particular space or style preferences? No sweat, says Wilson, who notes it's pretty easy to dip your toe into the warm waters without transforming an entire room or area of your home.
First, she recommends narrowing down your focus as best you can. "Whilst the tropical interior trend is typically about the maximalist mindset, it often works well to concentrate on one major theme, whether that be Palm Springs playful glam or green jungle designs," says Wilson. "Having a strong starting point will help keep the overall interior design cohesive and will make it easier to understand what soft furnishings and textures you should introduce."
Once your theme is on lock, you can begin exploring by way of patterns, prints, and color choices. "After you've started to build the overall look, focus on adding plenty of layers to keep the design fresh and exciting," she adds. "If you're an experienced maximalist, this will be easy work, however if you're just starting to dip your toe in bigger and bolder designs, try focusing on soft furnishings. Play around with patterned cushions and oversized artwork to complement your existing scheme, whilst ensuring it does not match too closely. Adding layers does not need to be done all at once — add touches here and there as you become more comfortable with daring decor."
Balancing bold with calming hues and warm wood tones and textures is a great way to keep things from feeling too busy. "Whilst some may want to stick exclusively to bold and punchy colors, for others, combining this with more calming neutral tones can make the tropical trend more achievable and inviting," says Wilson. "Terra-cotta and other earthy colors pair nicely with the tropical theme, so perhaps you could look at painting the walls in these pale shades whilst embracing the trend through soft furnishings, such as bright green curtains."
"Another thing that matches nicely with big and bold patterns is wood," she adds. "Wood works really nicely in bringing some softness and freshness into busy spaces, which makes it a great option for those looking to try the tropical trend without compromising on the home feeling like a tranquil and calming space — particularly if you're looking to embrace this trend in the bedroom."
Accessories can help turn your space into a tropical oasis without breaking the bank (or taking too much time and effort), says Wilson. "If you love the idea of mixing and matching lots of different accessories, but worry it will look messy, tropical and botanical prints are the perfect way to tie it all together. Whilst some busy patterns require simple, pared-back accessories to balance it out, the tropical theme thrives when lots of color and texture is in the mix — so get creative and make some brave choices. Think: patterned yellow curtains, oversized animal ornaments, and stripey rugs."
Of course, adding greenery — real or faux — is an easy and timeless way to bring the lush beauty of the outdoors inside. "No tropical interior theme is complete without inviting the outside in," says Wilson. "Don't just rely on the plants and banana leaves within the prints, but actually introduce plenty of potted plants within the space. Opt for large plants, even in a smaller space, to help add a playfulness to the overall look. Bird of paradise, parlor palm, banana leaf, and yucca are just a few plants that align perfectly with this interior."