Troubleshoot a Fuzzy or Blurry Picture on Your TV
We independently select these products—if you buy from one of our links, we may earn a commission. All prices were accurate at the time of publishing.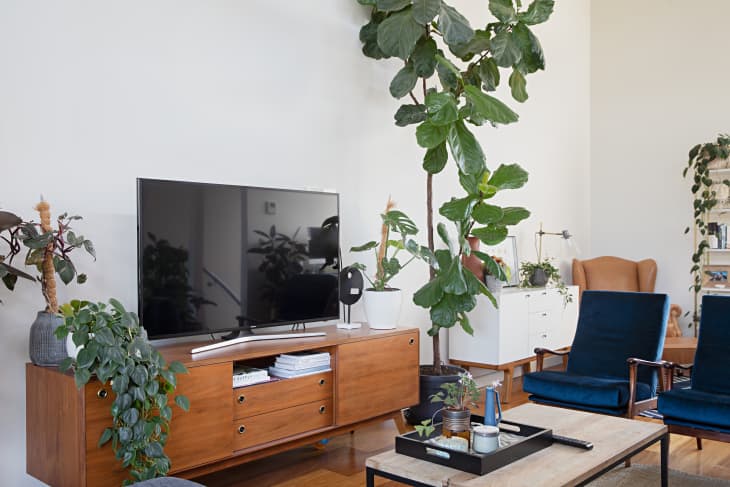 Our bedroom TV has been in need of a little upgrade for several years now, so we're using the excuse of hosting a Super Bowl party to finally take the plunge. We'll grab a new, compact HDTV for the bedroom—but first, it will pay its dues by supporting a sports-bar-style 2-TV setup in our separated living space. Stoked? Sure, but we know that we'll have to troubleshoot a few things to make sure we're getting the best image from our new TV.
Follow Topics for more like this
Follow for more stories like this
Whether you've got a new TV, are attaching a new peripheral (like a game system), switching out cords or are just noticing a fuzzy image or dead pixels, you can follow these steps to get to the bottom of your blurry TV screen.
Make sure your picture isn't stretched. Play with the settings of your TV to ensure that the picture you're seeing isn't being stretched. Cycle through different image sizes with your remote's "aspect" button, or change your TV's settings to show standard-definition channels at their native resolution (you'll see black bands on the sides of your image).
Mess with your TV's different sharpness and picture modes. Make sure to test this on a channel with lots of movement—increasing the sharpness will definitely make for a better picture, but if you go too sharp, moving objects could have visible trails.
Reduce the noise. If your TV has digital noise reduction, try turning that feature on for a possible quick fix.
Swap out your cables. HDMI is known to give a better picture than a Component Video Cable, but either one should be capable of giving you a decently sharp image. If all you're getting is fuzz, replace the cable (or borrow one from another sharp, working TV or a friend) to test if the problem is the cord.
Unplug. Plug the TV, and it's peripherals into a different outlet or surge protector. Your soft picture could be the result of electrical interference through the cord.
Move it around. Try moving any nearby electrical devices away from the TV. They could be the ones creating interference that is degrading your picture quality.

If you've tried all this and are still seeing a fuzzy shot, try calling your cable company. Somebody there might be able to reset your service (another troubleshooting technique) or send out a professional tech to take a look.