This Innovative Folding Chair Is Lightweight, Portable, and Comfortable — Even in Cool Weather
We
independently
select these products—if you buy from one of our links, we may earn a commission. All prices were accurate at the time of publishing.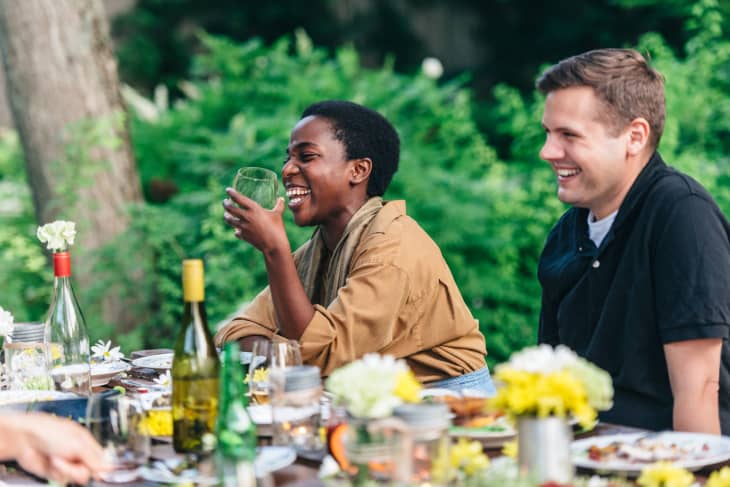 Living in the South, I've spent many days lounging outside — summers are made for cookouts and sweet tea, after all. As we move into fall and winter, outdoor activities transition into bonfires and s'mores. Because of that (and many years of attending pee-wee football games), outdoor folding chairs are a must; whether it's in the trunk of my car, out on the balcony, or readily available in a closet. Spending time outdoors with family and friends is just second nature around here, so good quality chairs are of the utmost importance. True Places gave me the chance to try out their innovative Emmett Folding Chair, and here's how it went!
If you've sat in any folding outdoor chair, then you're familiar with how you really sink into them. They're supportive enough, but it's like sitting in a mini hammock. True Places' Emmett Folding Chair takes a different approach. I'm so used to inadvertently slouching in my other outdoor chairs, but the Emmett chair is sturdy and sits upright, so my back is better supported. Its frame is made from aerospace-grade aluminum, and the chair fabric is a tight weave that makes for an ultra-comfortable seat. This chair doesn't come with those built-in cup holders in the arm rests that lock in place when the chair is in use. Instead, the chair comes with a cup holder attachment that can be hooked on either side you prefer. The cup holder fits up to 16-ounce cans and bottles, and there are even bottle openers built into the underside of both chair arms. It's right-and-left-hand friendly!
In addition to the cup holder, the Emmett Folding Chair also has an optional phone holder. While the phone holder does have to be purchased separately, it's totally worth it, especially if you spend a lot of time relaxing outside. Now that we're moving into cooler weather, I can have my hot cocoa on one side and a place for my phone on the other without sacrificing any space on the arm rests. This chair is incredibly portable, thanks to it being so lightweight. Even better, it comes with a carrying bag that can be slung over your shoulder like a backpack or worn like a crossbody bag. Trust me, your back will thank you.
When the Emmett chair is in use, the bag can be hooked on the back of it so it's not in your way. There's also space to hang a purse or any other bags that you don't want to put on the ground. I love that True Places really considered all of the little issues that we run into when we're sitting outdoors, especially when we're not at home. I never once had to struggle with putting the chair back into its carrying case, either! It's actually large enough to fit without any tricky maneuvering. The cup holder also fits inside of it without me having to worry about it breaking from being squished in there. I was a bit skeptical about the $189 price tag for a folding chair, but from the way it's constructed and how it feels to sit on it, it's clear that it's made from high-quality materials and is meant to last. I'm curious to see how long it holds up!