9 TV Shows to Watch When You're Done with "Only Murders in the Building"
We independently select these products—if you buy from one of our links, we may earn a commission. All prices were accurate at the time of publishing.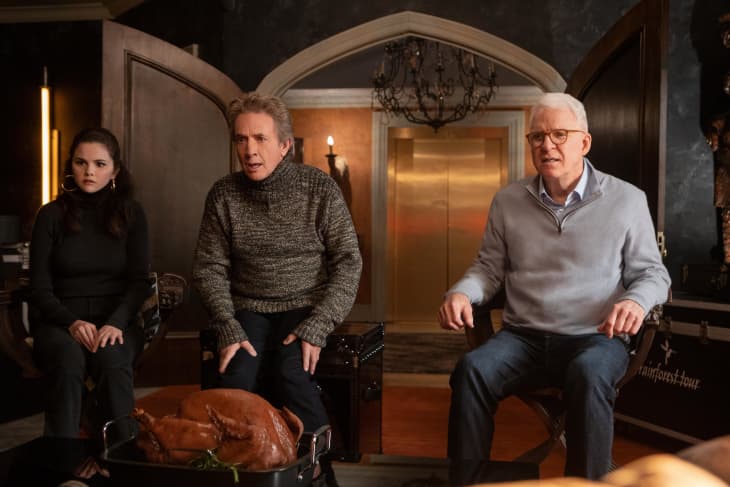 Hulu's hit mystery-comedy "Only Murders in the Building" wrapped its first season this Tuesday. When a neighbor in their swanky Manhattan apartment building is murdered, an unlikely trio — Mabel (Selena Gomez), Oliver (Martin Short), and Charles (co-creator Steve Martin) — investigate the only way they know: by making a true-crime podcast.
The show has been renewed for a season two, so while you await more Arconia adventures, here are nine more shows to make the time between episodes pass a little easier:
If you liked "Only Murders In The Building"'s mix of mysterious cliffhangers, cringey character comedy, and New York City locations, give HBO Max's critically-acclaimed "Search Party" a try. Alia Shawkat ("Arrested Development") leads a superb cast with her raw, unguarded performance as Dory, a restless young woman fixated on the disappearance of a classmate. "Search Party" spirals far beyond its initial premise as the show progresses, but like "Only Murders" the show avoids episodic cases-of-the-week in favor of tightly plotted, season-long arcs that keep you guessing up to the end. Sharp writing with an eye for social satire, in a millennial Brooklyn setting, should appeal to fans of earlier HBO hits like "Girls" and "Bored To Death." 

Available to watch on HBO Max
What is it about Brooklyn that attracts mystery solvers? Search for the answer on HBO's quirky mystery-comedy "Bored to Death". Created by writer Jonathan Ames, the show follows a writer — also named Jonathan Ames (Jason Schwartzman) — as he scours the borough for literary inspiration by offering his services on the internet as an "un-licensed private investigator," sometimes aided by his comic-book artist best friend (Zach Galifinakis) and his carousing sometimes-boss (Ted Danson, seemingly playing an amalgamation of every other TV character he has played.) Compared to "Only Murders in the Building", "Bored to Death" takes a more laidback, lower stakes approach to the mysteries it tackles (less murder, more petty crimes and existential quandaries), but the amiable weed and white wine-fueled vibe will appeal to viewers seeking a similar blend of sleuthing and silly antics.

Available to watch on HBO Max
Apple TV+'s legal drama "Truth Be Told" takes a decidedly more serious tone than "Only Murders in the Building," but both shows start on a similar premise: what happens when a true-crime podcaster ends up closer to the crime than they bargained for? Octavia Spencer plays Poppy Parnell, a Bay Area journalist who uses her "Serial"-esque podcast to argue the wrongful conviction of a man named Warren Cave ("Breaking Bad"'s Aaron Paul). However, Poppy's quest for justice is complicated by the fact that her own newspaper articles may have helped send Warren to prison 20 years ago. "Truth Be Told" asks thorny questions about truth, trauma, race, and the possibility of redemptive justice, while its courtroom drama should intrigue fans of "The Good Wife" and John Grisham's legal thrillers.

Available to watch on Apple TV+
No murders here unfortunately, unless you count murdering your own career over and over again. Fierce, funny and foul-mouthed, Hulu's "Difficult People" stays true to its name, taking no prisoners in its skewering of pop culture and the New York entertainment world. Billy Eichner and Julie Klausner play semi-fictionalized versions of themselves as struggling comedy writers with Manhattan-sized chips on their shoulders. Much like "Only Murders in the Building", "Difficult People" finds comedy in the tedium of the creative process, as well as the inevitable ego clashes it brings. Expect plenty of familiar faces — including "Only Murders" alumni Martin Short, Nathan Lane, and Tina Fey — turning in wickedly funny guest turns playing themselves. Andrea Martin regularly steals the show as a narcissistic therapist who would fit right in at the Arconia tenant meetings.

Available to watch on Hulu
Before she was unraveling mysteries of the afterlife on "The Good Place", Kristen Bell was investigating mysteries closer to home as the titular high school detective of The CW's "Veronica Mars". Like a spiritual predecessor to Mabel Mora, Veronica's droll wit and keen eye for detail keep her afloat as she plumbs the seedy underbelly of her privileged San Diego suburb. Don't let the sunny SoCal location fool you — the show delivers a dark, moody atmosphere to go with its teenage drama, while its tightly plotted balance of cases-of-the-week with season-long arcs has aged gracefully over time. Too bad the same can't be said for the circa-2004 outfits…

Available to watch on Hulu
Mabel herself might prefer the Hardy Boys, but Mabel's fans can always get their kicks from another character conceived by Hardys creator Edward Stratemeyer: amateur sleuth Nancy Drew. Nancy has been solving cases for almost a century, but her most recent 2019 incarnation on The CW sees Kennedy McMann take on the role. From the writer/producers who created "The O.C." and "Gossip Girl", "Nancy Drew" provides soapy teen drama in that vein, combined with supernatural mystery a la Netflix's similar new-look reboot of "The Chilling Adventures of Sabrina." Bonus: if you liked the music on "Only Murders in the Building," composer Siddhartha Khosla provides the soundtrack here as well.

Available to watch on HBO Max
Did "Only Murders in the Building" leave you wanting more of Jan and her bassoon? Would you settle for an oboe? "Mozart in the Jungle" features Lola Kirke as a young oboist who catches the eye of the New York Symphony's new firebrand conductor (Gael Garcia Bernal) as she navigates the treacherous (and surprisingly debaucherous) classical and Broadway orchestra scenes of the city. Amazon Prime's ambitious comedy isn't just funny, it's a treat for the senses, with swirling camera-work and opulent Manhattan interiors to complement the classical music soundtrack. Fans of musicals rejoice, for the in-show Broadway treatment of the Oedipus myth (featuring the music of Styx) would make Oliver Putnam proud.

Available to watch on Amazon Prime
One of the strongest suits of "Only Murders in the Building"' is its warm, funny depictions of friendship, sex, and romance between its eldest characters. If you loved the banter between Oliver and Charles (or if you rooted for Amy Ryan and Steve Martin to get together), you may enjoy the similar dynamic between Jane Fonda and Lily Tomlin on Netflix's "Grace and Frankie". The odd-couple titular characters play friends-by-default, finding support from one another in the wake of their husbands simultaneously divorcing them… so they can marry each other. Fonda's (Grace) sharp-elbowed business woman plays wonderfully off Tomlin's (Frankie) flower-child energy, and the relationship between the two as the show develops is a treat to watch. 

Available to watch on Netflix
What happens when you make a show about a loudmouth jerk in a ski-mask, the Russian mobsters hell-bent on assassinating him, and the money-grubbing television executives determined to package it all as America's next reality TV hit? You might end up with "Delocated", the offbeat live-action comedy that aired on the usually animation-focused Adult Swim block. Creator and star Jon Glaser isn't solving murders so much as trying to prevent his own, but his arrogant demeanor (and sweet Manhattan loft) would make Charles-Hayden Savage feel right at home. The deceptively simple mockumentary approach is spiked with jolts of violence, woozy psychedelia, and kaleidoscopic layers of self-aware humor which recall "Arrested Development" at its most meta. Expect both silly humor and cutting media satire in the vein of "Network" and "Putney Swope."

Available to watch on HBO Max