5 Dramas to Watch If You've Already Binged the New Season of "Ozark"
We independently select these products—if you buy from one of our links, we may earn a commission. All prices were accurate at the time of publishing.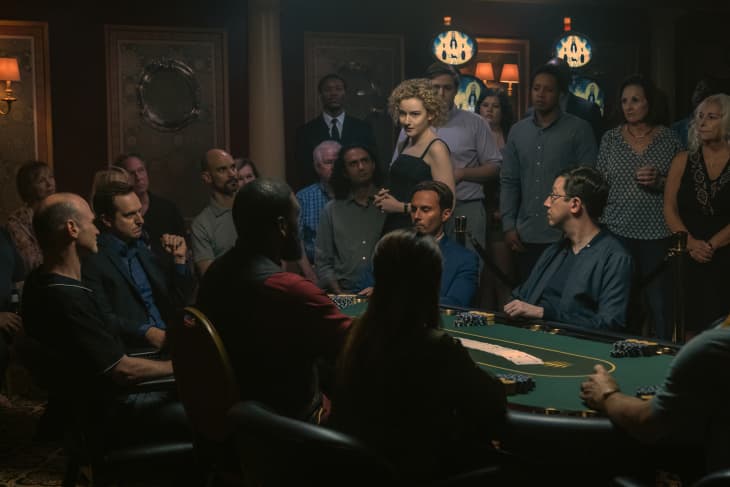 "I just binged the entire new season of 'Ozark!'" Where have you heard that before? Oh, I'll tell you: Everywhere. Season three of Netflix's money-laundering thriller was released in late March, and it feels like since then, everyone's been talking about it.
Follow Topics for more like this
Follow for more stories like this
It's not surprising, since the drama, which stars Jason Bateman and Laura Linney, has earned both commercial and critical success. "Ozark" tells the story of Marty Byrde (Bateman), a financial advisor who gets caught up in a money laundering scheme for a Mexican drug cartel. After he relocates to the Ozarks with his wife, Wendy (Linney), and their two kids, Marty only grows more enmeshed with the cartel and with a whole cast of seedy characters—including Julia Garner's Emmy-winning turn as Ruth Langmore, an ambitious career criminal—in his new home.
But if, like so many, you blew through "Ozark" and are in need of some more high-stakes anti-hero drama, we have you covered. The dramas recommended below are by no means off the radar, but some of them might have landed on your "oh that sounds good, I'll watch that eventually" list. Guess what? Now is the time to finally cross some shows off that list.
One could easily say that "Ozark" was born from "Breaking Bad," another "normal dude gets deep into the crime life" show, and while that's true, do you know what show was actually born from "Breaking Bad?" It's prequel spin-off, "Better Call Saul." (Should I also be recommending "Breaking Bad" in this group of shows? Maybe, but, honestly, if you haven't watched it by now, I cannot help you). "Better Call Saul," now finishing up its fifth (and some say best) season, follows con-man-turned-lawyer Jimmy McGill (Bob Odenkirk) as he transforms into Saul Goodman, a lawyer entrenched in New Mexico's crime world. Watch it and enter into the eternal debate over if "Better Call Saul" is better than the show from whence it came.
Streaming on Netflix, new episodes air on AMC
Narcos and Narcos: Mexico
Looking for more dramas that have to do with drug cartels because sure, why not? Look no further than Netflix's "Narcos" and its spin-off "Narcos: Mexico." The first two seasons of "Narcos" is based on the story of Pablo Escobar (portrayed by Wagner Moura) as he built his cocaine empire in Colombia while being tracked by the DEA. Season three picks up after Escobar's death, as a new cartel rises to power. "Narcos: Mexico," which dropped its second season in February of this year, moves the drama from Colombia to Mexico and resets the story, this time covering a new cartel and set of DEA agents in the 1980s. Both series are intense and high-stakes—and together give you five full seasons of binge material.
Streaming on Netflix
If you have not watched "The Wire" yet, watch "The Wire" now. Why would it appeal to you specifically, "Ozark" fan? Well, no one does organized crime like "The Wire" does organized crime. Also, you must be into anti-heroes you can't help but love to watch, right? Might I introduce you to characters like Stringer Bell (Idris Elba), Omar Little (Michael K. Williams), Avon Barksdale (Wood Harris), and even Jimmy McNulty (Dominic West)? You must meet them. And finally, if "Ozark" is a story very much informed by its location, that is doubly true for "The Wire," which yes, is about law enforcement and the drug trade — among many other things—but every institution or theme this series takes on is explored as it relates to the city of Baltimore. From the very beginning it's clear, Baltimore is a character on this show. "The Wire" tops everyone's Best TV lists for a reason, and it's time for you to find out.
Streaming on Amazon Prime, HBO Now, HBO Go
On the outside, Marty and Wendy Byrde look like your every day, wholesome parents living the American dream—but we know better. The same could be said for Elizabeth (Keri Russell) and Philip (Matthew Rhys) Jennings, the married couple at the center of the Cold War spy drama "The Americans." In fact, that's pretty much the premise. Elizabeth and Philip look like model U.S. citizens living it up in '80s suburbia, when in fact they are highly-skilled Soviet spies. It's easily one of the best shows of the decade, sneaking in a marriage drama under the guise of espionage. It's a travesty that Russell wasn't adorned with every award possible for her portrayal of steely, loyalist Elizabeth, but you can make up for that by bingeing all six seasons of the series right now. Oh! And if you can't get enough of Julia Garner on "Ozark," she pops up in "The Americans" in another memorable role.
Streaming on Amazon Prime