3 TV Shows to Watch If You're Already Missing "Shrill"
We independently select these products—if you buy from one of our links, we may earn a commission. All prices were accurate at the time of publishing.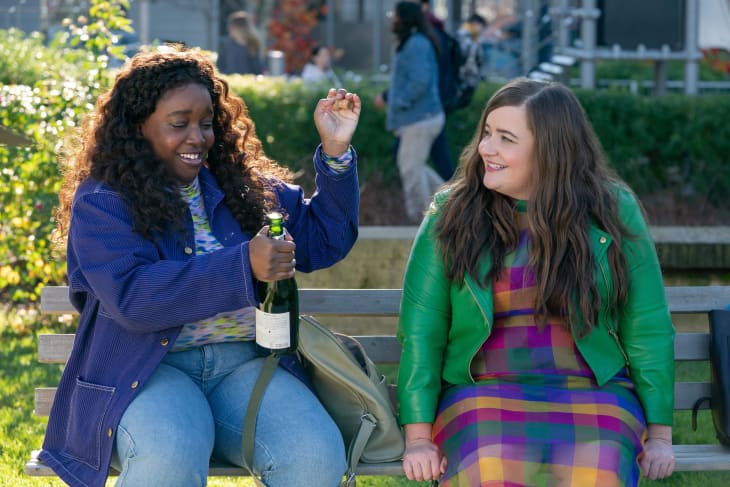 Finally! Hulu's delightful Aidy Bryant-led comedy "Shrill", based on Lindy West's book of essays by the same name, returns today May 7. It is a little bittersweet, though: the third season is its last. It's hard to say goodbye to our Portland friends, including Annie (Bryant), who showed us all what happens when you stop letting other people define you and go after what you want in life, her roommate and best friend Fran (Lolly Adefope) who, too, is figuring out who she is, and yes, of course Ruthie (Patti Harrison), the assistant who steals every scene she's in.
But never fear! If you're already lamenting the end of this show, there are a few other series out there that share some similarities with "Shrill" all ready and waiting for you to give a go. Here are a few recommendations:
One of the highlights of "Shrill" is the loving, layered, authentically displayed friendship between Annie and Fran. They're women figuring out who they are together. Their relationship has bumps, but they'll always be a support system for the other. Issa Rae's HBO comedy "Insecure", which has been renewed for a fifth and final season, puts a similar friendship even more at the center of its story. Issa (Rae) and Molly (Yvonne Orji) are the heart of this show about young, hot people living in Los Angeles and in its standout fourth season, that friendship was pushed to the brink as Issa and Molly, with their lives going in different directions, let some long-simmering resentments boil over. Aside from its thoughtful look at adult friendships, "Insecure" also has a distinct point of view and that awkward, relatable, smart comedy that makes "Shrill" such a treat.

Available on HBO and HBO Max
"This Way Up" is a lovely little (no, seriously, the first season is only six episodes and we're still waiting for season two!) dramedy that comes from creator and star Aisling Bea, and much like "Shrill", it's a show with a strong voice. Annie and "This Way Up"'s protagonist, Áine (Bea) are dealing with much different circumstances — at the beginning of "This Way Up", Áine has just returned from rehab after a nervous breakdown — but both are trying to make changes in their lives after having some major revelations. "This Way Up" is an intimate and specific look at the protagonist's world and easily balances laugh-out-loud moments with more poignant, emotional ones. Plus, there's a great slow burn romance that features Tobias Menzies and one scene in which Áine and her sister Shona (Sharon Horgan) perform The Cranberries's "Zombie" that still makes me laugh. What more could you want?

Available on Hulu
Were you initially drawn to "Shrill" for the positive fat representation? You're not alone. And there's more of that over on Freeform's "Good Trouble". This series about (mostly) early and mid-twenty-somethings navigating love and work in Los Angeles started off as a spin-off of beloved family drama The Fosters, but quickly became an ensemble drama that stood on its own. One of those ensemble members is Davia (Emma Hunton), a teacher and body positive influencer whose story authentically portrays the ups and downs of loving your body. On top of that story line, "Good Trouble" is in abundance of love triangles, workplace drama, and important, thought-provoking social commentary — so basically, there's something for everyone here. 

Available on Freeform and Hulu