5 TV Shows to Watch if You Binged All of "The Bear"
Apartment Therapy received compensation for this post, which was written and edited independently by our editorial team.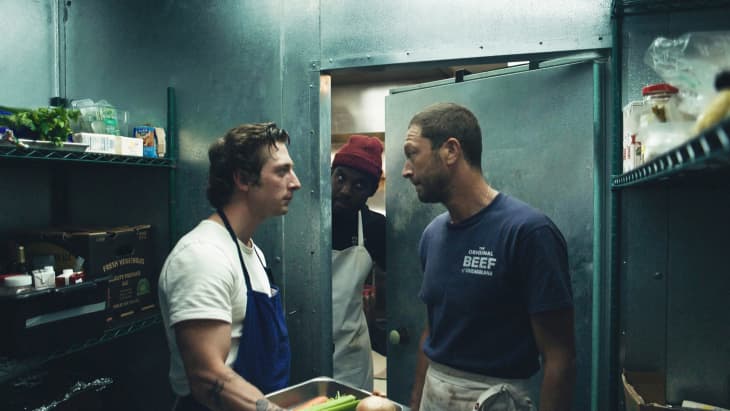 If you've already — ahem — devoured all eight episodes of FX on Hulu's critically-acclaimed series "The Bear," about a wunderkind chef who moves home to run his family's sandwich shop in Chicago, you might be — AHEM — craving some more shows about hectic work environments, surprising dramedies about grief, or just some additional time with your very broken inside chef Carmy (Jeremy Allen White). Well, here's all of that and more on the menu (I'm a monster, I know, but I will not apologize for the puns) with the five TV show recommendations for fans of "The Bear" below.
Follow Topics for more like this
Follow for more stories like this
Like "The Bear," "Reservation Dogs" knows exactly what it is from the get-go. Here, you're immediately immersed in life on the rez in rural Oklahoma, as seen by the eyes of four Indigenous teenagers. The series, created by Sterlin Harjo and Taika Waititi, confidently tells a coming-of-age story by letting its laugh-out-loud moments slam up against ones that will emotionally wreck you, and, also like "The Bear," it offers a layered look at grief after a suicide. It's surprising and nuanced and features some excellent performances from its young cast.

Available on Hulu
If you loved Jeremy Allen White's performance in "The Bear" (that seven-minute monologue?? Come on!), you'll want to watch him in his breakout role as Lip Gallagher in Showtime's "Shameless." The dramedy — also set in Chicago — which ran for 11 seasons, follows the dysfunctional Gallagher family, led by Frank (William H. Macy), who will certainly never win father of the year, and oldest daughter Fiona (Emmy Rossum), doing everything she can to keep her five younger siblings together. 

Available on Showtime, Netflix, and the Roku Channel
Ramy, executive produced by "The Bear" creator Christopher Storer, stars comedian Ramy Youssef as a first-generation American Muslim living in New Jersey amongst his family and their tight-knit Egyptian community. The comedy and the drama are mined from the conflict, both internal and external, as the self-destructive Ramy wrestles with his faith while also trying to get his life together. Season two features Mahershala Ali in a stellar guest role performance as a local Sheikh who mentors Ramy.

Available on Hulu
If "The Bear" has you wondering what fuels a chef to pursue that particular career — I get an ulcer just thinking about the kitchen in the Original Beef of Chicagoland — watch Netflix's great docuseries, "Chef's Table." I promise it is much less frenetic than "The Bear," and with gorgeous visuals, each episode focuses on one chef's story of how and why they got to where they are today. The Emmy-nominated series has covered chefs and kitchens across the globe, including Mashama Bailey in Savannah, Georgia, Massimo Battura in Modena, Italy, Gaggan Annand in Bangkok, Thailand, and Virgilio Martínez in Lima, Peru.

Available on Netflix
"The Bear" is one of the most chaotic, anxiety-inducing TV shows in history and if you're looking for more of that because you just can't help yourself, you'll enjoy (I guess??) "This Is Going to Hurt," a British series (produced by the BBC and AMC) about a young doctor on the labor and delivery floor in an NHS hospital in 2006. Based on Adam Kay's memoir of the same name, the series, which stars Ben Winshaw as Dr. Adam Kay, doesn't gloss over any of the turmoil — both physical and emotional — the doctors and nurses on the floor face. It swings from funny to heart-wrenching in an authentic, moving way.

Available on AMC+