TV Shows to Watch If You Love "The Flight Attendant"
We independently select these products—if you buy from one of our links, we may earn a commission. All prices were accurate at the time of publishing.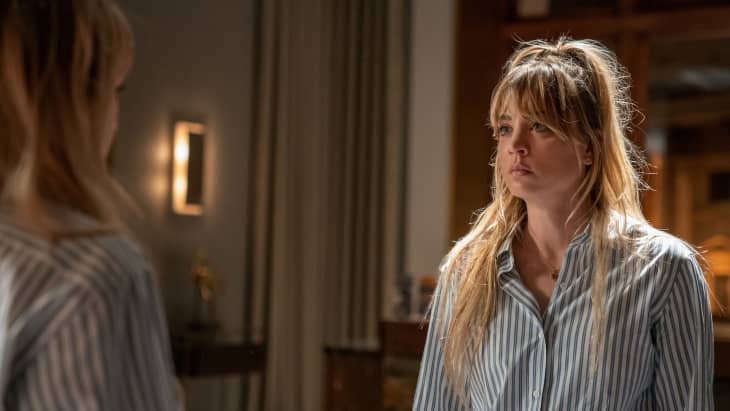 HBO's "The Flight Attendant" is one of those shows that you'll instantly be hooked on. It follows Kaley Cuoco as Cassie Bowden, an alcoholic flight attendant who can't seem to stay out of trouble. 
Follow Topics for more like this
Follow for more stories like this
During the first season, Cassie finds herself waking up next to a dead passenger in a hotel room and must retrace her steps to figure out if she has committed the murder. In season 2, it appears Cassie has finally gotten her act together. Unfortunately, things aren't always what they appear to be. Despite being mostly sober and working with the CIA on the side, Cassie still finds herself in another murder mystery. 
If you're all caught up, you can fill the hole in your heart by binge-watching one of these five shows.
While viewers will suspect that Cassie may be capable of murder, there will be no questioning the murderous ways of "You's" Joe Goldberg, played by Penn Badgley. Both "You" and "The Flight Attendant" are thrillers with just the right about of humor, twists and turns, and suspense. You asks the question: What would you do for love? When Joe meets an aspiring female writer, he's immediately intrigued and this later leads to a sinister obsession. Joe will stop at nothing to have the object of his desire — even if that means killing the people closest to her.

Streaming on Netflix
"Mare of Easttown" is another murder mystery series you won't be able to stop once you've started. The HBO series follows small town detective Mare Sheehan, played by Kate Winslet, as she tries to balance her professional and personal lives while maintaining her sanity — something viewers quickly learn is almost impossible. While the storyline focuses on a local murder, there is quite a bit going on around town. There are missing girls, a pedophile priest, and way too much family drama.

Streaming on HBO Max
Only Murders in the Building
If you enjoyed "The Flight Attendant," then this one will be right up your alley. "Only Murders in the Building" follows an unlikely trio, Charles, Oliver, and Mabel, played by Steve Martin, Martin Short, and Selena Gomez, respectively, as they try to solve a murder mystery in their apartment building. The trio eventually decides to start a true-crime podcast to share their findings — even though the death was ruled a suicide. Like "The Flight Attendant," "Only Murders in the Building" combines murder mystery with a host of twists and turns and just the right amount of humor.

Streaming on Hulu
"Big Little Lies" tells the story of a group of rich moms who get involved with, you guessed it, a murder investigation. The series takes place in an upper-class community in Monterey, California, and follows Reese Witherspoon, Nicole Kidman, Shailene Woodley, Laura Dern, and Zoë Kravitz. As the plot unfolds, viewers learn there is quite a bit of personal drama happening for all the women involved. However, despite their own struggles, they must stick together to keep a shared secret and stay out of prison.

Streaming on HBO Max
Netflix's "Behind Her Eyes" is a supernatural thriller than you won't see coming. It starts out with a woman having an affair with her married boss while trying to maintain a friendship with his wife, but soon turns into something wildly dramatic. 

Streaming on Netflix