5 Shows to Watch If You Love "Wednesday"
We
independently
select these products—if you buy from one of our links, we may earn a commission. All prices were accurate at the time of publishing.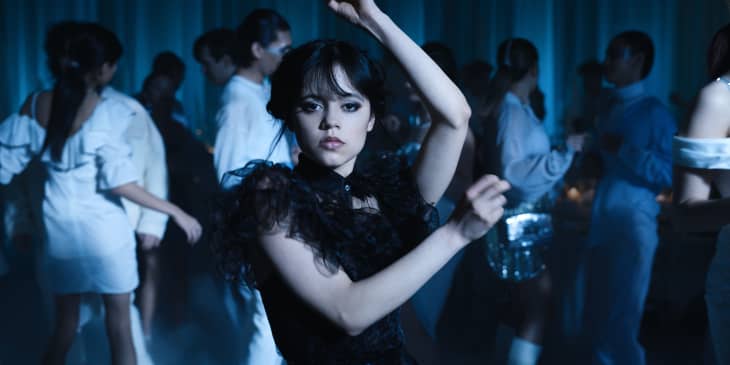 By now, everyone and their mother, father, cousin, and disembodied hand has seen "Wednesday," the Netflix supernatural mystery show centered on The Addams Family's morose (and newly psychic) daughter (here played by Jenna Ortega). When Wednesday heads to Nevermore Academy, a school for "outcasts" of the supernatural variety, she winds up in the middle of a spooky — and a little kooky — murder mystery.
Created by Alfred Gough and Miles Millar and executive produced by Tim Burton, "Wednesday" is a coming of age story with its own unique style, but if you're looking for more stylized YA shows, supernatural mysteries, or not-your-typical-teenage-girl leads, there are options! Below, let's dig into five series that should hit the spot for "Wednesday" fans.
If you're in the market for more horror mysteries featuring teens, try Mike Flanagan's "The Midnight Club." Sure, it was undeservedly canceled after one season, but it's still worth the watch. Adapted from Christopher Pike's 1994 novel, "The Midnight Club" is about a group of terminally ill teens living at Brightcliffe Home, a hospice facility, who meet at midnight to share scary stories and who have a pact to contact the group from beyond the grave should they be the first one to die. It quickly becomes apparent that not all is as it seems at Brightcliffe.

Available on Netflix
Chilling Adventures of Sabrina
For another female teen with supernatural powers fighting monsters and other things that go bump in the night, look no further than another edgy adaptation of an old show (also an iconic Archie comic), "Chilling Adventures of Sabrina." Kiernan Shipka stars as the titular teenage witch Sabrina Spellman as she discovers her latent powers and her family's secrets all while confronting demonic forces and high school mean girls (sometimes one in the same!). 

Available on Netflix
Adapted from Rick Remender and Wesley Craig's comic book series and executive produced by the Russo brothers, "Deadly Class" brings you to the halls of King's Dominion, a private school in which teens from the world's most notorious crime families are trained to be deadly assassins in the 1980s. Benedict Wong serves as the headmaster, Master Lin, and Lana Condor, Benjamin Wadsworth, and María Gabriela de Faría play several of his most talented students.

Available on Amazon
"I Am Not Okay With This" and "Wednesday" strike completely different tones, but both center on a teenage girl with supernatural powers who just doesn't seem to fit in anywhere. "Not Okay" stars Sophia Lillis (whose moving, committed performance makes the show work) as Sydney, a teen who begins to develop telekinetic powers that seem tied to her anger and angst. 

Available on Netflix
Who doesn't want more Christina Ricci on their screen? The original Wednesday Addams is a scene-stealer in this new adaptation and if you found yourself wondering what else Ricci is up to these days, I cannot point you toward Showtime thriller "Yellowjackets" faster. When the plane carrying a high school girls soccer team crash lands in the wilderness, the girls wind up stranded for 19 months and a lot of, let's call it messed up, things go down. Ricci plays the adult version of one of the girls grappling with what happened in the woods twenty-five years later — where things are still, again, very messed up. Melanie Lynskey, Tawny Cypress, and Juliette Lewis also star. 

Available on Showtime