Twitter Has Found America's Worst Fireplace — and Yes, It Is Bad
We
independently
select these products—if you buy from one of our links, we may earn a commission. All prices were accurate at the time of publishing.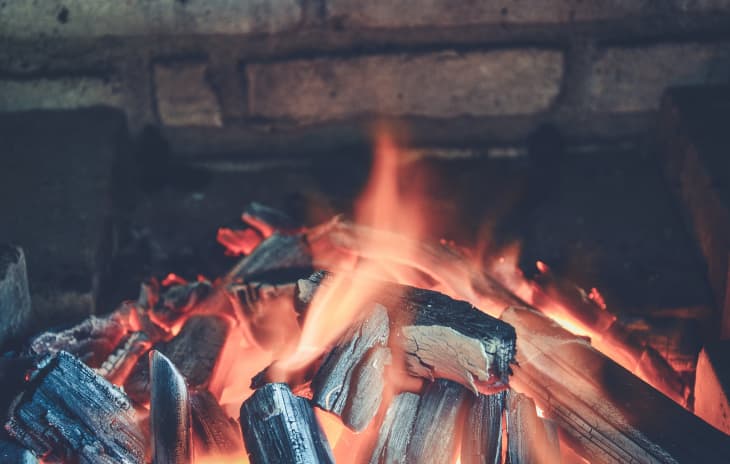 So much of interior design is a matter of personal taste, and what one person finds charming and stylish might be absolutely dreadful to someone else. That said, one Twitter user has found common ground in what he's declared "America's worst fireplace," and yes, it really is that bad.
After Twitter user @yeoldedad shared the image, adding, "People say America is divided, but I think we can all unite around hating whatever this is," it quickly began making the rounds across multiple social media platforms — and when you see the off-center situation happening here, you'll immediately understand why.
Situated inexplicably off to the right of a sizable brick chimney layout is a fireplace with a black frame. Above the fireplace sits an equally off-center mantel, that also includes a bizarre level of space in between, showing the exposed brick. It seems the home has been remodeled, so the roof line is also at an awkwardly placed angle, making the entire thing a big old mess no matter how you slice it.
The decor on both sides of the chimney isn't helping the situation, either. Along the right hand side, there's some built-in wooden cabinetry (and what appears to be shoe shelving… in the living room), with nothing beneath or above it but empty space, though the brick detail from the chimney continues on the floor — on one side only. On the other side, there's a wood desk and a spot for a TV to be mounted, although it seems like half of the room wouldn't be able to clearly see the TV (which seems to be facing the wall) in this bizarre setup.
Naturally, the photo was then shared to everyone's favorite bad design Instagram account @pleasehatethesethings, who captioned the hilariously awful picture, "Happy Halloween'ish, because this is terrifying." It also made its way to the pros at Zillow Gone Wild, with the caption, "This is the worst thing I've ever seen."
It's unclear where the home is located, though it seems to be currently on the market, as evidenced by a Facebook post shared by an Ohio-based interior design company, who were quick to note that the fireplace was not their doing.
Of course, some users took lemons and made lemonade, with one adding a perfectly centered "live, laugh, love" sign in the empty brick space by way of a little photo editing magic.
Others shared photos of the design woes they faced in their own homes, although to be clear, none are as bad as the off-center fireplace itself. Before the photo went viral, Twitter user @PorkSoldier joked, "I can't wait for the people who have seen worse to find this. Every time I think I've witnessed rock bottom on this hellsite someone shows up with a shovel." Another put it best, adding, "Architecture is frozen music and this is a car alarm."
So, if there are, erm, design features in your home that you're just not wild about, take solace in knowing that whatever they are, there's no way they come close to the visual horror of America's worst fireplace.