10 Pounds of Hamburger Meat and Grandma's Dentures: The Weirdest Items Found in Ubers This Year
We
independently
select these products—if you buy from one of our links, we may earn a commission. All prices were accurate at the time of publishing.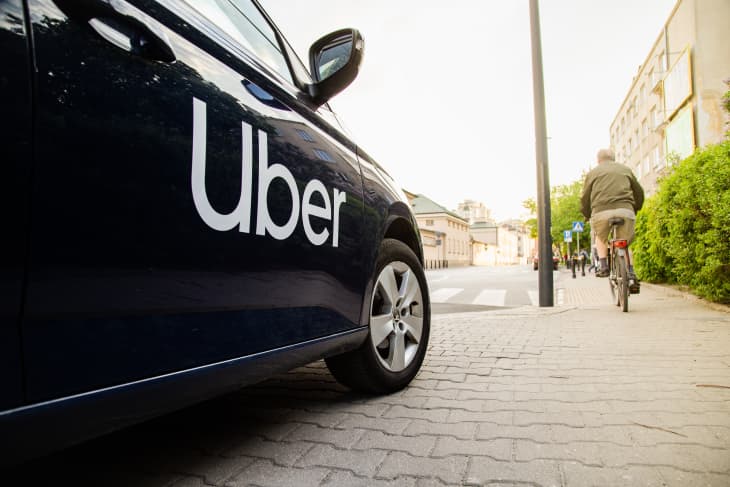 It's that special time of year again, when Uber takes a look at the magical collection of bizarre items that have been left behind in rides. After all, chances are you've left something behind once or twice. Usually, it's a phone or a wallet in the backseat. But naturally, sometimes the items found in the Ubers are a little bit weird. Buckle up your Bernie Sanders fanny pack, and take a look at the 2022 Uber Lost & Found Index. 
Over the last year, there have been some wild items found in Ubers. From tater tots and 40 chicken nuggets to 500 grams of caviar and 10 pounds of hamburger meat, culinary delights tend to be a commonly forgotten item. There were several appliances on the list as well, ranging from a breast pump and a spray tan machine to a reptile heating bulb and a part of a soft serve machine. Several pieces of art made the list, including a painting of Kung Fu Panda, a "sh**ty" painting of a moose, and a small sculpture of a rhino. And some things were just plain unusual, like the previously-mentioned Bernie Sanders fanny pack, a ball gag, and a metal leg. 
In addition to those bizarre items that were left behind, there have been several trends throughout the year. Musical instruments, including flutes, drums, trombones, ukuleles, and DJ equipment were found in Ubers, as were more than 40 CPAC machines. More than 30 riders forgot their retainers, while over 20 dropped their gold or diamond encrusted grills. 5 folks even left their dentures on the backseat. (One person even left their grandma's teeth, which is just embarrassing to report back to Nana.)
As you would expect, the most commonly forgotten items in an Uber are cell phones and cameras, which scored the number one slot on the most commonly forgotten list. It was followed by wallets in second place, followed by keys in third. The number four slot went to backpacks and purses, followed by headphones and speakers in spot number five. Glasses, clothing, vapes, ID, and jewelry were other items that are commonly left behind. 
When it comes to location, some cities definitely tend to be more forgetful than others. For a second year in a row, Austin, Texas scored the number one slot on the list. It was followed by Charlotte, NC, and Houston, TX. The top 5 forgetful cities closed out with Indianapolis, IN, and Dallas, TX. 
If you leave something behind in your Uber, there are a series of steps you can take to retrieve it. The best way to reach out is by calling your driver immediately, however that doesn't really help if it's your phone that's currently kicking around on the floor of the backseat. However, you can log into your Uber account from a computer, and just follow these steps: Tap "Your Trips" and select the trip where you left something behind, then scroll down and tap "Find lost item." Next, tap "contact driver about a lost item," and scroll down and enter the phone number you would like to be contacted at, and tap submit.  If you lost your personal phone, use a friend's phone number instead. Your phone will ring and connect you directly with your driver's mobile number.   If your driver picks up and confirms that your item has been found, you can determine a convenient time to meet up and grab it.  If they don't pick up, leave a detailed voicemail describing your item and the best way to contact you. You can also take a look at this video, which outlines the steps you can take the next time you leave something behind.