This Top-Rated Desk Organizer May Just Be the Thing That Finally Gets Your Tech in Order
We
independently
select these products—if you buy from one of our links, we may earn a commission. All prices were accurate at the time of publishing.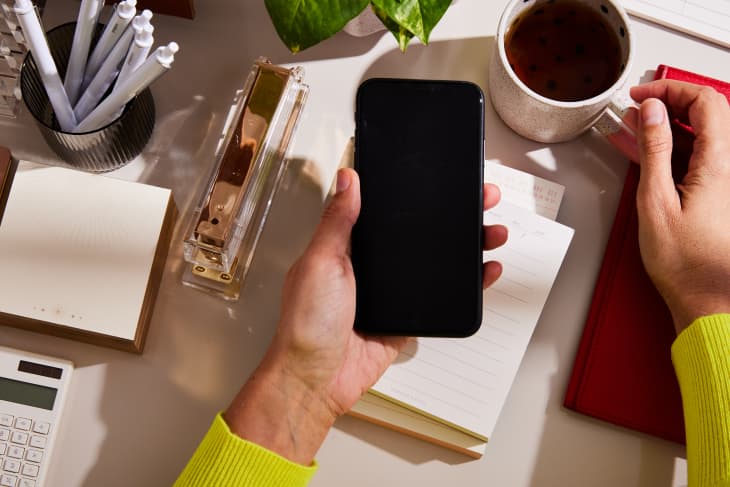 Before coming to Apartment Therapy I was a freelance writer, so I became familiar with creating a little at-home work area for myself well before I was mandated to do so. But during those two years when I was primarily working from home, there was one thing I never got around to setting up: an organizer. I had all the necessities — monitor, external keyboard and mouse, and dying houseplant to sympathize with — except for one that would have made a big difference toward keeping my workstation neat and probably more efficient.
I'm not embarrassed to admit that I still don't have a desk organizer, but I did finally accept that I really should get one. So I started looking for something that wouldn't take up too much room and could hold a good variety of objects — not only my phone but cables, eyeglasses, notebooks, and everything else currently swimming around on top of my desk. When I came across this multi-purpose organizer at The Container Store, I knew I had found the perfect one.
Great electronics organizers don't need to have a bunch of bells and whistles. Most of the time you're better off leaving the fancy gadgetry and Bluetooth functionality to your tech devices, and that's definitely the case with this simple stand from Umbra. Its structure is made from sturdy and lightweight metal, then each of the four storage sections are made of a suede-like fabric that keeps things from accidentally slipping out (say, because your cat likes to swat at them).
The larger sections in the back can hold notebooks, documents, and bigger tablets like iPads. The two middle sections are a little shorter, to give you easy access to your phone and any smaller pieces of paper, while the front tray keeps things like keys and sunglasses in plain sight so you never lose them. I prefer this tiered setup because it accommodates differently sized objects and squeezes four rows of storage into one compact design.
Shoppers who are wise enough to have already added this organizer to their desks have given it an average of 4.8 stars, so it clearly works well IRL. Many reviewers praised its size, style, and versatility, and one appreciated it for being "effective" and "airy-looking." They went on to write that it "helps your desk look less cluttered. Very innovative idea and execution." Sounds like just the storage solution my work space has been needing!
Of course, this organizer isn't only good for keeping your devices in one place. You can put it in your living room or entryway to be a catchall for car keys, magazines, and mail — incoming and outgoing. Grab one today to get (and stay) organized for the rest of the year.