My Favorite Vintage Find Was a Total Surprise, and It Only Cost $9
We independently select these products—if you buy from one of our links, we may earn a commission. All prices were accurate at the time of publishing.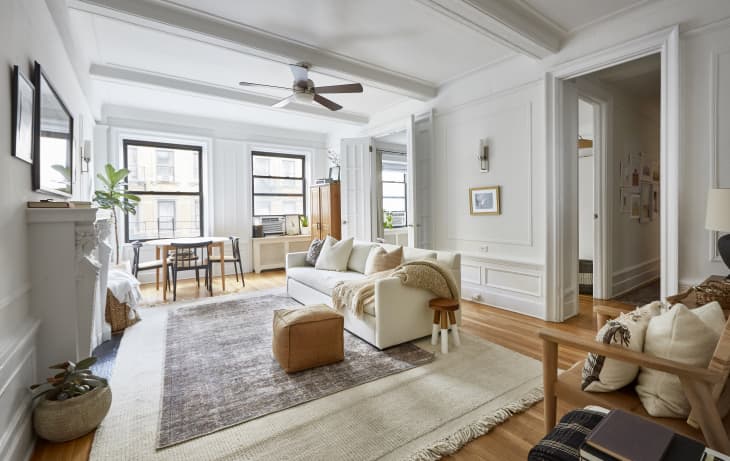 When it comes to thrifting, I find it's best to go in with low expectations, an open mind, and a dash of optimism. Rather than entering your local thrift shop with something specific in mind, first take everything in, and then do another lap or two around the store. Otherwise, you may risk overlooking something truly special for your home. 
That's exactly the attitude I had when I stumbled upon my favorite thrifted find at a local secondhand shop in New York City. On this particular day, I had zero shopping agenda and was on my second pass of the store when I finally noticed a vintage-looking picture frame. Although the print in the frame didn't speak to me, I knew that would be an easy fix. I had no place in mind to hang this piece either, but the details on the front and back made me believe it was truly vintage, so I happily paid the $9 price tag and brought it home. 
Follow Topics for more like this
Follow for more stories like this
Because the frame had no removable backing, I used an X-acto knife to cut out the existing print, with plans to replace it with something that better matched my space. To my surprise, though, I discovered the most beautiful, original etching of a mother and her baby hiding underneath, with an artist's signature in the corner. Although the infant in the portrait didn't necessarily resemble my children, it still reminded me of myself and my babies. Our youngest daughter's nursery felt like the perfect place to display this happy surprise of a vintage find.
While I don't know the people featured in the art or even the type of medium used to create it, I still feel so connected to the piece. I sometimes wonder who this mother and child were that inspired the artist. Do older versions of this mother and child still live in our neighborhood? Have I seen them before? And most pressing of all my questions is: Why did someone cover up that beautiful piece of art in the first place?
Let my experience be the reminder you need to always browse the art section at your local thrift spot, vintage store, or flea market. You never know what you may find, and although this discovery required a tool to unearth, it's always worth investigating a piece while shopping, if possible, to see if something more exciting lies beneath it. Remove frame backing (maybe there's another print or an old photo beneath what you see under the glass?), or try to gently pull up a corner of an unframed piece without damaging it. Always dig a little deeper when you're shopping secondhand — especially when it comes to art.