7 Unexpected Ways to Use Mouthwash Around the Home (Including Cleaning Your Floors)
We independently select these products—if you buy from one of our links, we may earn a commission. All prices were accurate at the time of publishing.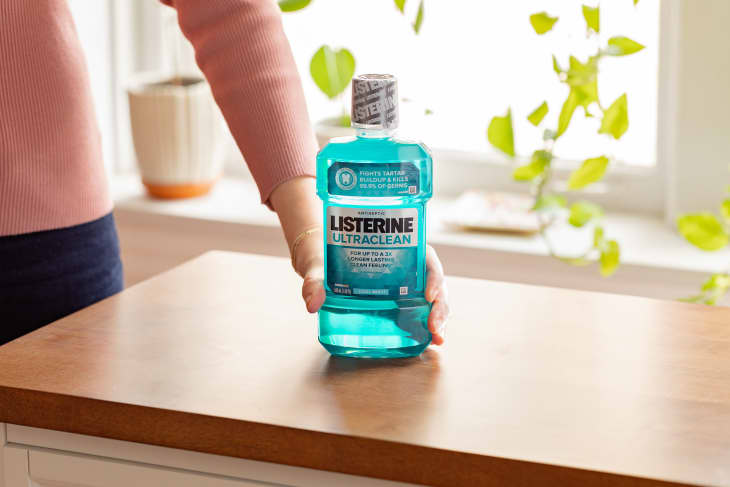 Your new best all-purpose cleaner is an unlikely candidate that carries a major bang for your buck — your mouthwash. 
When Listerine, the first mouthwash, was invented in 1879, it was meant to both clean mouths and sterilize surgical wounds, and soon after, was used as a floor cleaner as well. If it's good enough to sanitize a surgery site, it should be good enough for whatever is lurking on your floors, and many other surfaces. 
Many types of mouthwash contain alcohol, menthol, and other essential oils that will leave your home smelling fresh and kill germs, too.
Along with cleaning your floors, here are some other creative ways to utilize mouthwash for more than just your pearly whites.
Clean your clothes and washer together
You probably know of the odor-fighting effects of vinegar as a laundry aide, but adding a cup of clear mouthwash to a load of laundry prevents stink from old gym clothes and serves an additional purpose of cleaning your washer at the same time. This is especially effective if you are dealing with nasty kid fluids like onesies from a diaper blowout, or major grime from sports uniforms. Make sure you aren't using a bright red berry flavor or other artificially colored mouthwash or your clothes will stain.
Could your teeth whitener also whiten your yellowed tile? It's worth a shot — mix two cups of water with half a cup of mouthwash, and start scrubbing. The alcohol in mouthwash will make your surface shinier and disinfect it along the way.
Mouthwash can clean your hands as well as your mouth if you have the right kind. A travel-sized bottle of mouthwash, that contains alcohol but is also sugar-free, can substitute for hand sanitizer, and smell much better than some over-the-top fruity scents at your local soap store. Sugar-free is a must, or you'll end up with sticky hands.
If you've received a beautiful bouquet, you can make it last longer with a cup full of mouthwash. Some say this is because it keeps the stems cleaner by reducing bacteria in the water. Dilute the mouthwash with a quart of fresh water and replace it often for the best results.
A quarter cup of mouthwash can work much better than some more traditional toilet bowl cleaners, eliminating the need to buy another product. Let the mouthwash sit in the grimy toilet bowl for a half hour at least, then start scrubbing. You'll be impressed with the smell and the shine.
There's nothing worse than the odor of yesterday's dinner leftovers sneaking up from your garbage disposal. To neutralize bacteria and odors, pour around four ounces of mouthwash down the drain and run the disposal for a bit with additional water. You can really go for it and clean your mouth and disposal all at once to be efficient.