Here's One Simple Way to Lower Your Grocery Bill This Week
We independently select these products—if you buy from one of our links, we may earn a commission. All prices were accurate at the time of publishing.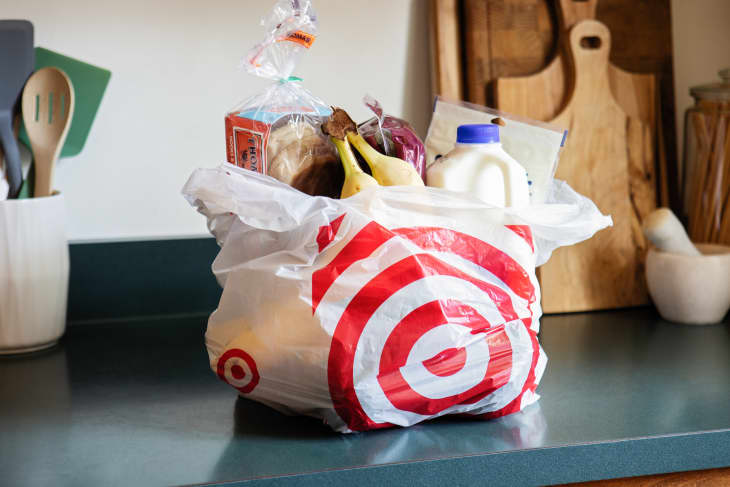 Buying in bulk can get a bad rap, particularly if you live in a city. Those three little words conjure up images of industrial-size tubs of butter, 100-packs of granola bars, and closets filled with enough toilet paper that the shortage of 2020 suddenly makes sense.
But buying in bulk doesn't always require a second fridge and garage storage worthy of an extreme couponing shopping spree. Maritza Hernandez, an accredited financial counselor and Financial Guide at Your Money Line, says it can be one of the most effective ways to lower your grocery bill — if you take the time to do a little planning and some simple math.
Hernandez explains that the first step is looking ahead at the week and knowing the meals you plan on cooking. This will make it easier to understand which items you need, how much you need, and where you can opt for multipurpose ingredients. That could be rice or lentils that you're using in various soups and salads, or, let's say you're making a roast chicken on Monday. You could repurpose half of the leftovers on Tuesday for Caesar salad and the other half on Wednesday for a pot pie. 
"This can be an opportunity to buy in bulk," says Hernandez. And that's your opportunity to make an easy and significant impact on your grocery bill — if you pay attention to one key detail. Hernandez explains, "When buying in bulk, make sure you check the unit price." More doesn't always add up to less at the grocery store, but it can, if you're paying attention. "At big box stores or wholesale stores, we might think we are getting a better deal, but breaking it down to the unit cost lets you compare the price of each item," she says. 
The grocery store will typically make it easy for you, displaying the unit price, whether that's by item, pound, or ounce, right on the price tag. However, there may be times you have to do the math yourself (that's what calculators and unit price apps are for!), particularly if the item is on sale and the sale tag doesn't display the updated unit price. In those cases, calculate the unit price by dividing the total price by the number of units. For example, if you're buying a 64-ounce bottle of olive oil that costs $16, you would divide $16 by 64 for a unit price of $0.25 per ounce. Meanwhile, the 24-ounce jug of olive oil may cost $8, which is less expensive at the register, but its unit price is $0.33, a more expensive choice because you're buying a small quantity. 
Similarly, if you're buying a 2-pound bag of rice that costs $4, you would divide $4 by two for a unit price of $2 per pound. The 1-pound bag may cost less at $3, but its unit price is $1 more per pound.
Bulk savings aren't always the case, though, so don't pick up the biggest package and assume you're coming out ahead. "Packaging can sometimes be deceiving, so check the unit price of an item to see the actual cost and compare it to other options," says Hernandez.
And, regardless of the savings on your grocery bill while you're in the checkout line, your long term savings are only as good as your ability to use up everything in your fridge and pantry each month. Hernandez explains, "Always ensure you'll use up the items you purchased, especially if they're perishables. It might be a great deal to buy in bulk, but it's not such a great deal if things go to waste."