This Versatile Folding Tray Makes It Totally Acceptable to Work From Bed — and It's Less Than $50
We independently select these products—if you buy from one of our links, we may earn a commission. All prices were accurate at the time of publishing.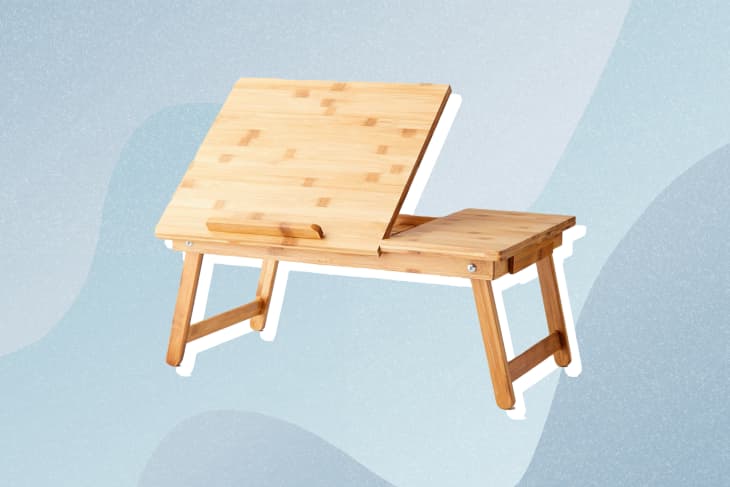 No matter where you stand on the working-from-home sitch, let's get real about one perk you could never swing in an office (for obvious reasons) — working from bed. Admit it, you've totally done it before… or at least thought about it. Maybe it's an icky day outside, maybe you're not feeling 100 percent, maybe your bed's the only "work" space you have. Whatever the case, sometimes getting the job done from the comfort of your covers just feels oh-so-right.
I will confess, I've occasionally gravitated to my bed in between meetings just for a cozy change of scenery (disclaimer to coworkers reading this: I'm still productive, promise!). But, as I'm sure many of you can also relate, it's a tad bit awkward finding the perfect positioning — you want the sweet spot of staying semi-reclined without compromising your typing mobility.
Enter this Urban Outfitters solve — essentially a bed-desk that conveniently props up your laptop … and way more. For starters, you can adjust the hinged portion to the angle of your liking (hello, flattering Zoom calls). There's also space on the side for coffee, water, or a small notebook. And perhaps most genius of all, there's a tiny drawer so you won't lose any necessities to the depths of your duvet. When you're all done using it for the day (or feel like graduating to a desk), the legs tuck under for compact storage.
Even if you're not a work-from-bed convert (or don't WFH in the first place), this stylish accessory still holds plenty of practical potential: watching Netflix on your laptop before falling asleep, comfy online shopping, or browsing the news first thing in the morning. Heck, you can even use it for your Kindle, iPad, or the book you're currently reading.
TBH, I would have totally dismissed this sort of thing pre-pandemic, but with staying home probably becoming a new workforce norm, you might as well get comfy, right? And at $49 and available in black, white, or a natural tone, this tray's totally worth taking the plunge — just don't take a nap.

Buy: James Folding Bed Tray, $49