This Space-Saving, Foldable Desk Has Been a Game Changer While I Work from Home — And It's Under $100!
We
independently
select these products—if you buy from one of our links, we may earn a commission. All prices were accurate at the time of publishing.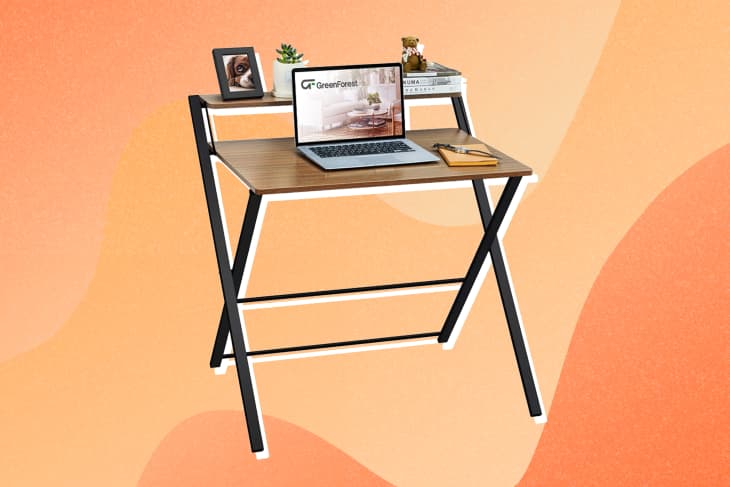 Confession: Prior to the pandemic, I was one of those people who didn't necessarily excel at working from home. While I was grateful that my profession afforded me the privilege to work remotely when needed, I always felt more productive and less distracted in a traditional office setting.
If you had told me a year ago that a long-term work-from-home arrangement was in my future, I would have shaken my head in disbelief. But alas, here we are! Like many other things brought about by the pandemic, adjusting to WFH life has required quite a bit of trial and error. Working from bed a few hours a day seemed like a cool idea until those pesky back and neck pains crept in. After coming to grips with the fact that neither my kitchen table nor my couch were home office appropriate, it became clear that converting my cozy space into a professional environment was going to require some investment. I knew it was time to start my search for a sturdy yet nimble office desk. As luck would have it, Amazon had just what I was looking for — the GreenForest 2-tier folding desk.
I must say, this desk had me at "your package has arrived!" Why? Because I didn't have to break out a single screwdriver to set it up. I simply removed it from the box and it was ready to go. At approximately 25 pounds, the desk is sturdy yet luggable enough to get it up a flight of stairs without incident.
Aesthetically, the GreenForest folding desk gets major points for its sleek design. It's expensive looking and well-made but not clunky. The desk surface also comes in three different colors — brown, espresso, and black — which comes in handy when trying to match it with your existing furniture. My favorite feature? The double shelves! If you're someone who likes to work using two different screens, or if you simply prefer your computer monitor to sit at eye level, the top shelf of this desk gives you that option. It also offers ample room to store supplies, books, or picture frames.
It might sound strange, but I love this desk folded up just as much as I do when I'm using it. That's because it's the ultimate space saver. When shopping for an office desk, I wanted something that could easily be stashed out of sight and pulled back out during the week without much fuss. The GreenForest desk checked that box effortlessly. Since my "home office" (aka my bedroom) is rather small, I like to fold it up and stash it behind my dresser at night and on the weekends. That way, when it's time to sign off, my bedroom can feel like a bedroom again.
But this desk isn't just great for small-space dwellers. Parents who have children learning virtually and folks who just want a reliable office desk at a reasonable price will appreciate it as well. As one Amazon reviewer summed it up: "It's really everything I wanted in a desk, and I hope it holds up well. The wood doesn't look cheap and the worktop accommodate both my laptops while being pretty nice to look at too. Stick a plant on that shelf and you've got yourself a professional looking oasis."